Valentine's Day has as much to do with food as it does with romance. Here at Cater2.me, it's one of the busiest times of year.
This is particularly true for our vendors that cater to clients with a sweet tooth. La Luna Cupcakes is one such vendor in San Francisco. They specialize in sweet and savory cupcakes, as well as cake pops. We talked to La Luna's proprietor, Elvia Buendia, about her passion for baking, and how Valentine's Day can affect business.
How did you discover your passion for baking?
When I was a little girl, I enjoyed eating sweets, especially pastries. My mother and I used to bake together, and this was something I enjoyed doing with her. For these reasons, every time I bake at my cupcake shop, I'm still reminded of those times, and I feel motivated to create new recipes.
What kind of press and accolades has La Luna Cupcakes received?
We have received recognition from Univision and various newspapers including La Prensa and the San Francisco Chronicle. We also did a commercial with Wells Fargo, highlighting small businesses for their Little is Big campaign.

Would you say that Valentine's Day is very busy for you?
Valentine's Day is a very busy for us because many people choose to surprise their loved ones with cupcakes. We get calls days in advance to place special orders. We sell out fast.
What kind of Valentine's Day cupcakes do you offer?
We decorate every cupcake with things like heart-shaped chocolates, caramel chocolates, marshmallows, and various other Valentine's decorations.
What's your personal favorite cupcake?
My favorite cupcake is our Tres Leches. Every time I have a bite of this cupcake, I'm reminded of when I was a little girl, and my mother would make this cake for special occasions and birthdays. This encouraged to make this traditional cake into cupcake form.
What inspires your love for your craft?
I like innovating new flavors and creating new combinations of frosting with bread. I like challenging the traditional Mexican cuisine, like the Tres Leches cake, and transforming such recipes into cupcakes. When people come into my shop for the first time and try my cupcakes, I feel rewarded as they savor every bite.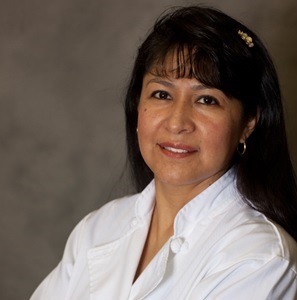 If you find yourself in downtown SF, whether for Valentine's Day or just because, treat yourself to one of Elvia's delicious treats! La Luna Cupcakes can be found on level 1 of the Crocker Galleria, at 50 Post Street in San Francisco.