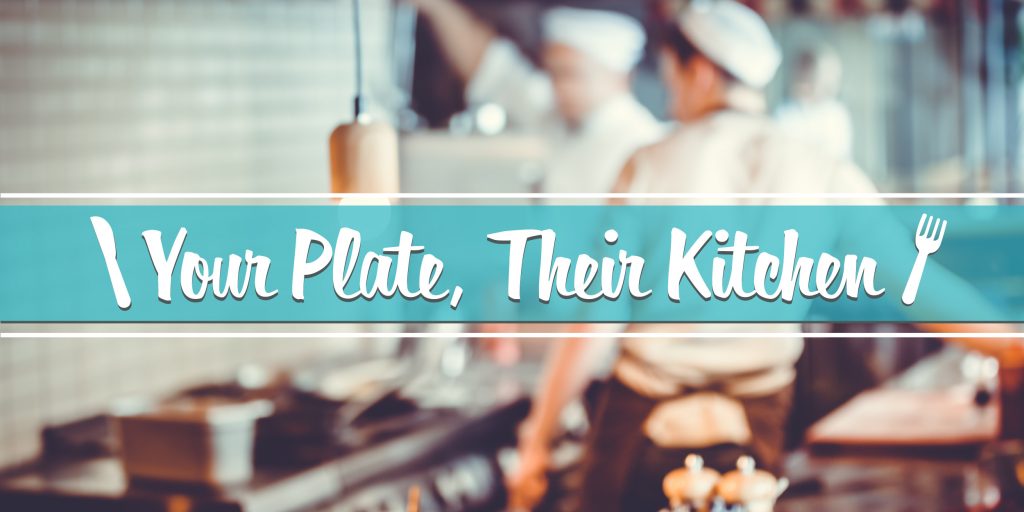 This month, we had the opportunity to shadow Rito Loco for a day, prepping orders in-store and for catering. Danny Diaz, the co-owner of Rito Loco, sat down with me to answer some questions about his passion for the food world and his business.
So, where are you from, Danny?
I grew up in Herndon, Virginia, and my partner Louie grew up in Vienna. We're both NoVa boys, through and through.
Tell me the origin story of Rito Loco. How did it come to be?
Well… Louie and I had been traveling. Louie went to Ibiza. I quit my sales job and traveled around the world. When I came back, I didn't want to go back into sales. We both wanted out of the grind. A friend of ours was talking about starting a taco place in Ibiza. So we started with that idea. Then, we scaled it back and started talking food truck. Louie and I talked and decided to do the food truck here before we take it over there just to get the hang of everything first. We thought we would launch a food truck get the hang of how it's done and a few months later be in Ibiza. But then our food truck blew up in popularity and all of a sudden, we had a following in DC. We decided to stick around and see it through.
Does the truck go out every day?
Every single day. It's always out for lunch, but we also take it out for special events. That thing runs surprisingly well. We've had it for four years, and it's still in great shape!
What's the hardest part about running a food truck?
I would say when we're not on it. Staff is hard. When you're not on the truck every day anymore, you have to trust that whoever you put behind the wheel and grill can bring the consistency and customer service that your customers are used to. It's also tough to survive the winter. You have to have a game plan.
What's your favorite item on the menu?
I eat the breakfast burrito almost every day.
It's really good. *said with a mouth full of burrito*
Yeah! Ours is unique because we add mac and cheese shells to it. I also love the avocado fries and the rib burrito… But I eat everything that's here.
What's the best place to park the truck?
Well, it used to be Farragut before the lottery system. We used to be there every Wednesday, and everyone who worked at Farragut would wait and line up for us. It's harder now that it's a lottery system, less predictability, and you have to count on your customers to follow you on social media to know when you'll be near them. Farragut is still the best because of foot traffic, but it's changed with the rules.
We've heard that food trucks like to trade food with other trucks. Who's your favorite truck to trade with?
Probably the truck I trade with the most is Captain Cookie!
That's awesome. We love Kirk (from Captain Cookie)!
And the best pho in the city might be from Pho Nation. It's amazing. It's a white truck with a blue line through it in the shape of the DC skyline. It's so good. I also love Feeling Crabby when it's hot out. All you want is a nice cold crab sandwich.
What have you enjoyed about working with Cater2.me?
It's been an extra avenue for us to generate revenue. It brings in money, and opens us up to new clientele. New people have tried our food, and it's driven more people into our storefront.
Since working with Cater2.me have you learned anything new about office catering?
Now it feels like second nature, but when we first started with you guys you taught us all about presentation and portioning and it really laid the groundwork for our catering and events.
When we first met you guys, you only had a food truck. Now you have a restaurant. What's been challenging about that?
First thing is conquering the city. DC government is a challenge so you gotta cross your Ts and dot your Is. Then just like the food truck, you gotta get great staff in. Then you gotta make sure it's consistent every time.
You guys actually do a really good job with that. I know exactly what I'm getting when I order from Rito Loco, from the truck and in the restaurant.
Thanks! That's good to hear. That's definitely what we're striving for.
What's different about running the restaurant vs. a food truck?
The restaurant is open for longer hours, but we have a real kitchen. It's nice to be by the AC when it's hot outside.
What's one piece of advice you would give to someone thinking about starting a food truck?
When we started ours, the guys who were already on the road doing it discouraged us. Honestly, I might do the same. Unless you can't picture yourself doing anything else, don't do it. This is hard work. It's not just three hours a day of lunch service. It's all day, every day and night. Building your brand, prepping for hours, executing service, and of course fighting for the best parking spot. You will likely work twice as much and twice as hard then you would at any desk job. But if you still want to do it get your menu right and get something that isn't already saturated in the area.
If you're in the DC area and want to bring Rito Loco to your office, give Cater2.me a call!