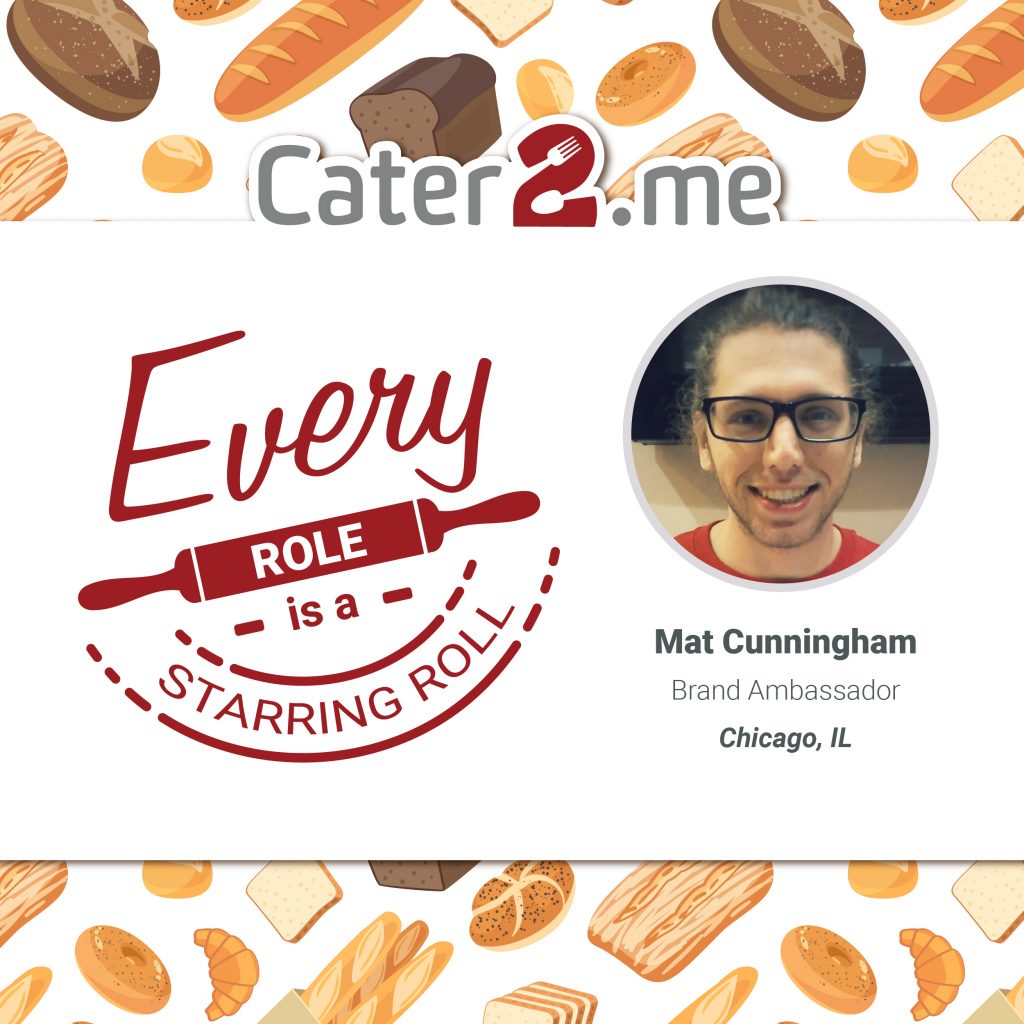 How long have you worked for Cater2.me?
I've worked here since February, so about eight months now.
How did you learn about Cater2.me?
I learned about Cater2.me through a Craigslist job posting. The description of the company culture and position really spoke to me. So I just went for it.
What is your role at Cater2.me?
Brand Ambassador
How has Cater2.me changed since you joined the team?
The Brand Ambassador team has really grown since I first came on. The role itself is also more defined. Overall, I feel the marketing department is focusing on creative campaigns, while becoming more organized and concentrated. There's an exciting vibe in the air.
Tell us your craziest Cater2.me story.
Canvassing buildings is always interesting: you never know what you're going to walk into.
The strangest building was one our salesperson, Lisa, and I canvassed in the Rosemont neighborhood. It's a minute from downtown Chicago, so people in these buildings weren't accustomed to in-person solicitation.
In one of the first offices we walked into, the guy at the front desk didn't look up. We stood there until he finished what he was doing, so we could politely get his attention. All of sudden, he let out a "Whaa!" He hadn't even realized anyone had walked into the office. He had this skittish energy during the whole conversation.
What has been your favorite Cater2.me tasting?
Mo's Asian Bistro has been my favorite so far. This was the first time where I loved every dish I tried. There have been plenty of tastings where I liked everything, but I could live off of Mo's menu.
What has been the biggest challenge you've overcome at Cater2.me?
There are always multiple hats to wear and projects going on at the same time. It requires a great deal of organization and focus on that task at hand. I feel like working at Cater2.me has been a real growth experience.
What's your favorite cuisine?
In theory, my favorite cuisine is Indian. In practice, it's American junk food.
What do you do outside of work?
My wife and I have a newborn who's just over two months now. I spend all of my time outside of work with them. I love to have conversations with my son, who basically just goos an gaas right now, but I swear it feels like he's really trying to communicate something.
I write little stories for him as well. I love to write. I have a soft spot for film. My wife does music. We somehow find a little time to do artsy fartsy stuff together with a young child.
What is the office culture like in Chicago?
The Chicago office is small: only five people. Because of its size, office communication is really fluid. There's a we're-all-in-this-together solidarity to the team.
If you could work in another office which one would you choose?
I would work in the New York office. My wife and I always had the feeling we would live in New York sooner or later, so it just makes sense.
Describe Cater2.me in three words.
Caring. Custom. Cuisine.