What do you want to eat? It is a question we hear countless times but, more often than not, do not have an answer to. Many variables are taken into consideration. What am I in the mood for? How much is it? How many carbs are in that? (I'm a Type 1 diabetic, so this bit of information is significantly important to me.)
But imagine asking your team this same question. The feedback and differences in requests can be overwhelming for any office manager. One approach to this conundrum is differentiating between necessity versus preference. Does Becky really have a gluten allergy, or is she captive to the latest diet trend? How about John: is he vegan or vegetarian? Is there a difference?
Whether your colleagues have a genuine food allergy or a meal preference, they are equally important in making your office culture that much better for your team because everyone is treated with the same level of consideration. Do any of these 4 types of office eater describe a co-worker, better yet, you?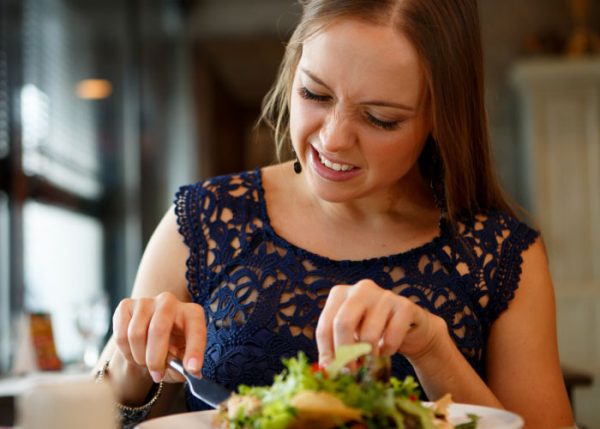 The Finicky Eater
Hardest to please, this person has a narrow range of food likes and cringes at meal suggestions like sushi, Indian, and Vietnamese. This eater-type would rather have pizza or a deli sandwich with a bag of chips for lunch everyday.
Try This: Compromising is key! You probably won't convince the finicky-eater that banh mi sandwiches are AMAZING after your first attempt, but try the "slow-introduction technique" to reel them in. Find out their short list of likes and use that as a base to introduce new cuisine. Neutral selections also tend to be successful: American fare, Mediterranean, and the always easy and customizable tacos!
The Health Conscious Eater
This person is typically the individual we all strive to become January 1st. They are consciously concerned with health and organic food options year round. This eater-type would not even consume unless it is 100% organic and/or grown at a farm within a 10 mile radius from the office.
Try This: Fortunately for office managers, most meals include options that even satisfy the requests of these health conscious eaters. One trend that has grown in popularity within recent years is to designate a Meatless Monday in your office weekly. More and more restaurants are locally sourcing their produce, making organic options more affordable and easier to come by.This concept brings awareness to healthier ways of eating, making vegetables the star course of the meal rather than just another side dish.
The Omnivore Eater
Easiest to please, this "eat first, ask questions later" type of eater consumes anything and everything without thinking twice. This eater-type often suggests menus from an array of cuisines.
Try This: This seems like a no-brainer, but omnivores have favorites as well. To keep their taste buds content, have a pool of new cuisine options and refer back to top-picks to keep them ecstatic about any meal you bring their way.
 
The Generous Portion Eater
This type of eater often has some form of tapeworm species living within. This person loves to eat mammoth-sized quantities of food at each sitting and often does not account for others while serving themselves.
Try This: Generous-portion eaters tend to not only eat with their stomachs, but with their eyes as well. Presentation is key. If eating buffet-style, have salad and carb-heavy side dishes towards the beginning of the line, followed by proteins. By the time this overeater gets to the chicken kabobs, he or she will be visually pleased by their platter. Not only would they have also run out of space to grab that extra kabob, but by this point they won't need to.
Pleasing the different types of eaters is a common worry among office managers. Fortunately, Cater2.me makes coordinating your company's meals that much easier, while taking the guesswork out of pleasing them all.
Here's how:
Variety – We work with a multitude of different restaurants, chefs, and food trucks in each of our 10 cities. Chances are, whatever your Omnivore Eater wants, we have it.
Clear Nutrition Information – Make even the Finicky Eaters in your office happy. Never wonder if a dish has nuts, dairy, soy, egg, gluten, alcohol, or shellfish again, with our easy-to-read labels displayed in front of each dish.
Accurate Portions – Just tell us your budget, headcount, dietary restrictions, and cuisine preferences, and we'll handle the rest, even if that means making adjustments to satisfy any Generous Portion Eater's type appetite.
Local Ingredients – Support local business and get local ingredients that even a Health Conscious Eater would approve of. We connect businesses with only the best, local food providers. We avoid chains and franchises to focus on authentic ethnic cuisines. And we taste-test every meal to ensure top quality standards.
Being familiar with the different types of "eaters" in your office and working with a good partner can make your team's next meal that much better. You have the power to make all the members of your team satisfied!