When you think about the South, one of the first things that comes to mind is the delectable cuisine. The South is home to some of the most appetizing American comfort foods that you're sure to love, no matter which region you're from. Southern food is not just filled with distinctive flavors and seasonings; it is also rich with history and traditions that have allowed recipes to be passed down for generations. Mentioning every delicious meal they have to offer would be an impossible feat, but here are seven popular Southern foods that will get your mouth watering.
1) Chicken & Waffles
Fried chicken is easily one of the most popular savory Southern foods. The chicken is seasoned, dipped in batter, and coated with flour before being fried in hot oil to give it a golden, crispy texture. If your taste buds are looking for something both sweet and savory, fried chicken with waffles is the ultimate combination.
Chicken and waffles is said to have been born in the 1600s as pulled chicken and gravy, before making its way to jazz clubs in Harlem, giving it the soul food feel it has today. Although there has been controversy around whether chicken and waffles is considered a traditional Southern dish, there's no debate that the inseparable pair is a match made in brunch heaven.
2) Shrimp and Grits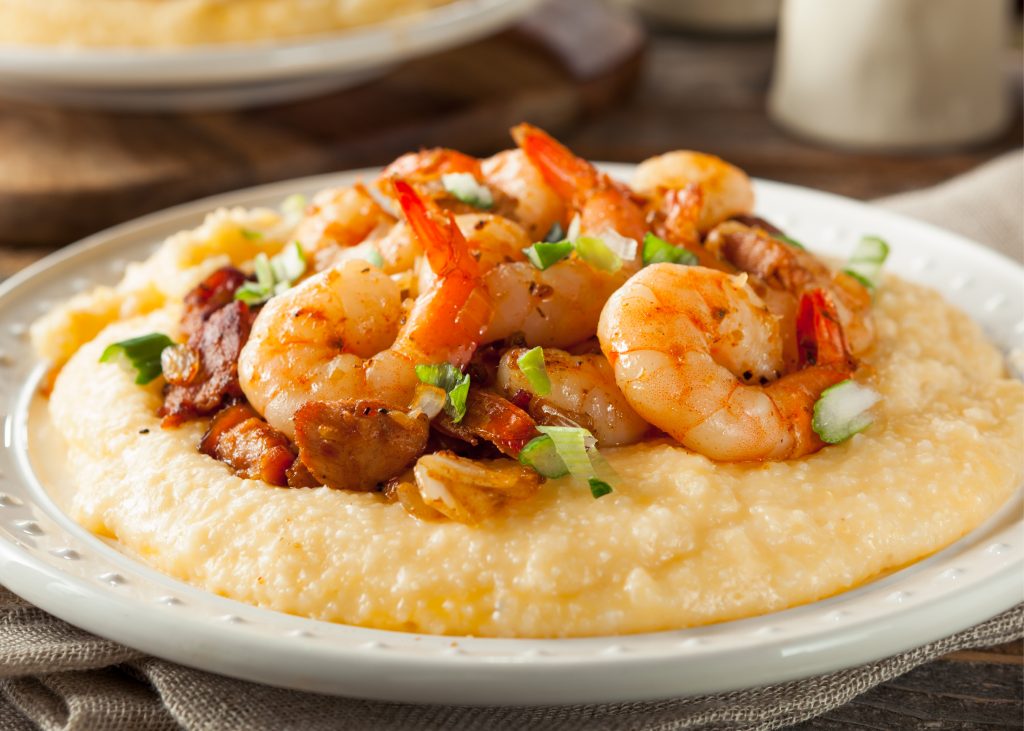 What do you get after you coarsely grind corn kernels, boil them, and add butter? The answer is a hot pot of creamy grits.
Traditionally, grits are known for being a necessity for a Southern breakfast. These days, they can be seen on many restaurant menus, paired with shrimp as a hearty lunch or a dinner entree. Shrimp and grits also goes great with additional add-ons like cheese, bacon, or andouille sausage.
3) Fried Green Tomato BLTs
Unripened tomatoes sound questionable, but when dipped in cornmeal and then fried, they make for an enjoyable side dish. Fried green tomatoes are usually served with a spicy, creamy dipping sauce. You can also put them on a sandwich with bacon and lettuce to spice up the traditional BLT. That would make it a BLFGT!
4) Pimento Cheese
Deemed "the caviar of the South,"  pimento cheese is a popular Southern spread which contains sharp cheddar cheese, mayonnaise, seasonings, and of course, pimentos.
Originally, pimento cheese was put on sandwiches by itself, but since then, its uses have become endless. Popular recipes include pimento macaroni and cheese, pimento cheeseburgers, pimento cheese scones, pimento cheese deviled eggs, and a host of other delicious creations.
5) Buttermilk Biscuits
A Southern meal is never complete without a soft buttermilk biscuit on the side. Making the perfect soft yet flaky biscuit depends on the type of flour used. If you are having difficulty achieving the perfect biscuit, don't fret. Even Oprah was told that she was making her biscuits wrong. Biscuits can be eaten buttered, paired with a fruit jelly of your choice, or even smothered with warm sausage gravy.
6) Peach Cobbler
It may be a difficult task, but when eating a Southern meal, you must save room for dessert. Peach cobbler, which consists of a warm peach filling surrounded by a thick, flaky crust, is a Southern dessert favorite. It is typically accompanied by a scoop of vanilla ice cream.
Why peach, you might wonder. Well, peach is the state fruit of Georgia. Atlanta even has a Peachtree Street, Peachtree Center Avenue, and a West Peachtree Street, all in close proximity to each other! However, that peach prominence has competition: in recent years, blueberries have become a more lucrative fruit for the state. All the same, peach cobbler is unlikely to be uprooted as a Southern food staple.
7) Banana Pudding
Banana pudding is another Southern dessert icon. Vanilla pudding is layered between thinly sliced bananas and Nilla wafers to make for a creamy and mildly crunchy dessert. To add to the Southern experience, banana pudding can be served in Mason jars.
From the entrees to the desserts, each bite of a Southern meal leaves you wanting more. Everything is typically washed down with an ice cold glass of sweet tea, but we will leave the drink choice up to you.
Comment below with your favorite Southern dish or recipe!