As corporate catering becomes more common, there can be both challenges and successes in implementing and maintaining an effective program. Current trends suggest that feeding employees is a welcome perk, but some failed attempts prove how important it is to do it correctly.
If you are the one implementing a catering program at your company, remember to focus on one simple concept: making both your employer and your employees happy with the service.
This process starts with understanding your employer's budget and your employees' concept of a full meal. Next, you'll want to make the meals appealing and varied. Finally, you'll want to plan and schedule efficiently to keep organized.
1) Budget for a Full Meal
Corporate catering budgets can vary anywhere from $10 to $40 per head. Regardless of your employer's budget, it's important to understand what your team considers a full meal, in order to get portioning right.
For example, a standard portion of protein is 6 ounces per person. When ordering something like tacos for your office, be sure to ask if there will be 3 ounces of protein for each taco to avoid running out.
People will naturally be expecting 2 sides of vegetables or starch, and these should typically come to around 4 ounces per person.
Also, try to provide a simple salad as a healthy, filling alternative, especially if you have a heavy meal planned.
Don't forget to take the time to ask your catering provider these questions when planning your program to ensure that your employees won't go home dissatisfied – and hungry!
2) Accommodate Different Needs
One way to ensure that your meal is a bust is to make individual people feel left out. To ensure a positive experience for all, work with catering vendors who can accommodate all of your employees' needs. It's important that the gluten-free or vegan eaters in your office aren't getting the same basic salad every day, or the program will be a failure for part of your group.
In addition to feeding those with dietary restrictions, ordering from vendors with variety and good nutrition keeps your team excited.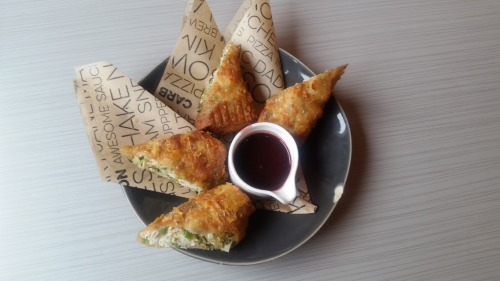 Considering another Panda Express order? Instead, try something like these Asian-inspired Chicken Spring Rolls dished up by a local cafe.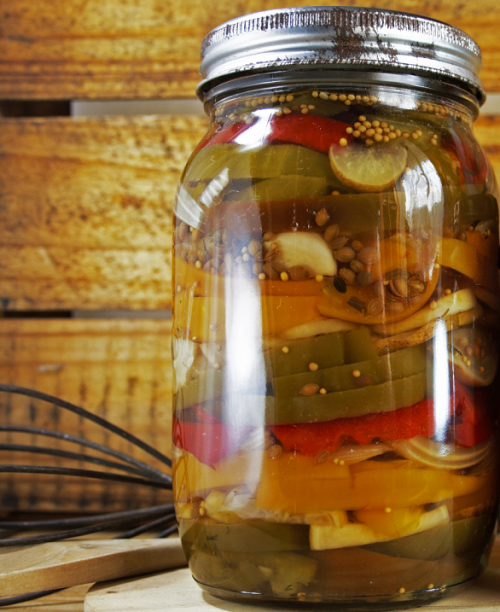 Yet another Italian Sub from Subway can be replaced by something more authentic. For example, this Denver family-run Italian market, Deli Italia in Lakewood, makes their own sides by hand. For example, consider their Giardiniera, a spicy condiment made with bell peppers, celery, carrots, Serrano peppers, and red pepper flakes, that is marinated in a variety of oils.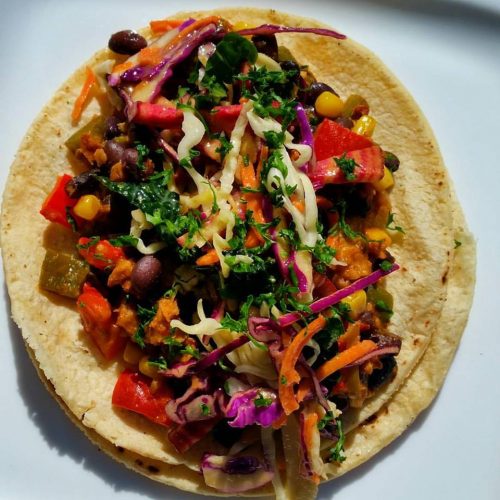 Want to avoid another bean burrito from Taco Bell? Serve your office something different, like these Indian-inspired tacos that are delicious and diet-friendly! (Roxie's Tacos)
3) Plan Ahead
Lastly, don't forget to plan ahead for catering. There is no question that last-minute ordering results in a bland catering experience. Instead, understand that planning ahead gives vendors enough time to accommodate your special requests and come up with interesting ideas.
Oftentimes, they will need to make an extra trip to stock up on inventory, for example. Or, the time will allow them to come up with menu items unique to your company or your party theme. For particularly popular holidays, like Cinco de Mayo or St. Patrick's Day, pre-planning can prevent you from having to eat at an unusual time because caterers are already booked during lunchtime.
So, do yourself a favor, and find a system that makes life easy on both you and the caterers. That's a recipe that ensures your employees are well-fed and happy.
In conclusion, catering at the office is a wonderful perk. The real trick is making it an effective process, by addressing the budget needs of your employer while focusing on the experience for the employee. Hope these tips help you achieve exactly that!