All too often, when we think of healthy meal options, our minds automatically go to tasteless salads and overcooked grilled chicken. But healthy food doesn't have to be boring and monotonous.
It's time to reinvent your healthy lunch routine. From dishes with green apple shavings to those with macadamia nuts, there are many unique ways to have a healthy meal at work. Here's how you can have your healthy lunch – and enjoy it too.
If you're in Atlanta, these one-of-a-kind falafel wraps will transport your taste buds to cloud nine while being good for you.
What Makes It Unique:
This wrap doesn't just feature hummus and falafel; baked rosemary chicken is also included! And the way they marry the herbs and spices in this lunch creation is something that can't be replicated.
What Makes It Healthy:
The rosemary chicken in this wrap is antibiotic-free, and the falafel is cooked in olive oil instead of butter. Also, the wrap's hummus can give you an energy boost. The chickpeas in hummus are a complex carbohydrate, which the body uses as an energy source. That's the perfect pick-me-up for a busy workday.
For a healthy build-your-own bowl option with Asian flair, Brightwok Kitchen should be your go-to lunch spot.
What Makes It Unique:
Not only do the customizable lunch bowls allow you to accommodate every employee's lunch preferences, the sauce options are out of this world. From Jalapeno Green Curry to Creamy Cashew, the sauces choices boast unique and interesting flavors that complement any bowl combination.
What Makes It Healthy:
Your bowl will have some of the freshest ingredients in the Windy City, because Brightwok chops its colorful vegetables, marinates and grills its own meats, and mixes its own homemade sauces fresh every day of the week! That freshness can make you feel refreshed at work.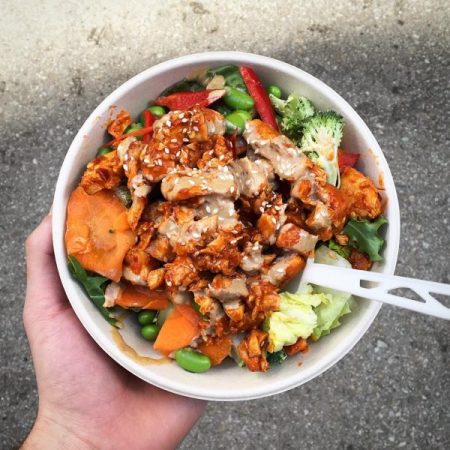 Miami: Poke Bowls (Poké-Che)
Poke-Ché is spreading the poke bowl love to offices throughout the Miami area! Their traditional Hawaiian poké is made with delicious fish, toppings, mouth-watering Hawaiian spices & sauces, all over a bed of sweet & savory sticky rice.
What Makes It Unique:
What makes these poke bowl creations stand out is the toppings. From baby asparagus to cilantro, each topping adds a unique touch to your lunch creation. Have you ever thought of pairing macadamia nuts with your marinated fish? The taste is unusual and delicious and adds just the right amount of crunch and flavor to your healthy lunch option.
What Makes It Healthy:
This bowl is made with perfectly-cubed sustainably-sourced local catch. What makes this lunch choice even better? Fish is a good source of protein, and it's low in saturated fat. Fish is also a good source of omega-3 fatty acids, which are very heart-healthy. That's a lot of doing good with just one lunch choice.
Uma Temakeria's take on the sushi burrito will have you dubbed the office hero. Their Salmon-Ritto is packed with salmon, avocado, cucumber, and daikon.
What Makes It Unique:
The game-changer comes in the form of other fruits and veggies in the burrito. They offer the usual snow peas, seaweed salad, and carrots that you can add to your burrito. But the curveball comes with the ability to add green apple shavings. The tart citrus from the apple packs a sweet but complementary punch that makes this lunch offering stand apart from the rest.
What Makes It Healthy:
The fish in this dish is high-quality and sustainably-sourced salmon. And the apple shavings are good for you too. According to recent research, about two-thirds of an apple's fiber content exists in its peel. Fiber is a nutrient that's crucial for maintaining healthy digestive and cardiovascular systems. Plus, it'll keep you feeling full throughout the workday.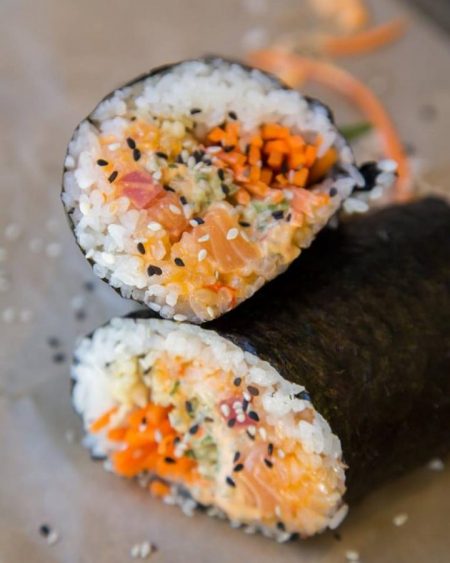 Washington, D.C.: Avocado Basil Chicken Plate (Farmbird)
There's a reason Brightest Young Things praises Farmbird for their delicious and healthy chicken lunch options. One healthy dish that's always an office favorite is the Avocado Basil Chicken Plate.
What Makes It Unique:
Sliced avocado, kale pesto, snap peas, pickled vegetables, slivered almonds, and basil make up the unique and tasty flavor profile of this healthy lunch dish. Topped with roasted chicken and basmati rice, this healthy lunch couldn't be further from your monotonous lunch salad option.
What Makes It Healthy:
This plate features basil, which contains a slew of health benefits. For example, basil is one of the best sources of vitamin K, which helps maintain bone density. The avocados in this dish are also great for you: they contain 20 different vitamins and minerals. That's a lot of vitamins in a tasty lunch dish.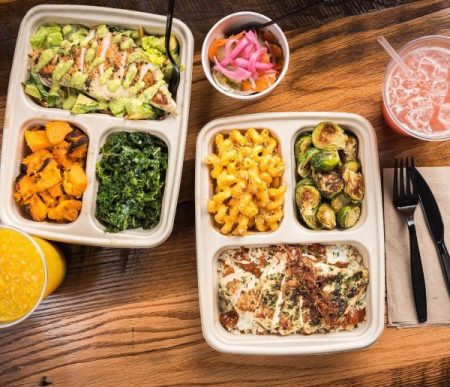 Our interesting healthy lunch options don't stop here. So, the next time you're dreading that boring lunchtime salad, order one of these delicious healthy alternatives for your group instead. Your office, and your taste buds, will thank you.