Back to school season is quickly approaching at universities across the country. As you plan your upcoming campus events, don't forget to get the food right. Whether you're planning a leadership retreat or a campus tour, use this food pairing guide for every event on your list.
Leadership Retreats
To allow time for bonding at retreats, you may want to keep folks at one location. When that's the case, you need to account for dietary restrictions, since on-site participants may not be able to get other food. First, make a list of all of the meal types that you will need over the course of your retreat. Then, make sure the menus support the kind of activities you have planned.
For example, if team building is on the agenda, then meals that spur conversation are a priority. A few examples:
For breakfast, consider an oatmeal bar. It gives participants a chance to discuss their favorite toppings – from brown sugar and butter to berries and nuts. Oatmeal also contains thiamin, niacin, and folate, which all help metabolize energy, providing the boost participants need throughout the day.
For lunch, think about BBQ. Your eaters can come together over a good debate: you'll hear about the merits of brisket versus pulled pork and about which city has the best BBQ. While they're doing that, they'll get the protein needed to keep them going into the afternoon. And the occasional mess created can be an opportunity to band together on a shared task: cleanup.
Another retreat priority could be to generate new ideas. Make sure to pick food that fuels brainstorming:
For breakfast, you want protein, as it will give your team energy without weighing them down. An omelette station is a good way to meet this nutritional need. Eggs are rich in protein and nutrients, including thiamin, riboflavin, folate, B12, and B6. An omelette station allows each participant to create the perfect breakfast, whether they are gluten-free, vegetarian, or dairy-free. Also, make-your-own bars allow people to arrive at staggered times throughout the morning, so your early-risers and night owls will both be fresh for brainstorming.
When the morning fuel starts to wear off, go for an easy grab-and-go option for lunch. An assortment of wraps is a brain-fueling choice. You can avoid the tryptophan-coma of turkey and opt for lean proteins like salmon and grass-fed beef, which help participants feel energized. Ingredients like walnuts and lentils achieve the same aim and are also rare enough to spark thoughts of novelty.
Resident Assistant (RA) Prep
Your RAs have been chosen, and they're ready to welcome new students to campus. Whether they're receiving training or helping students move items into dorms, your RAs will need food that provides lots of energy. A power lunch with lots of great protein and complex carbohydrates should be at the top of your list.
Campus Tours
With back to school season in full swing, many students and parents will be taking tours of the schools they're considering. It's important to provide food that makes them feel welcome and excited to be on your campus:
Opt for appetizers like finger sandwiches, spanakopita, or croquettes. They're easy for visitors to grab and carry on a napkin, and they will keep throughout the day. Consider having your apps match your school colors! For example, if red is one of your colors, sundried tomato croquettes or pigs in a blanket in puff pastries that are dyed red could make sense.
Don't forget the drinks. A refreshing mint lemonade or fruit-infused water will help visitors cool off and make it through the tour. It will also emphasize that your university values visitor comfort and encourages hydration.
Alumni Weekend Events
As university alumni and guests come to campus for alumni weekend, they will expect delicious food and drinks. Order food they can enjoy while mingling with other alumni and faculty:
Consider a variety of hors d'oeuvres for this crowd that wants to network. You'll want foods that are not messy or difficult to eat and that convey a mature vibe. For a daytime event, choose mini tartlets, caprese on a stick, or potato blinis. All are one-bite, sophisticated treats that work well for standing events.
Have a more hearty alum event planned? Go for dinner options like flatbread, chicken Kiev, or lobster toast. Each is a "grown-up" version of a college or young adult favorite: pizza, wings, and avocado toast, respectively.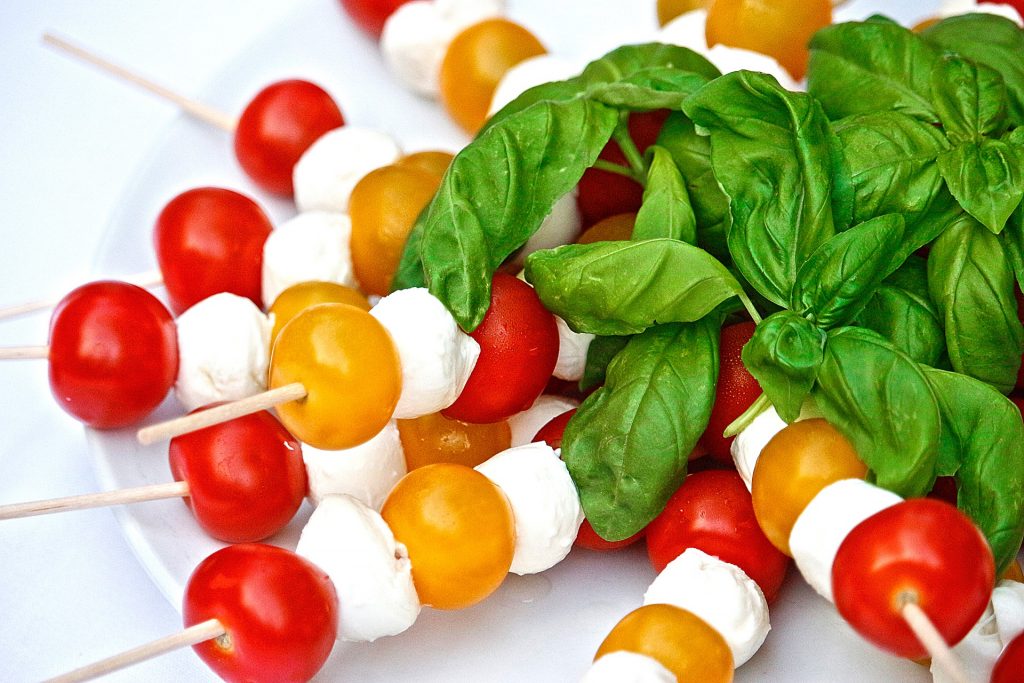 Department/Staff Planning Meetings
Whoever said planning meetings weren't fun didn't have a variety of delicious food at their fingertips. For these events, you'll want light foods everyone can eat while discussing options.
A fresh fruit tray provides a quick pick-me-up during a marathon planning session. That's because the natural sugar in fruit is packed with fiber, which helps keep blood sugar levels steady.
Do your team members get a bit hangry when the mid-afternoon slump hits? A snack of mixed nuts, with cashews, almonds, and hazelnuts, is high in magnesium, which plays a key role in converting sugar to energy. It also fits most diets – from Whole30 and gluten-free to vegan and dairy-free.
Faculty "Welcome Back" Mixer
With planning meetings done and fall classes about to start, a welcome back mixer is the perfect way to thank professors and faculty for their prep work. Celebrate with foods that don't come from one of the cafeterias or on-campus dining halls they'll likely frequent throughout the school year. Choose foods that reward them:
Make it memorable with unique food options, like pernil or kati rolls. They're both lighter options that work well for the end of summer, and they bring a sense of novelty that's appropriate for a new semester.
Since this is a celebration, a three-tiered cake with seasonal berries is appropriate. This dessert can help set the tone for professors and staff, and it can feature the university mascot or department theme.
Picking the perfect food for your university events is easier than you think. Use this guide as a starting point for all of the events that you need catering for, and we'll take care of the rest. We can put together menu ideas and provide event inspiration for all of your back to school events. From tapas to tacos, there's nothing that we can't tackle. Make sure your events have the best food and drinks to start the school year off right!