Back to school season isn't just about getting new school supplies. It's also when you want to get everyone excited about the new school year, starting with the faculty.
One great way to set the right tone among your staff is themed meals for meetings, in-services, and department gatherings. Not only are they fun for teachers, but they show your commitment to staff success and they start the year off on a positive note. Moreover, department-specific dishes give teachers something to bond over, and they prompt conversation and creative ideas.
One of our readers, Anna K., suggested another great way to use these themed food menus: as teacher-appreciation gifts from parents! These menus are fun and healthy gift ideas for your children's teachers. Thanks for the suggestion, Anna! 
So, here are 7 unique menus that will help your department start the school year with enthusiasm:
1. Math Department Menu
Breakfast:
Start your day of math department meetings with geometry! A make-your-own crepe bar is the perfect combination of food and shapes colliding in the morning. These delectable breakfast treats are edible examples of circle geometry – from arcs and diameters to chords and sectors. Add your favorite savory or sweet fillings, and your crepe becomes a cone or a cylinder. Now that's a discussion of cylindrical volume that anyone can get into.
Lunch:
Transition to trigonometry at lunchtime. One great item for a trig syllabus discussion is wood-fired pizza. Whether you're discussing equilateral or isosceles triangles, this dish is a delightful way to talk – and eat – angles. Eat your slice folded over if you want to add parabolas to the mix. And if you get pineapple or artichokes on your pizza, you can even enjoy the Fibonacci sequence.
Dessert:
End the meal with brownies, and you'll get to visualize the golden ratio. When you're full from all of those classical rectangles, cut the remaining chocolate treats into thin strips, and call them absolute value bars. Or, bite them into the pattern of an integral symbol, if your discussion veers into calculus – and if your talent runs in that direction.
Drink:
Don't forget arithmetic ratios! A refreshing lemonade is the perfect example. To quench your thirst, you can enjoy a ratio of water, sugar, and lemon. Anyone that gets that percentage wrong will be able to taste the too-sour or too-sweet results.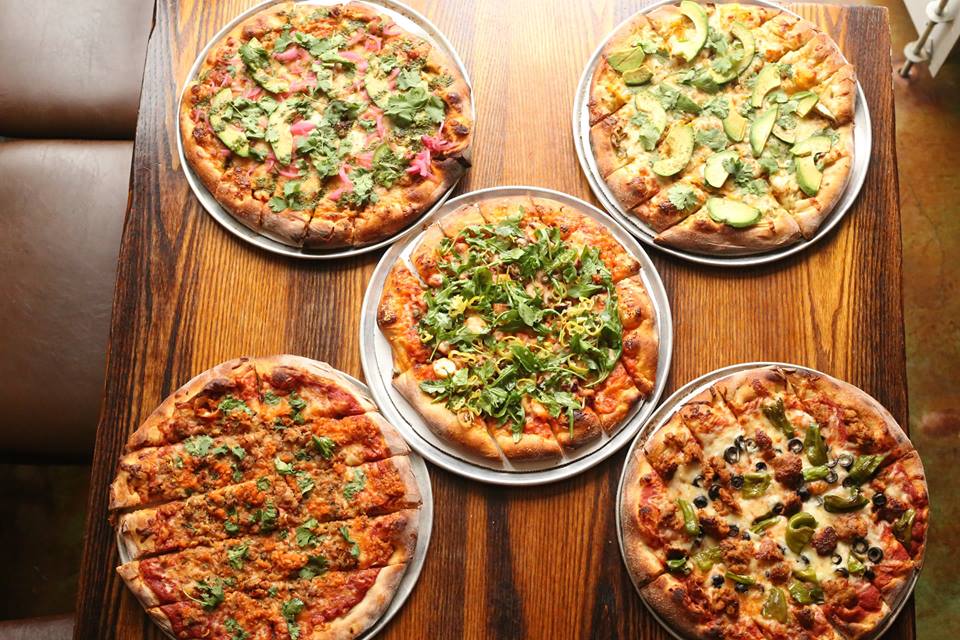 2. History Department Menu
Breakfast:
Start the morning with a meal inspired by the Roman empire. History teachers can consider why Greece fell to Rome over their Greek yogurt. If the meeting runs long, they can shape their yogurts into togas or Roman columns, since playing with your food can be healthy, given that doodling is proven to boost brain activity. Teachers can even pick their own yogurt toppings, like honey, granola, nuts, or fresh berries.
Lunch:
Nothing like a little bit of British history to spark a great lunch discussion! While some see broccoli as just a vegetable, history teachers may beg to differ. A broccoli (and beef) lunch dish will have them thinking of the monarchy family tree and all of the history that comes with it. From scandals to intermarriage between royal houses, this lunch can entertain the history lovers at your school and get them planning their syllabi.
Dessert:
Don't forget geography! Your history department staff will enjoy a batch of cookies frosted in the style of different countries' flags. Each flag represents a wealth of history, so this delicious dessert may inspire a new lesson plan, in addition to satisfying.
Drink:
Every history buff thinks of one thing when they hear the word tea: The Boston Tea Party! American history will be well represented with this delicious beverage. Whether the tea you serve is iced or hot, the American Revolution will be represented in full force at your back to school event. And it's a perfect match for those flag cookies too.
3. English Department Menu
Breakfast:
Oatmeal may just be another breakfast option to some, but to English teachers, it's a portmanteau that will satisfy both their breakfast and English cravings. This linguistics topic can be delicious, with added brown sugar and butter – or with nuts or berries for vegan eaters.
Lunch:
Mention an Ernest Hemingway-themed lunch, and your school's English buffs will be all in. Pay homage to the Pulitzer Prize-winning The Old Man and the Sea with a fresh fish lunch. It may not be a marlin, but it can be a great reminder of the importance of perseverance – and of literature classics. Order your fish cooked Cuban-style, as a nod to the Cuban fisherman protagonist.
Dessert:
A peach pie for dessert rounds out a delicious lunch, but to the English aficionado, it may also remind them of the peach orchard in The Grapes of Wrath. The American Lit classic can also spawn discussion of cross-departmental projects with the history faculty.
Drink:
A breakfast meeting isn't complete without a healthy dose of vitamin C. That's why OJ makes for a great abbreviation and a delicious morning drink choice!
4. Computer Science Department Menu
Breakfast:
When you look at waffles, do you only see a delicious breakfast food? Computer science whizzes may see a 2D array! This data organization system can spur interesting discussion – and a craving for syrup.
Lunch:
For a computer science department lunch, consider delicious lo mein. This long and winding dish may make them think of threading or parallel processing. They can enjoy their noodles synchronously or asynchronously; they'll be delicious either way.
Dessert:
While a denial of service attack (DoS) can have your tech team in a tizzy, a chocolate fountain DoS attack is much more positive. The chocolate river will flow continuously over the fountain, but its attack won't cripple your systems. Plus, you won't need to scale up your network to defeat it; just a spoon or some fruit!.
Drink:
For CS faculty, Java is the drink (and programming language) of choice, so serve them this energizing beverage at department meetings. As an added bonus, the caffeine will keep them focused, even if the meeting runs long.
5. Science Department Menu
Breakfast:
Your department breakfast meeting deserves a hearty steak and egg combo. This dish represents the biology life cycle in its stages. Moreover, both parts of the meal can spark discussion of protein processing in the human body. And if you have vegans in the mix, you can add a side of dandelion greens to celebrate the plant life cycle.
Lunch:
You can't go wrong with a pasta bar for your science welcome back lunch. It'll be perfect for physics discussions. That's because your faculty can imagine that the spaghetti represents how light waves, like radiation and gamma rays, travel. It's not a coincidence that red has the longest wavelength, and it's also the color of tomato sauce.
Dessert:
End your meal with some geology. Tiramisu is a perfect way to cap off a science department meal. The caffeinated dessert isn't just energizing and delicious. It also represents geological layers, like igneous and metamorphic rock.
Drink:
Don't forget to serve a fizzy soda with your science team lunch. It will remind science lovers of the scientific process necessary to make this drink: carbonation. That's a chemistry application that's both sweet and invigorating.
6. Art Department Menu
Breakfast:
Take your taste buds on a colorful journey with multi-colored bagels. They embody the beauty of the color palette; your art faculty is sure to enjoy this breakfast masterpiece.
Lunch:
Order a lunch of lettuce wraps, and transport art lovers to Monet's Water Lilies. The beauty of this French Impressionist painting won't diminish the taste. Another lunch option for the artists in your group is rice and beans. Their black/white contrast may bring to mind works like Picasso's Guernica.
Dessert:
An art-inspired dessert that your art department will love is an apple tart. It can spark a discussion of surrealism, with Magritte's Son of Man as the preeminent example. And don't miss the fun play on words in finding "art" inside tart.
Drink:
A bubble tea drink is a great way to start a discussion of sculpture with your art faculty. The tapioca balls, called "bubbles" are reminiscent of the world on Atlas' shoulders. If you get jellies instead of bubbles, they may remind faculty of cube-like sculptures like Tony Rosenthal's works or Chihuly's Blue Crystals.
7. Phys Ed Department Menu
Breakfast:
Appease the carb – and gym – lover in your group, by opting for bagel bites. The mini bagel discs are reminiscent of track and field's discus event, while the ball of cream cheese to garnish it may bring to mind shot put. You can get gluten-free bites and low-sugar cream cheeses for those with dietary restrictions. On the other hand, those training for an upcoming run can enjoy the full-carb version.
Lunch:
Whether they're steamed or pan fried, dumplings make for a great phys ed lunch. Not only are they shaped like footballs, but pork-filled dumplings can be a more enticing way to enjoy pigskin. Given how delicious they are, your staff will be saying, "Touchdown!" with every bite.
Dessert:
Doughnut holes will have your gym teachers' stomachs smiling and their minds wandering to the upcoming US Open. Order pistachio or matcha-flavored doughnuts to invoke the tennis theme at your gym faculty event.
Drink:
When we think of gym class, sports drinks come to mind! Flavors like lemon lime, fruit punch, and orange are always crowd favorites. A side bonus is the nostalgia factor, reminding everyone of school gym days.
There you have it! Unique and delicious foods for every back to school event on your list. Make sure you start the school year on the right foot, with a creative meal for each group of faculty and staff.