The year is 1976. The place is Seattle. Japanese-born Toshishiro "Toshi" Kasahara has spent the last four years working odd jobs after graduating from Portland State with a degree in business. Inspired by friends finding success in food service, he decides to settle in Seattle and open his own restaurant.
Experimenting with flavors and culinary preparations from his childhood, Kasahara begins to riff on the idea of Japanese yakitori chicken skewers. Using more readily available ingredients, he settles on a reduction of soy sauce and sugar as a means to both marinate and glaze a variety of grilled proteins. With no name recognition, "Toshi's Teriyaki" opens to little fanfare in the heart of Seattle's Queen Anne neighborhood.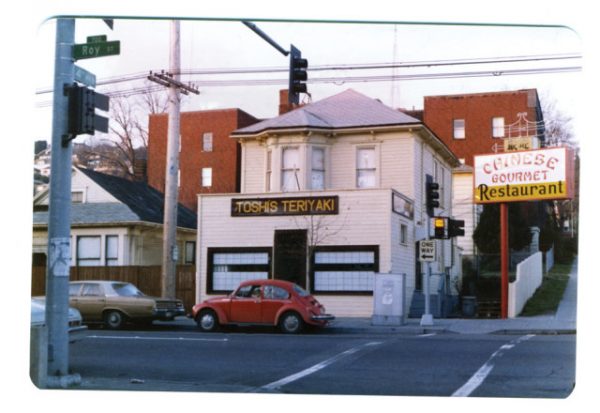 Unbeknownst to Kasahara, his substitution of white sugar in place of the traditional mirin wine would allow his product to gain acceptance, even among the most reluctant of American palates. At the same time, a burgeoning affinity for Asian flavors spreads. Shortly after Toshi's opening, a Seattle Times food critic pens a glowing review in praise of Kasahara's quality product and generous portions. Throngs of hungry Seattleites head from the newsstand to Toshi's. The response is so great that it inspires the openings of new Toshi's Teriyaki locations.
Despite this great success story, the concept of teriyaki was in no way unique to Seattle, Toshi's, or the 1970s. Culinary historians cite teriyaki preparations within Hawaii's Japanese community as early as the 1920s. Americans of Japanese heritage also report preparing teriyaki for Buddhist temple luncheons and special events in the 1950s.
In this sense, Toshi's Teriyaki can't claim the title of "first" teriyaki. Kasahara wasn't so much inventive as he was intuitive. He provided an American palate with something unique yet accessible, something inventive yet somehow familiar, and something sweet yet savory.
With such broad appeal, teriyaki is a fun departure from the everyday lunch routine. Join us as we raise a pair of chopsticks in appreciation of this Japanese-American culinary phenomenon and its sweet-and-salty forebears! Cater2.me's hand-picked teriyaki vendors are the best your city has to offer, so try it out!