With Cater2.me Group Ordering, your team has the opportunity to select and customize their meals to their own unique tastes and preferences. Meals arrive in a single group delivery, individually wrapped and labeled and ready to be picked up by your team. In order to ensure meals are organized and ready for easy pick-up, we've designed several solutions to ensure a smooth distribution process no matter the size of your team.
Below, we'll discuss more about label codes and lay out options for organizing meals after delivery.
Label Codes
Each meal participant receives a dedicated alphanumeric code, which helps our vendors organize meals on-site and allows employees to identify their meals quickly and easily. Employees receive their code upon signing up to the Group Ordering platform and are reminded of their code whenever they place an order.
When an order arrives on-site, each meal includes a label with the employee name and code, and also includes the date of the meal, just in case participants wish to save their leftovers for a future date.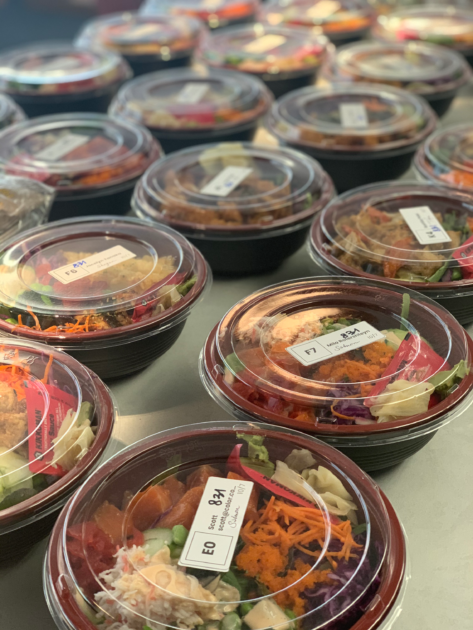 On-site Setup Options
When a meal delivery arrives, we offer three on-site setup options to accommodate various office layouts and headcounts: alphabetized employee codes, labeled stations, and labeled shelves. All three methods enable meals to be sorted efficiently and easily spotted.
Alphabetized Code System
For groups with average participation of 10-15 employees, we recommend a simple setup where meals are placed in order of their alphanumeric codes. This allows for a quick setup and easy identification of meals on-site.
We can help determine the best area of your office for meals to be set out, and then each delivery person will line up meals in alphabetical order by code. Any extra items ordered by the Host will always be placed at the front of the line, so it's easy for the Host (or office guests) to find their meals. Team members can simply walk up, grab their meal, and be on their way!
Station System
Labeled stations are best for groups of approximately 16-30 employees, but can work for larger groups as well. With a station setup:
We'll determine which areas of your space can best serve as stations for meal distribution, and then equip each station with a numbered sign. Tables or an island in the kitchen area work great, or we can get creative depending on your office layout!
Deliveries are divided into small groups of approximately six meals each and then assigned a station number. Notifications will go out upon arrival informing employees of their meal's station location.
Shelf System
For groups larger than 30 employees, we recommend a shelf system, where mobile shelving units are installed in the office. We can use shelves already on-site or can recommend great shelving options and facilitate purchase and installation on clients' behalf.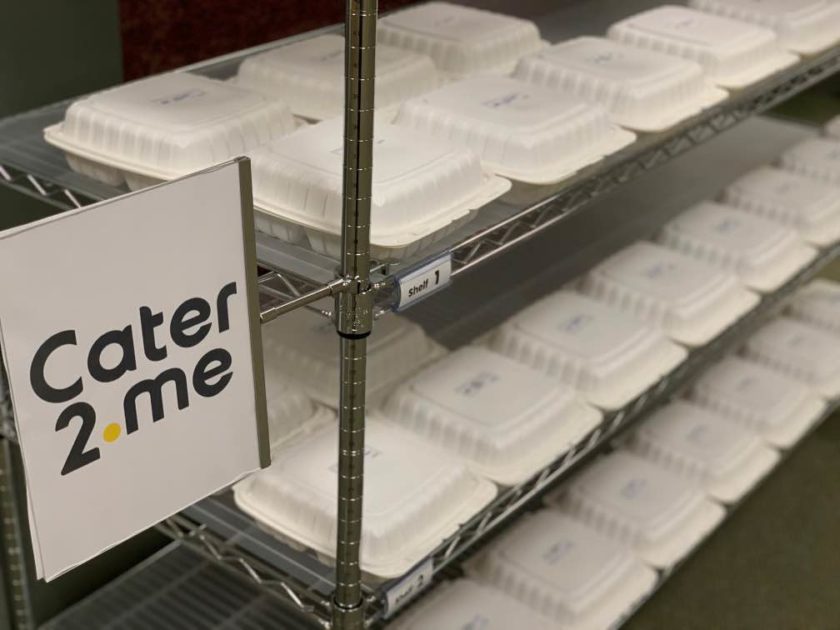 Once shelving units are installed:
Our team will number and label all shelves and determine how many meals can comfortably fit on each. We line shelves with a plastic liner that is easily cleaned in case any spills occur.
After all carts are submitted for a specific meal, employees are assigned a shelf number so they know exactly where to find their items.
When the delivery arrives, notifications go out via text or email (based on individual preference) telling their assigned shelf.
Delivery drivers will place each meal on the correctly numbered shelf for quick and straightforward distribution.
No matter if a company uses the alphabetized code, station, or shelving method, Hosts (individuals who manage a meal program) will always have access to a full list of meals and their corresponding locations in case there is any confusion.
We realize that meal distribution can sometimes get a bit chaotic when everyone is hungry, but our label and sorting systems make mealtime a stress-free experience! All of our vendors have been trained on Group Ordering setup procedures. Additionally, we can provide on-site catering coordinators to manage setup, distribution and any necessary cleanup.
Contact us today to see how Group Ordering can work for your team, and be sure to check out our other posts to learn more about the platform and experience: