When it comes to business, the future is definitely female. Over the past two decades, the number of female entrepreneurs has increased 114% (!!!). Moreover, women-owned businesses represented only 4.6% of all businesses in 1972; that number rose to more than 42% in 2019 and has no signs of slowing down. 
Here at Cater2.me, we are thrilled that we've been able to collaborate with so many amazing women entrepreneurs and bond with them over our shared love of great food and top-notch customer service. Not only do we get to spread the word about their creations, but we also get to help support these vendors in a tumultuous time in the hospitality industry. So today, we wanted to take the opportunity to highlight some of these women and their businesses as a THANK YOU for all of their dedication to their craft.
Read on to learn about how we've been able to support women-owned businesses over the last ten years and to learn about the great businesses they've built.
JPO Concepts (@jpoconcepts): Ever since she was little, Helah Kehati has been following in her father's footsteps and sharing his passion for food, people, and community. After earning her business degree from Boston University and working in both nonprofit and for-profit organizations, she found her passion. From coordinating fundraising events for Comedy Cures to boutique photoshoots for fashion editorials, the common thread was logistics. She loved everything that went into organizing an event: connecting people, discovering new locations, and putting her all into making the impossible happen.
While we've partnered with Helah since 2017, when the pandemic hit and many of Cater2.me's corporate clients paused their in-office catering programs, we worked with Helah to develop several new offerings — including home-delivered prepared meals and a nationally shipped gourmet snack offering — as a way to bring new types of perks to WFH teams and help bolster JPO's business during the downturn in their traditional catering traffic.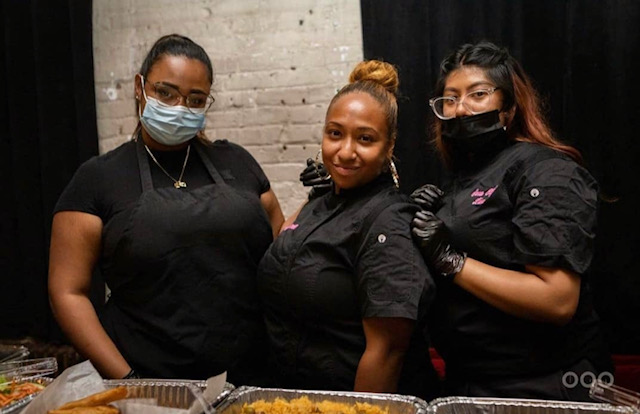 Adrii's Kitchen (@adriiskitchen): Adrii's Kitchen Catering is owned and operated by a multicultural, all-women team whose dishes are created from the owners' favorite traditional cuisines. Growing up in an African-American household, her family knew seasoning was the most important ingredient and she took that knowledge along with the personal choice to not eat beef and pork and created her one-of-a-kind menu!
Adrii's Kitchen has been a great addition to our vendor network with its signature menu and cultural dishes. Since they came in with experience catering to the Department of Education, we were able to connect Adrii's with multiple schools throughout New York during the pandemic and provide school staff with safely packaged, delicious meals.
Cafe Sud: In 1989, Katia Sabbah founded her catering company in Berkeley, CA, after gaining her culinary arts degree. Having been born in Casablanca, Morocco, Katia moved to Paris to first study mathematics. Her grandparents' love of food found itself embodied in their granddaughters' shared passion; every summer, she would spend time in Madrid and London, practicing her culinary skills. This catering family started with small roots, and 30 years later, maintains the same small business attitude that was a driving force in its creation.
Katia's creativity and determination were key when a new Cater2.me client reached out seeking a solution for a home-delivered meal for their annual company picnic, which was converted to an all-virtual event in spring 2020. Working with Katia, we created a customizable option that allowed each of the client's employees (and their family members) to select and create their own meals. Katia then facilitated the delivery to each employee's home across the Bay Area so that everyone could enjoy a "shared meal" during their virtual picnic.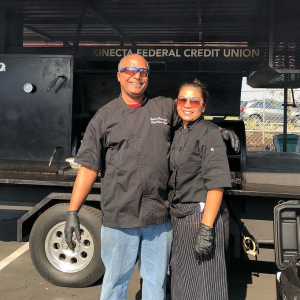 Grandma's House (@grandmashousecatering_la): In 1879, Grandma Cora Johnson devised a delicious barbeque for the first Juneteenth celebration held in Arlington, Texas. Her recipe became a family tradition and a well-guarded secret. Today, her grandson, Mario Johnson, uses the same original spices to create his masterpiece barbeque for patrons of Grandma's House Catering. Grandma Minerva added her special flair to the menu by teaching Mario how to make delicious dishes with a Louisiana Cajun flair.
 A recent addition to the Cater2.me vendor network, Grandma's has been serving our Los Angeles-based clients since November 2020, getting high marks for their specialty roast chicken and cajun vegetarian jambalaya. Our clients love getting to experience Louisiana flair all the way in LA, and we can't wait to see how our partnership grows in 2021!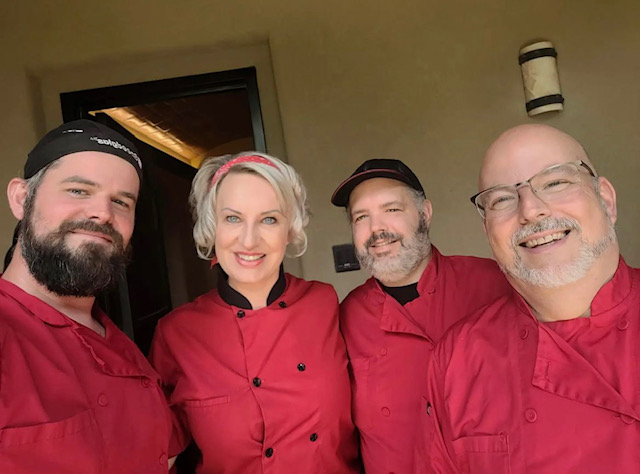 Apolonia Catering (@apoloniacatering): Asia Gonczar is the owner of Apolonia Catering, Pierogi, and More, a small Eastern European caterer specializing in pierogi and Polish, Russian, and Eastern European food. Asia has always been fascinated with food and had her first memorable culinary experience at the age of twelve. Asia says, "I believe that sometimes it's not formal training that sets apart a chef, but constant improvement and trying to create better artistry in one's food."
When a client approached us in search of a solution to keep their annual Oktoberfest tradition alive in Fall 2020, we were lucky to have a great partner in Apolonia. Leveraging Asia's Eastern European heritage and knowledge of regional cuisine, we developed a customizable heat & eat Oktoberfest meal — complete with Bavarian-style packaging and a soft pretzel– to be delivered to the client's office so their employees could pick them up and share a bite over a themed Zoom call.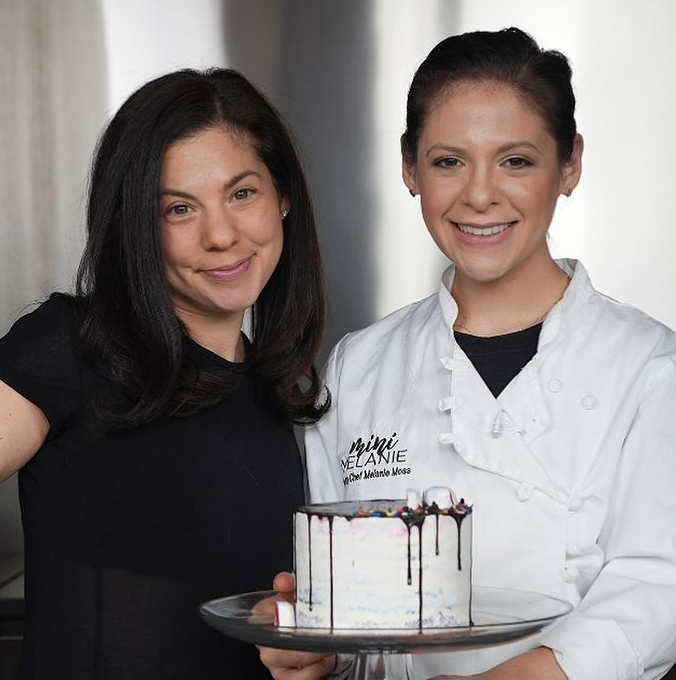 Mini Melanie (@minimelanienyc): Mini Melanie creates classic sweets with a modern twist, prepared with love in Brooklyn, NY, and shipped nationwide. This sister-owned shop aims to bake for every special occasion, or just because. They are a proud female-owned and operated business, and they strive to be role models for the next generation of female entrepreneurs. Melanie's desserts have been recognized in the 2016 New York City Michelin Guide, and in 2018, Melanie became Champion of a special-themed chocolate competition on Food Network's CHOPPED.
When we first partnered with Mini Melanie in 2015, we knew we were in for a sweet experience. We connected them with local NYC offices, and they started with their first order of 25; eventually, they worked their way up to serving client teams of more than 300 and went on to create some VERY newsworthy treats! And when the pandemic hit, they collaborated with us to develop an at-home, interactive dessert experience for remote teams looking to reconnect.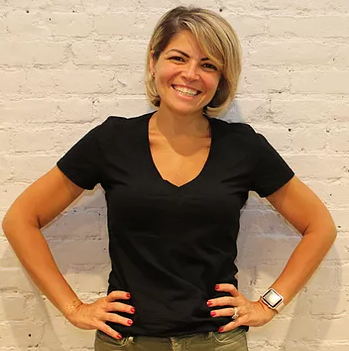 Toum (@toumnyc): While co-founder Christine Chebli studied Business Management and Communications, she saw herself running a business, but wasn't quite sure what. A few years after college, she met her now-husband Rodrigue who was a hospitality major and a chef. Their food truck hit the road in July 2012 while she was 8 months pregnant with her daughter Chloe (who dreams of having a restaurant of her own one day). They have now grown to own and operate a full-service restaurant, food truck, and catering company!
When we first began our partnership with Toum, they were operating out of a food truck and secured their first order for a team of 55 in April 2015. Since then, they've worked their way up the ladder and created their own catering business, brick-and-mortar restaurant space, and multiple pop-ups! Through our collaboration, the Toum team has been able to serve groups of more than 500. We're so happy that we have been able to help provide them with the exposure they needed (and deserved) in order to grow their business into the hospitality powerhouse that it is today!
Happy International Women's Day to all the women out there; we hope that you enjoy the stories behind our women vendors as much as we do. Be sure to head over to their social media accounts to give them your support!
Are you interested in booking a meal or experience with one of our women-owned businesses? Learn more here.