At the conclusion of 2019, Cater2.me interviewed a wide range of HR and talent professionals to gain insights into all things company culture. And since a LOT has changed since then (thanks, 2020), we decided to revisit these conversations to see exactly how much their culture has transformed since the start of the pandemic.
We were lucky enough to have Hannah Nececkas from Ribbon sit down and give us the 411 on her company's COVID cultural shift. When we first spoke to her a little under two years ago, she was the Recruiting and Culture Coordinator in charge of everything from keeping the cold brew flowing to stocking all the yummy snacks for her team. Hannah has now transitioned into the position of Talent Strategy and Operations Manager where she is assisting in Ribbon's 2021 hiring effort to bring on over 100 new employees!
Read on below to see how things have changed since our last chat, and check out her previous interview here to compare them directly.
How has your company's culture changed since the onset of COVID?
We've had to figure out how to create a sense of community while being at home. Thankfully, pre-pandemic, Ribbon's culture was very lively and strong. We adopted new ways to make sure people were able to get face time with others, like turning happy hours and lunch and learns into virtual gatherings.
One of the biggest initiatives that has been impactful on culture and DEI has been the creation of employee resource groups (ERGs) that we kicked off over the summer. Today, more than 50% of the company is involved in 1 or more. It's been great to make connections with people of similar affinity groups / stand as allies during a particularly challenging and peculiar year. It's done wonders for making our already strong culture stronger.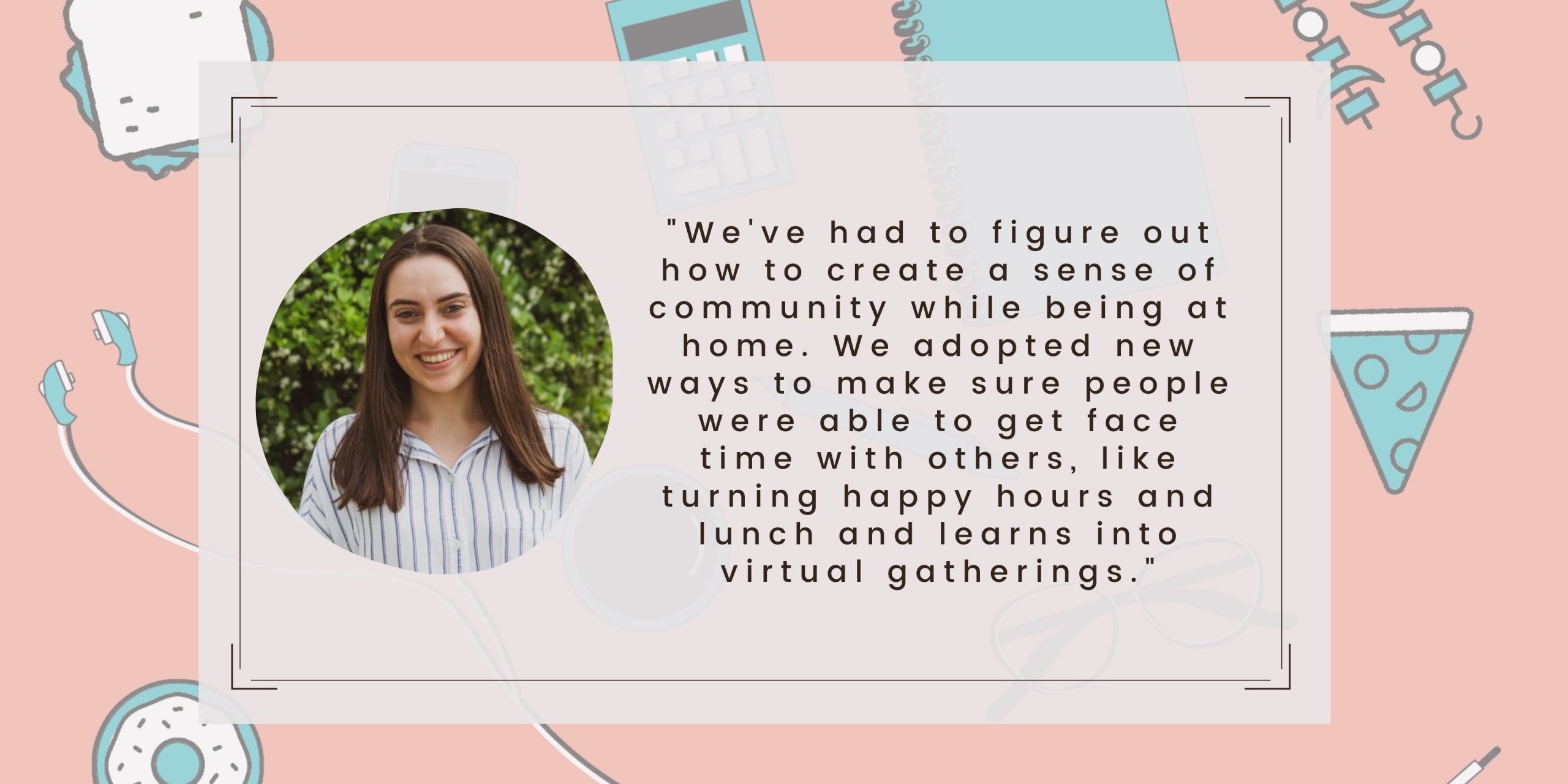 Why is having a strong company culture important when your team is working from home?
Having a strong culture is important, remote or not, but during this time, it's even more important given that people need to feel a connection and sense of belonging. Our leadership has done a great job leading the charge to make sure our teams are bought into our mission, goals, and vision. Having this North-star mission has been incredible for keeping people motivated and excited.
How did 2020 change the way your team does lunch?
2020 has certainly changed the way that we do lunch. Pre-COVID, we had weekly lunches and it was a great way to eat, chat, and get to know people in a really organic way. Now, we've taken those lunches over Zoom for team lunches, all-hand meetings, and lunch and learns. Sharing a meal together is a natural bonding activity and I'm glad we've found ways to continue to do that in this remote world.
What are some ways that your company has brought your team together since the start of the pandemic?
Since the start of the pandemic, we've used any excuse to get together virtually. Some of my favorite things we've done have been inter-team happy hours, ERG events, and workshops. Our events have ranged from silly + exciting to educational + impactful.
If you could propose an idea that would change work from home culture for the better, what would it be and why?
I think a big way to positively impact work from home culture would be to place a continued emphasis on work-life balance. Given that our work and home space are the same, it's particularly important to remind our teams to draw boundaries. Ribbon has done a great job at reminding our teams to take the time they need to reset and recharge.