Happy Earth Day! Every year for Earth month in April, we come together as a community to celebrate our amazing planet. This is a time for reflection, opening the door to conversations about sustainability, responsible consumption, and climate change.
As professionals in the catering industry, we know how food waste can negatively impact the planet; the United States produces more than 80 billion tons of food waste (which is the equivalent of 1,000 Empire State Buildings) per year, and most of this food is sent to landfills. In fact, food is the single largest category of waste taking up space in US landfills and according to the WWF, producing this wasted food generates greenhouse gas emissions that are equal to those produced by 37 million cars.
This waste isn't just all about the food, either; the impact of plastic, single-use meal containers is just as problematic, as plastic packaging is one of the largest contributors to pollution. Even though many of these containers are recyclable, only 9 percent of the 9 billion pounds of packaging produced has been properly disposed of.
In our efforts to offer high-quality catering to our clients, Cater2.me also understands the growing interest the business community has on sourcing their meals from sustainability-minded businesses, and is continuing to make strides towards a more eco-friendly future by partnering with vendors like Grainmaker. Let's take a look at what they are doing to help their community, the planet, and the environment in honor of Mother Earth on her day!
What they offer: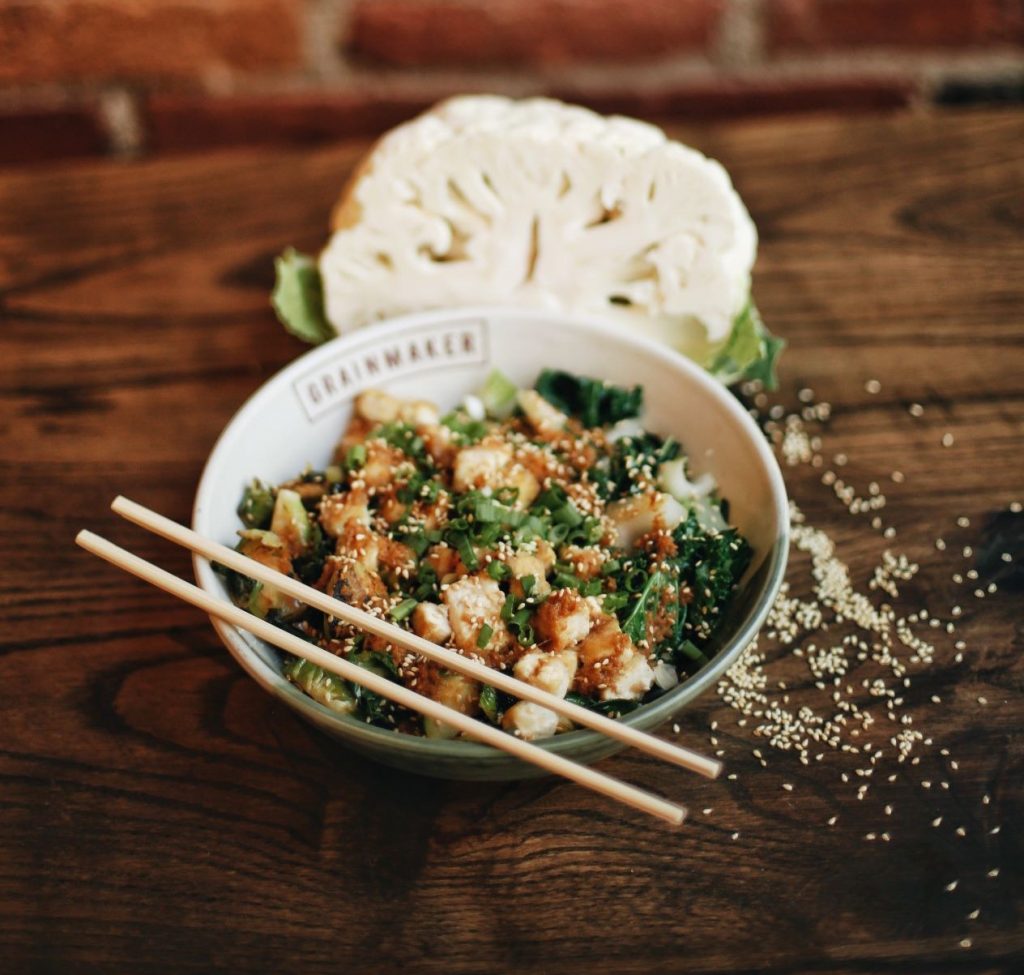 Grainmaker is a Boston-born business that began based on their belief that food can change the lives in their community for the better. Their menu boasts a modern twist on Southeast Asian cuisine after a journey through the region inspired their founders to combine the flavors of street food with one humble grain: rice. This humble grain is the region's most essential ingredient, and is so sacred that it is actually worshipped as a Goddess!
Their cuisine type is one of the healthiest on the planet (it's naturally dairy and gluten-free!), and they take it to the next level by using locally sourced vegetables and sustainably raised proteins.
What sets them apart:
From the start, Grainmaker decided that they were going to be created by the people of Boston, for the people of Boston. Through crowdsourcing feedback from local Boston residents , their community helped them choose everything from their name to their cuisine to their slogan.
Their innovative menu's goal is to provide their patrons with a culinary experience that they can't get anywhere else. Their signature Organic Volcano Rice is grown in Southeast Asia in actual volcano soil. Their Kale and Pork meatballs, hand made in the kitchen every day, are inspired by tradition but are bursting with new flavor combinations. Their steak is marinated in lemongrass. Their smoothies boast ingredients like lychee, ginger, jalapeno, and watermelon, and their street tacos introduce a tortilla to ingredients it has never seen before. Their offerings are constantly changing depending on the seasons, new ingredients, and community inspiration, so make sure to try their menu items while they're available.
What they do for the planet:
Grainmaker is leading the pack in terms of sustainable packaging and food waste. In 2019, they started their Zero Waste Project, which made them the purveyors of the first reusable packaging project in the world! Here's how it works:
Purchase a glassware container at any location one time from any of their locations.
Enjoy your meal.
Bring your container back to any location for a packaging discount.
Get your replacement container (they give you a new one every time!).
Enjoy helping to make the world a better place!
Grainmaker is dedicated to sharing their ideas with the world, honoring the value that they place on making their community a better place. They said it best: "If we kept all of our ideas to ourselves, we wouldn't be fulfilling our moral duty to challenge the food industry to be more sustainable, more efficient, and more successful."
You can learn more about their sustainability efforts from the Grainmakers themselves by watching their latest video here.
What we're doing: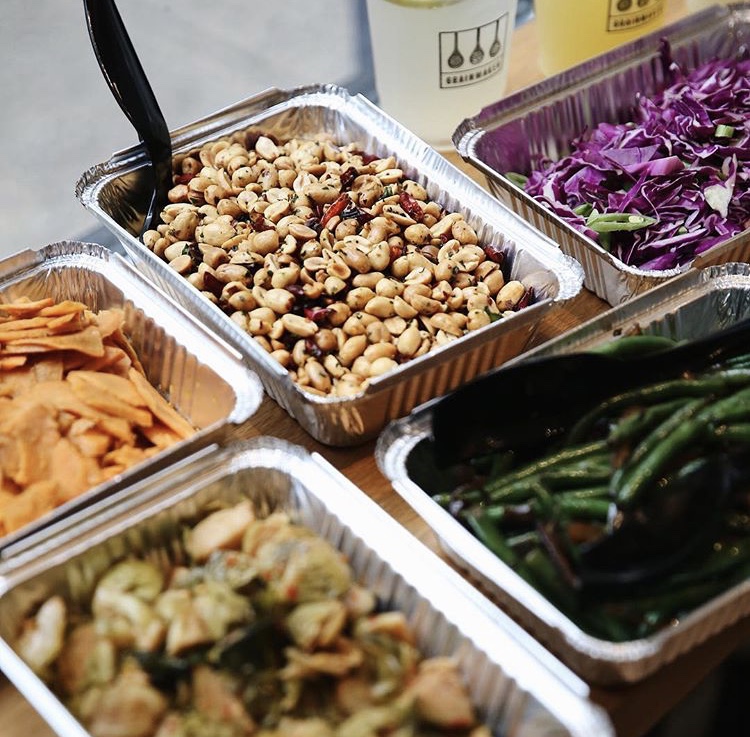 Cater2.me has pursued multiple sustainability efforts in the past, and are continuing to look into ways that we can make our services more sustainable overall. Family style meals are already more eco-friendly in comparison to single serve meals on account of packaging and delivery emissions, reducing your office's carbon footprint. Sustainability in hospitality is more important than ever, so we also offer biodegradable packaging options to give our clients a chance to make their meals even more eco-friendly.
Want to learn more about how our catering options can fit into your sustainable office efforts? Let us know! We offer corporate catering services that are available across the country with have dedicated account managers waiting to create a meal program perfect for your team AND the planet.