Happy May! As you know, May is Asian American and Pacific Islander Heritage Month. This dedication began in 1978 as commemorative ten days at the start of May to coincide with two important milestones in AAPI history: the arrival of the first Japanese immigrants to the US, and the efforts made by Chinese workers on the transcontinental railroad.
Today (and since 1992), this observance has turned into a month-long celebration of AAPI culture and contributions. And in light of the pandemic, this month of recognition feels more important than ever as those in the AAPI community have been experiencing an increase in inexcusable, racially-motivated attacks.
We condemn this mistreatment, and stand behind those who have been affected by these atrocities.
Rather than focusing on the negative, we want to take this opportunity to support our partners who identify as part of the AAPI community and help amplify their voices. These vendors boast beautiful cultures, with rich histories and delicious food that is ready to be shared with the world. So let's get into it!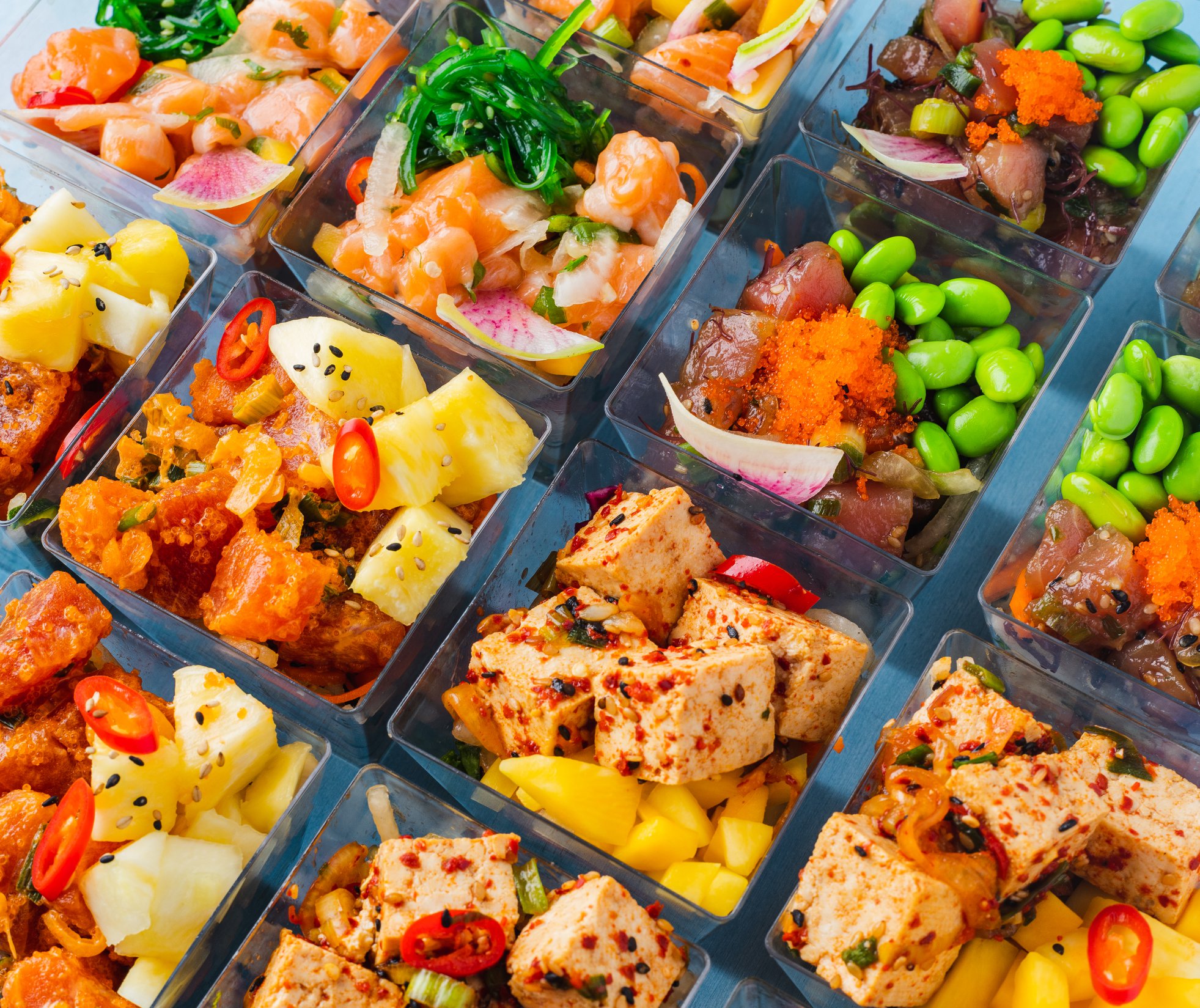 Founded in 2016, Sweetcatch Poke is committed to serving an authentic Hawaiian representation of poke. This features sustainably-caught fish that is pre-marinated and served over a bed of rice or marinated kale. Led by Chef Kohei Kashida, protégé of many esteemed chefs, Sweetcatch serves seasonal fresh and sustainably harvested salmon and tuna as well as organic tofu and roasted chicken options.
When we partnered with Sweetcatch in 2018, we were thrilled to collaborate with an authentic Hawaiin vendor to give our clients a new cuisine option for their catering needs. Since then, we have developed a strong partnership and have helped them continue serving their awesome eats to businesses all around NYC.
Owners Bdin and Chawalak founded Kati Thai Cuisine almost 12 years ago. Originally from Bangkok, Thailand, the couple has been running the restaurant alongside Chawalak's mother, who previously ran a restaurant in their home country. With cooking in her blood, Chawalak has created many of Kati Thai's signature recipes for cashew chicken, grilled beef, and crispy Kati rolls!
Kati Thai Cuisine joined our vendor network in 2019 and for the past 2 years, they have been working hard to feed our New York clients, no matter the situation. When the pandemic began, the owners were hit hard and began working in the restaurant 7 days a week to stay afloat. We are so lucky to have them on our team and are thrilled that we have been able to continue helping to bolster their business during the downturn of their traditional mealtime traffic.
The founder of Kin Khao had their first interaction with the restaurant business early as their family operated as street vendors in Bangkok. After learning how to cook from their mother, they moved on to work in a Thai restaurant in NYC for 20 years until they decided to officially try their hand at running a business of their own. When they created Kin Khao, their goal was to provide New Yorkers with an authentic Thai culinary experience based upon their Grandmother's recipes and cook it all from scratch to ensure that their menu is as authentically Thai as possible.
Our partnership with Kin Khao began in 2019 and since then, we have fulfilled over 200 catering orders and counting! Their traditional Thai cuisine is a favorite of many New York clients, and we were thrilled that we were able to continue filling orders with no downtime throughout the duration of the pandemic. Our collaboration has been flourishing since the start, so we cannot wait to see how it will continue evolving (for the better) in 2021!
A son of Japanese migrant, Kevin Takarada grew up in the restaurant industry and saw the difficulties of running a business first-hand. Convinced that it wasn't a life conducive to raising a normal family, Kevin set out to become a mechanical engineer. However, in 2008 he switched gears to go into finance at the height of the financial crisis, scaling the corporate ladder. But with his heart still in the restaurant industry, he realized there was no option for affordable quick, quality sushi in Manhattan. Kevin combined all his past experience and skills to re-engineer the process of making sushi rolls by streamlining processes and incorporating robots to open up MakiMaki in 2017, a high tech sushi bar that produces great sushi at unbeatable speed and prices.
A recent addition to the Cater2.me vendor network, MakiMaki changed the NYC sushi game with their delicious menu, unique hand rolls, and DIY sushi rolling kits. Since partnering with them last September, we have consistently been able to provide our clients with delicious sushi and look forward to continuing doing so for years to come with them by our side!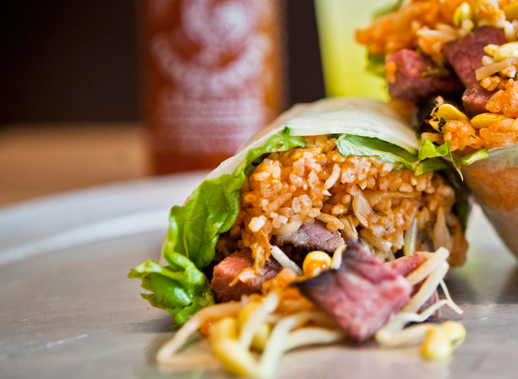 Will Pacio and Chef Fred Tang were just a couple guys who've worked in fine dining kitchens like The French Laundry and The Ritz Carlton Dining Room – cooking complicated food all day long. Overwhelmed by the desire to do something simple, they retired their toques, put on some t-shirts, and decided to whip up Asian street food in a casual, relaxed way by creating Spice Kit. With Spice Kit, they wanted their menu to be authentic but accessible; buns are like sliders, wraps are like burritos, ect. They still use the best ingredients, the best techniques, and always have their eye out for quality – making it easy for you to enjoy their awesome menu.
Spice Kit has been working alongside Cater2.me for a full four years to provide San Francisco businesses with the most delicious Asian street food on the West Coast. Since the start of the pandemic, we have been working harder than ever and this year has proven to be one of their best so far. They have helped us fulfill hundreds orders, and we are projected to hit 500 before the end of the summer!
At an early age, the founder of Edoko learned how to cook from their famous father who was their role model and reason for becoming a chef. Overwhelmed with passion and creativity in cooking, they opened their first Japanese Restaurant in San Francisco in the 90's, eventually settling down in the East Bay in early 2000. Soon after, Edoko was established in 2003. With 30+ years experience in Japanese and Asian cuisine, they pride themselves on quality and extra care with their food.
Edoko has been a Cater2.me vendor since 2015 and for the past 6 years, they have been one of our best partners in the corporate catering game. Whether it's a small group of ten or a party of 300, they have always brought heat with their delicious Japanese dishes. With more than 1600 orders under their belt, we are so happy that this partnership has allowed us to continue bringing Edoko business through the best and worst of times in the industry.
Experience Burma was created on the basis of family. The cofounder's family owned a restaurant in Burma, and they had many recipes that they wanted to share with those in the US. When they opened their restaurant, they wanted to provide a place where families can hang out and bond over food. Growing up in Burma, they always have lunch and dinner as a family over a dining table, and that's what they tried to bring to the community. After a few months of hard work following their opening, they built a community that was dedicated to their success, creating a loyal customer base that has allowed them to thrive!
Experience Burma has been a Cater2.me partner for almost three years now, and they offer a menu like no other vendor on our list! Their Burmese cuisine features exciting flavors that our San Fanciscian clients love, and we can't wait to see what (and who) they help us serve throughout the rest of 2021.
Feldo Nartapura never approached running Sataysfied as a chef but more so as a business owner serving people and creating happiness through food. His parents started selling satays in LA and he felt the product was so good that it needed to come to SF. He wanted to give the Bay Area a taste of what Indonesian satays were about. Getting the food business off the ground and then creating a big menu to serve clients in corporate offices and start ups was a challenging, but fun experience. Overall, he sees Sataysfied as a catering solution that loves to serve and feed the pulse of the Bay Area companies.
As one of our longest standing vendors, Sataysfied has been on our team for nearly a decade. With over 1500 orders completed, our clients are guaranteed a delicious meal with great options when they choose this vendor. The owner is so proud to be a part of the catering community (we are thrilled that they are, too!), and knowing that our collaboration helped that portion of their business stay afloat during the depths of the pandemic makes this partnership so special to us!
Emporium Thai was founded after the owner's mother, who raised them with a passion for authentic Thai cooking, won a lottery that led to her (and her 12 children!) to eventually become US citizens. Their Executive Chef, Gina Sungkamee, studied for four years at Bangkok's most prestigious culinary school; her expertise lies particularly in the cuisine of Southern Thailand, where the founder's family grew up. Emporium Thai Cuisine uses only the finest ingredients bought locally, and their mission is simple: "To create such a memorably wonderful Thai dining experience that you'll want to return to Emporium Thai often, and rave about us to your friends".
We have just celebrated our first full year with Emporium Thai on our vendor list, and what a year it has been! From their first order in March of last year to their latest this May, Emporium Thai has always gone above and beyond to give our clients an amazing Thai experience. After our successful partnership survived the tests of the pandemic, we are so excited to see where our collaboration will go in our second year together!
Seasons Kitchen was established in November 2006 by Chef Soon Teoh and his wife Khim Teoh. The team is originally from Kuala Lumpur, and they came to the US with the vision to introduce the taste of Malaysian cuisine to the local community. Everything is cooked fresh daily and all ingredients have been sourced locally to ensure that their customers get the wholesome experience of homestyle cooking paired with exciting new flavors of Southeast Asian cuisine. Season's Kitchen has been voted Best Malaysian Restaurant in 2017 and 2008 by OC Weekly and has also been featured on CBS program Destination LA.
Season's Kitchen started with Cater2.me in 2019, and has been a wonderful addition to our vendor list as their southeast Asian cuisine is a hit with clients all over LA. Despite the lull in catering traffic last spring, we began filling orders again in fall of 2020 and see no sign of slowing down soon!
Are you interested in booking a meal or experience with one of AAPI-owned businesses? Learn more here.