For over a decade, our mission has always been to support local communities by bringing great food service businesses into our clients' offices. To broaden that support, we have pursued a multitude of efforts aimed at combating hunger in those communities, as well as across the United States. From partnerships with Calendly to collaborations with Feeding America, our team has been diligently working to lend a helping hand to those in need, especially throughout the pandemic. As our Chief of Staff Jonathan Altshuler said, "We wanted to work alongside our clients to help the very businesses that inspired Zach and Alex to start Cater2.me in the first place".
Let's take a look at some of our activities in our communities over the years!
Teams Fighting Hunger With Feeding America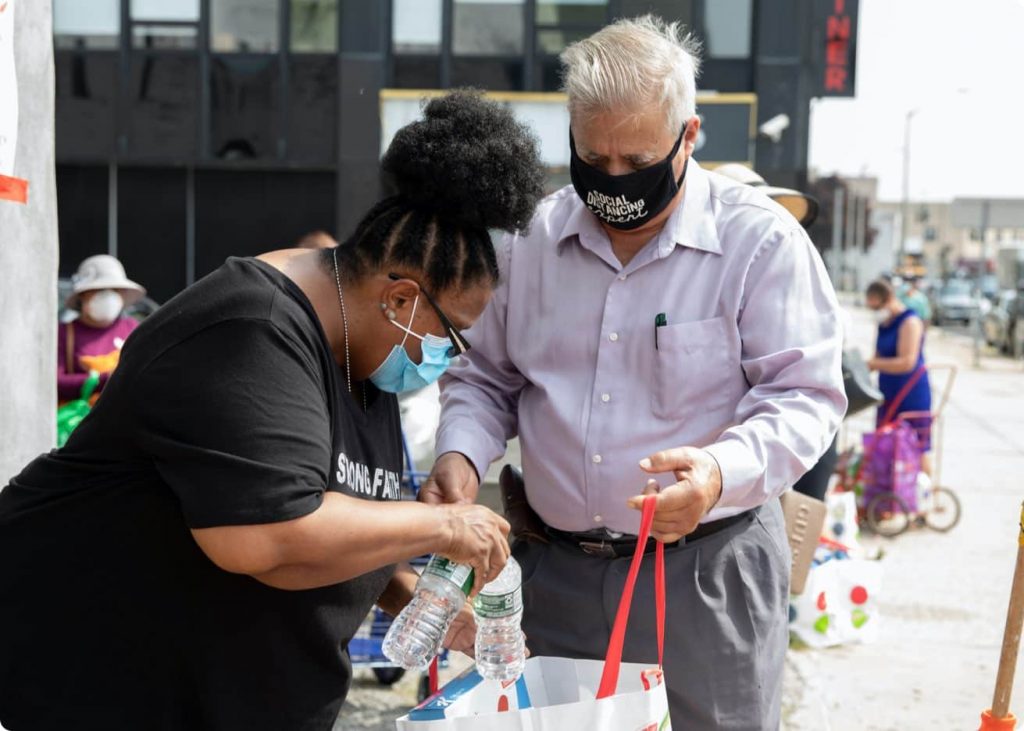 Our most recent partnership was created in collaboration with Feeding America, the nation's largest domestic hunger-relief organization, to help fight hunger across the United States. We are excited to partner with Feeding America for our "Teams Fighting Hunger" initiative to help provide 1.5 million meals* to households in need across the country. The Feeding America network of food banks serves more than 40 million people in America each year, and we are thrilled to tackle the shared goal of helping neighbors facing hunger throughout the nation.
As part of our commitment, fifty percent of our donations will support the Feeding America network of food banks. The other half will be split evenly between San Francisco-Marin Food Bank and New York City-based City Harvest, two Feeding America member food banks located in areas where Cater2.me has operated for more than 10 years. To learn more about our partnership with Feeding America, click here.
Vendor Support & Community Assistance Program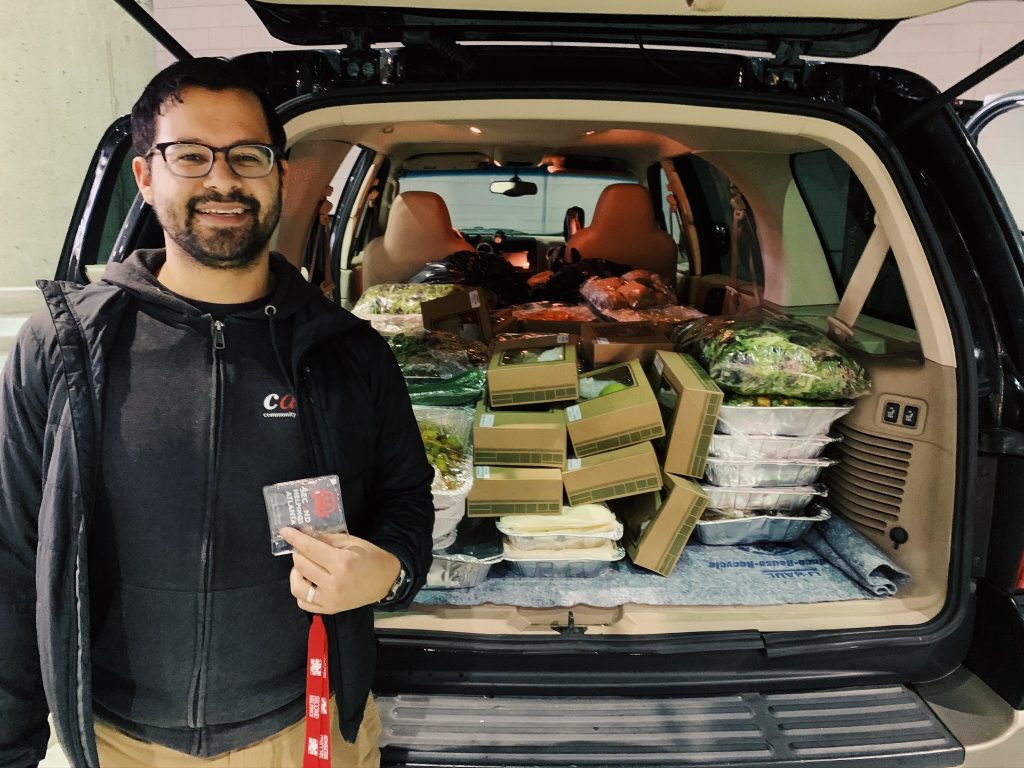 When the pandemic began, it seemed like every aspect of the food industry was flipped upside down. Us, along with our vendors, were navigating uncharted waters; with the world at a standstill, we knew we needed to do something to help those in need– and fast.
Through our Vendor Support & Community Assistance Program, we collaborated with our clients to donate their regularly scheduled office meals to local food rescue organizations. And because of their generosity, we were able to help provide food in our communities while supporting local restaurants by continuing large-scale catering orders when regular business was down.
In partnering with companies like Sailthru, Cision, and Calendly, we were able to donate thousands of meals representing more than $25,000 in revenue for local food vendors.
Serving Communities in Atlanta
One of our earliest partners in this effort came at the beginning of March, just as Atlanta businesses were forced to close. Calendly, a scheduling tech company, reached out to us about finding a use for their planned office meals while they transitioned to work from home. Their unique, non-warehouse format allowed them to optimize donations by matching recipient organizations based on factors like proximity and size.
"The timing was perfect. We were just launching our program when we heard from Calendly that they'd be working from home," Altshuler said. "They were sad to postpone their catered meals but were so generous in allowing us to continue planning them for the benefit of a local organization helping those in need."
Serving Communities in Austin
Our next partner came in April when Cision, a global leader in public relations software and services, reached out to us about donating their meals. Cision initially donated a pre-planned team meal, but as the economic freeze deepened, so did ongoing corporate catering budgets. To overcome this, the Cision team organized an internal fundraiser to continue the food donation and to support local vendors. Within two days, Cision employees had raised thousands of dollars.
"Cision teams around the world are finding ways to give back to their local communities to address the fallout from COVID-19," said Hayes Davis, SVP of Revenue Operations at Cision. "These are challenging times for everyone, but they're especially hard for people facing food insecurity. Here in Austin, our team is thankful for the opportunity to partner with Cater2.me to help our neighbors in need get through this incredibly difficult time."
We then worked with local food vendor Two Spoons to deliver around 200 meals to food recovery outfit, Keep Austin Fed. Justin Owen, the co-owner of Two Spoons in Austin, said, "Cater2.me has been a great partner over the years, and we were very excited when they approached us with this idea. It's programs like this that will hopefully allow us, and companies like us, to survive these very uncertain times."
Supporting Local Restaurants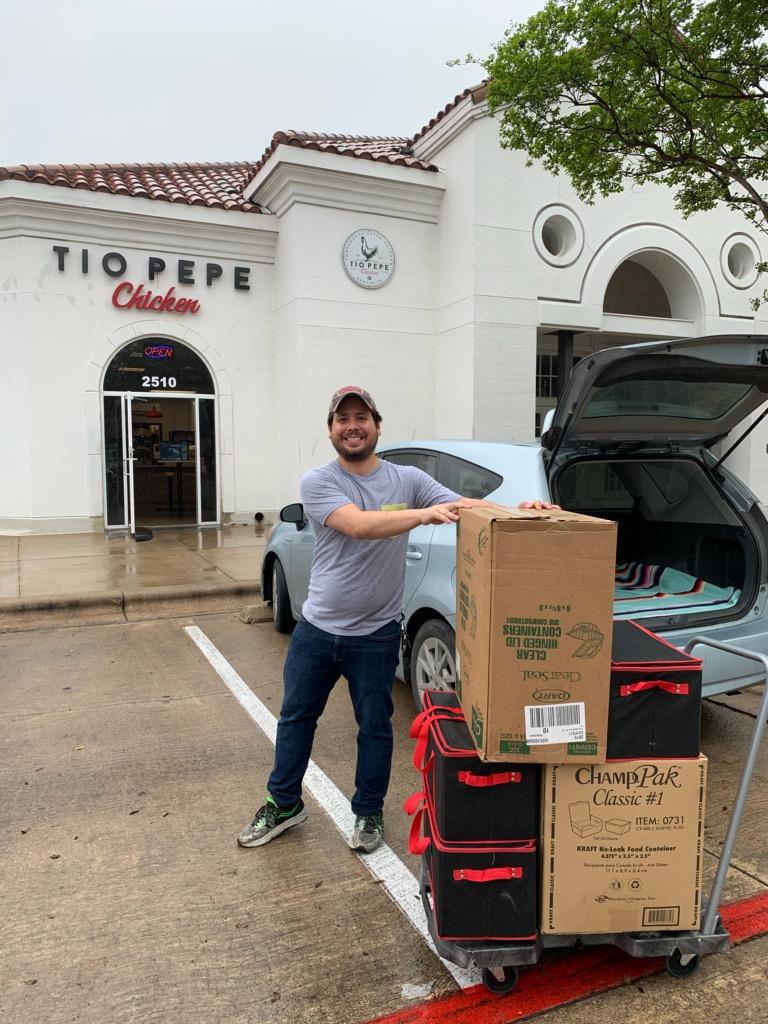 In addition to providing meals to those experiencing food insecurity, these donations also supported local restaurants through large-scale catering orders.
"As vendors struggled with immediate challenges to their business it was important for us to remember one of our core values — creating community around shared meals," said Josh Kameny, Director of Vendor Relations. "It has been incredible to see generous clients supporting our vendor partners and those in need, creating a really powerful opportunity to lift an entire community."
By donating regularly scheduled meals, we provided a steady stream of income for these small businesses.
Jeremy Cowan, Owner of Jack's New Yorker Deli in Buckhead, received the first order from the donated meals back in March.
"Calendly's generosity not only helped to feed those in need but also allowed our small business to keep 10 employees working for another week," said Cowan. "We're so grateful for the awesome work of Second Helpings, and the kindness of Calendly and Cater2.me to give back to our community."
Reducing Food Waste With Replate
Before the pandemic, we partnered with Replate, a food rescue organization, that manages the food donations of caterers, offices with meal services, brands with product overrun, farmers markets, restaurants, and other surplus food generators. Every food donation goes to a nearby nonprofit that works with people experiencing food insecurity, or directly to someone's home.
We were introduced to Replate through one of our clients who was already working with the service. Their consistency of service and seamless integration quickly made for an amazing partnership, and our clients felt the same way. Replate gave us the ability to take responsibility for our waste, and they offered a way for us to create deeper connections within our community. We have been working alongside them for multiple years and are excited to see our collaboration continue to grow!