When working from home (or even from the office), your days sometimes begin to feel like you're on an island filled with Google Docs or GChat pings rather than part of a team of employees working towards a common goal. And even before the pandemic, only around 40% of employees reported that they felt connected to their company culture, which leaves over half of the team feeling disengaged. As someone in a leadership role, this startling statistic should feel more like a warning; since 71% of executives feel that employee engagement is essential to their success, it is evident that it's time for a change. And to make this change stick, it needs to be started sooner in their tenure rather than later.
In the hiring battle for top talent, some executives have lost sight of what KEEPS this top talent around after joining the team. You can initially make a positive impression on new hires, but if you do not continue to engage them, they may forget why they took the position in the first place.
"Why are my employees unhappy?"
Before we learn how to re-engage demotivated employees, we have to first look at why they feel disconnected. How do we do this? Through COMMUNICATION. Communication is the key to figuring out the reasons behind the disengagement and can lead you to learn more about what your employees feel can combat it. And before you can make improvements to your company culture, you need to foster an environment that encourages open communication.
Rather than simply assuming that your under-producing employee is intentionally sabotaging your business (which is, let's face it, HIGHLY unlikely), asking them questions about what exactly they are unhappy with can go a long way. It could be problems with management, lack of work, too much work, or lack of communication about goals and expectations. Whatever the reason may be, everyone needs to start somewhere on their journey to employee connection. Here are four reconnection recommendations we feel offer a simple basis for future efforts.
Make wellness a priority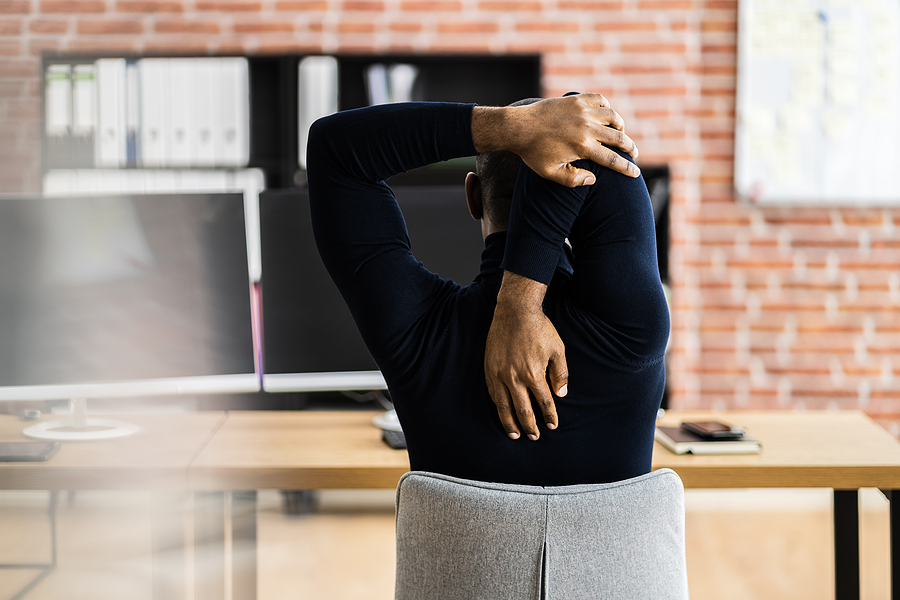 Employee wellness doesn't only refer to health insurance benefits and sick days. Today, it can cover any perk from flexible work schedules to in-office food offerings, and employees will choose companies based on their wellness needs. And over the past year, these needs have only grown. 51% of workers reported an increase in mental health issues at work since the start of the pandemic, with symptoms of anxiety and depression on the rise.
Nobody expects the management team to be experts in mental wellbeing, but taking the chance to understand your employees' struggles shows their dedication to supporting their team through anything. This support can be shown by taking interest in your employee's personal life to better understand their situation, encouraging breaks, and conducting regular mental health check-ins to ensure everyone (and everything) is running smoothly.
At Cater2.me, we offer (and participate in) a suite of wellness activities through our Virtual Experience platform, perfect for helping your employees take care of their health. Our program features offerings like guided meditations, yoga classes, and more. Whether you're focused on stress reduction, fitness, or just plain relaxation, we can create a program that is tailored to your needs. Learn more about the benefits of wellness programs here.
Set up a recognition system
With 37% (the majority in this study) of employees feeling that recognition is the greatest contributor to their success, it is evident that adding this simple solution to your regular practices would improve your team's engagement tenfold. No one, regardless of age or position, wants to feel like they're not being heard and appreciated. 79% of employees who quit their jobs cite a lack of appreciation as a key reason for leaving. By taking your employees for granted and not praising them for their hard work, there is no question that you can begin to erode their loyalty and productivity over time.
Recognition, whether given in public or privately (some employees prefer less fanfare), can improve motivation, job satisfaction, confidence, and work pride. This has been proven as 84% of highly engaged employees report being recognized the last time they exceeded expectations in the workplace.
Here at Cater2.me, we have our weekly recognition system called "Props & Shade"! Our employees have the opportunity to praise their colleagues for going above and beyond, showing the team that their efforts are appreciated. Implementing a program like this is easy; simply have your employees send in their props at the beginning of each Friday, and send them all out together as a fun foray into the weekend!
Provide a clear path for growth
Growth looks different to every employee; some are looking to climb up the ladder in their current position, and others are looking for opportunities to move laterally throughout the company by learning new skills and joining different teams. Whatever your idea for career progression may look like, it might not align directly with your employees' views, especially if it wasn't discussed during their onboarding period. Only 29% of employees report being highly satisfied with their current career advancement opportunities, and this dissatisfaction can impact their daily performance.
Our theory for getting your team members back on track? Better to have the conversation late than never! By setting up a time to talk with your employees about their career goals, you can reassure them that you are dedicated to their professional growth both in general and within the company.
Connect over experiences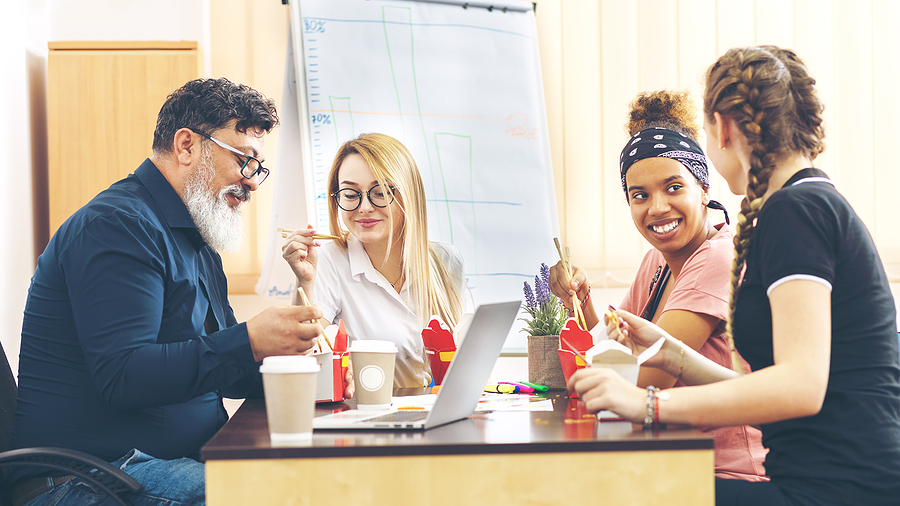 Since many of our team members have experienced a huge shift in their normal day-to-day lives over the past year, one thing that has been taken out of the corporate equation is social interaction. We're not talking about general meetings and hours spent staring at one another (muted, most likely) via Zoom; we're referring to the organic, friendly interactions that come with working alongside someone in person each day. As we said in our previous blog The Value of Getting Together, "In-person interaction is essential in building interpersonal relationships with your coworkers, which is pivotal in the creation of strong company culture. Why do you need a strong company culture? When employees are engaged and teams work well together, productivity and success follow."
Our suite of solutions can help bring back the idea of casual communication between colleagues whether they're still working remotely or transitioning back into the workplace. We have meal options that can be delivered right to your office, allowing your team to sit down and bond over a delicious meal together whether they're celebrating an event or if it's simply a recurring weekly lunch. And with both family-style and individually boxed meals available, we can tailor your program to your team's preferences.
Our virtual experiences platform can also bring your remote employees together for some workday fun with everything from an online wine tasting to a digital escape room. No matter how hands-on or hands-off your team may be, we are here to help you reconnect through whatever activity you think they'll enjoy the most.
In Conclusion…
These recommendations are not the be-all-end-all in terms of employee engagement, but they do offer easy solutions for those struggling to connect with employees since the corporate COVID shift. When your employees don't feel connected to their work, everyone loses. So start reaching out to your team today and begin changing your workplace for the better! And if you need help with your re-engagement efforts, our solutions offer a great way to up productivity and reconnect your team. Learn more here.