Now that it is officially fall, we're trading in our hamburgers and hotdogs for something a liiiittle more autumnal. Enter: pumpkin spice season. Nothing says fall more than a pumpkin. In fact, more than 1.5 BILLION pounds of pumpkin are produced in the United States annually, with Illinois, Indiana, Ohio, Pennsylvania, and California being the top providers. And 80% of that crop is available in October, meaning that 800 million pumpkins are ready for the taking in a single month out of the year.
But today, we're not just talking about the reintegration of pumpkin spice (even though that is a fantastic fall flavor); we're looking at yummy veggies, entrees, and desserts that signify the sign of the season. Aside from pumpkins, the fall harvest also brings back fresh flavorful favorites like winter squash, carrots, broccoli, and cauliflower, and desserts filled with cinnamon and caramel galore. So what are some of the best of the best when it comes to fall dishes? Read on below to see some of our team's favorites!
Delicata Squash
Squash is undoubtedly an autumn staple, and the delicata squash is one of the best. Its brown sugar flavor is similar to that of fresh corn crossed with pumpkin pie, and it rivals the classic butternut in the battle of superior squashes. This squash is best in early to mid fall, so there is no better time like the present to get your hands on a delicata and try a seasonal dish. This side dish recipe from The Hungry Hutch is simple, but full of flavor. Check it out below:
Spicy Roasted Delicata Squash Ingredients:
4 small or 3 medium delicata squash (about 3 pounds), scrubbed clean
2 tablespoons extra-virgin olive oil
1 teaspoon kosher salt
3/4 teaspoon chili powder
1/4 teaspoon cayenne pepper
1/4 teaspoon black pepper
pepitas, for sprinkling
flaky sea salt, for sprinkling
Directions:
Preheat the oven to 425˚F. Meanwhile, trim the ends of each squash; cut in half lengthwise and scoop out the seeds with a spoon; cut the squash into half moons about 1/2-inch thick and transfer to a baking sheet lined with parchment paper.
Drizzle the cut squash with the olive oil, chili powder, cayenne pepper, and black pepper; toss together so everything is evenly coated. Roast in the oven, tossing around the squash on the baking sheet about half way through, until the squash is tender and lightly browned, about 30 minutes.
Transfer the squash to a platter and sprinkle with some pepitas and flaky sea salt; serve.
Roasted Brussels Sprouts
Something about fall screams vegetables paired with apples, but in this case, we're not complaining. As one of the most underrated pieces of produce in the vegetable game, brussels sprouts are the perfect side dish in any fall feast. Roasting the sprouts brings out their nutty, earthy flavor, and the apples and bacon bring a perfect fusion of salty and sweet. This recipe from Barefeet in the Kitchen does a great job of making a simple side dish savory.
Roasted Brussels Sprouts with Apples and Bacon Ingredients:
3 slices of bacon cut into 1″ pieces
6 cups medium Brussels sprouts ends trimmed and then halved
1 medium apple cut into 1/4″ slices and then halved
Kosher salt to taste
Freshly ground black pepper to taste
1-2 teaspoons red wine vinegar
Directions:
Preheat oven to 425 degrees. Arrange bacon in a single layer on a large baking sheet. I lined my baking sheet with the silpat mat, but I'm not certain it was necessary. Bake for about 10 minutes, until cooked through, but not yet crispy.
Remove the bacon pieces from the sheet and set aside. Add the Brussels sprouts and toss them in the bacon drippings. Make sure they are as well coasted as possible. Season well with salt and pepper. Roast them until they begin to brown, about 15 minutes.
Add the apple pieces and the cooked bacon to the Brussels sprouts on the baking sheet and roast until the sprouts are tender and browned and the apple has softened a bit, about another 10-15 minutes.
Toss everything with the vinegar and serve immediately.
Apple Cider Donuts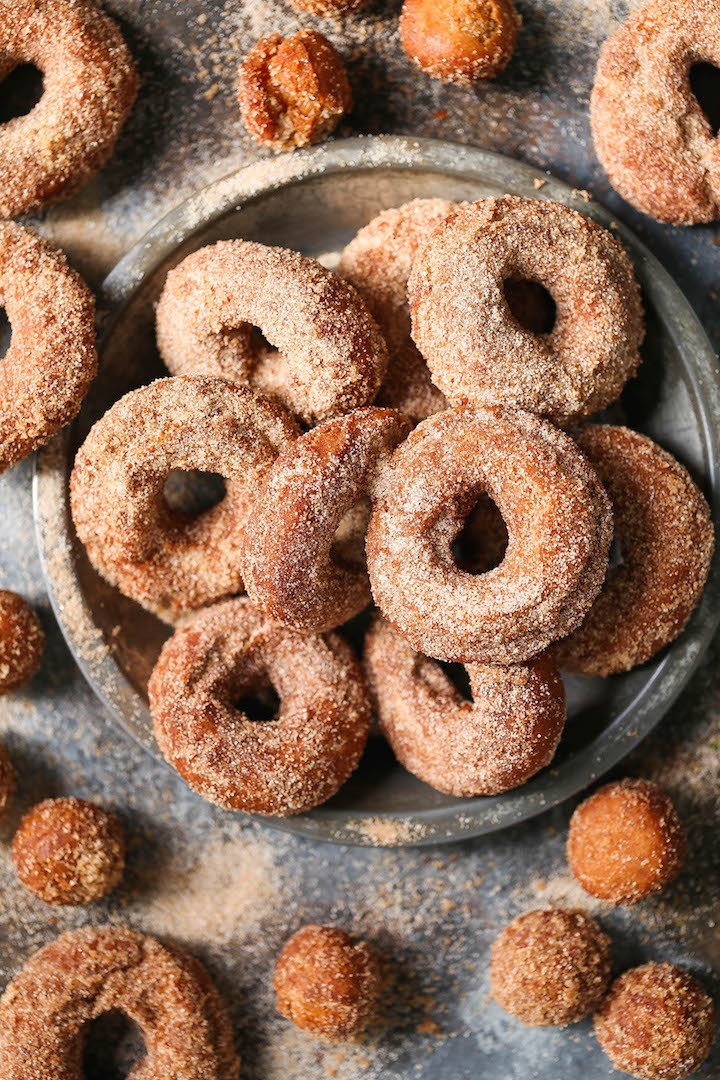 Okay, this one may seem like a given, but after some further investigation we realized that many people haven't blessed their taste buds with one of fall's finest delicacies. Apple cider donuts are like a glazed donut's eccentric cousin; they're covered in sugar, cinnamon, and spices all over, and boast a cakey, dense texture. They're likely available at your local farmers market or fall festival, but why not try your hand at making them right at home? Here's a fantastic recipe from Damn Delicious that is sure to blow your mind:
Apple Cider Donut Ingredients:
3 cups apple cider
1 cup granulated sugar
4 1/2 teaspoons ground cinnamon, divided
3 1/2 cups all-purpose flour
2/3 cup light brown sugar, packed
2 teaspoons baking powder
1 teaspoon kosher salt
1/2 teaspoon baking soda
1/2 teaspoon ground nutmeg
6 tablespoons butter, melted and cooled
2 large eggs, lightly beaten
2 cups vegetable oil
Directions:
Heat apple cider in a small saucepan over high heat. Bring to a boil; reduce heat and simmer, stirring occasionally, until reduced to 1 cup, about 15-20 minutes. Let cool completely.
In a small bowl, combine sugar and 1 tablespoon cinnamon; set aside.
In a large bowl, combine flour, brown sugar, baking powder, salt, baking soda, nutmeg and remaining 1 1/2 teaspoons cinnamon.
In a large glass measuring cup or another bowl, whisk together butter, eggs and apple cider.
Pour mixture over dry ingredients and stir using a rubber spatula just until moist; cover and place into the refrigerator until chilled, about 1 hour. Divide dough in half.
Working on a lightly floured surface, roll dough into 1/2-inch thick rounds; cut out rounds with a 2 1/2-inch cutter.
Heat vegetable oil in a large stockpot or Dutch oven over medium high heat until a deep-fry thermometer registers 375 degrees F.
Working in batches, add donuts to the Dutch oven and cook until evenly golden and crispy, 1 minute per side. Transfer to a paper towel-lined plate for 30 seconds; then roll warm donuts in cinnamon sugar mixture to coat.
Serve warm.
Pumpkin Cinnamon Rolls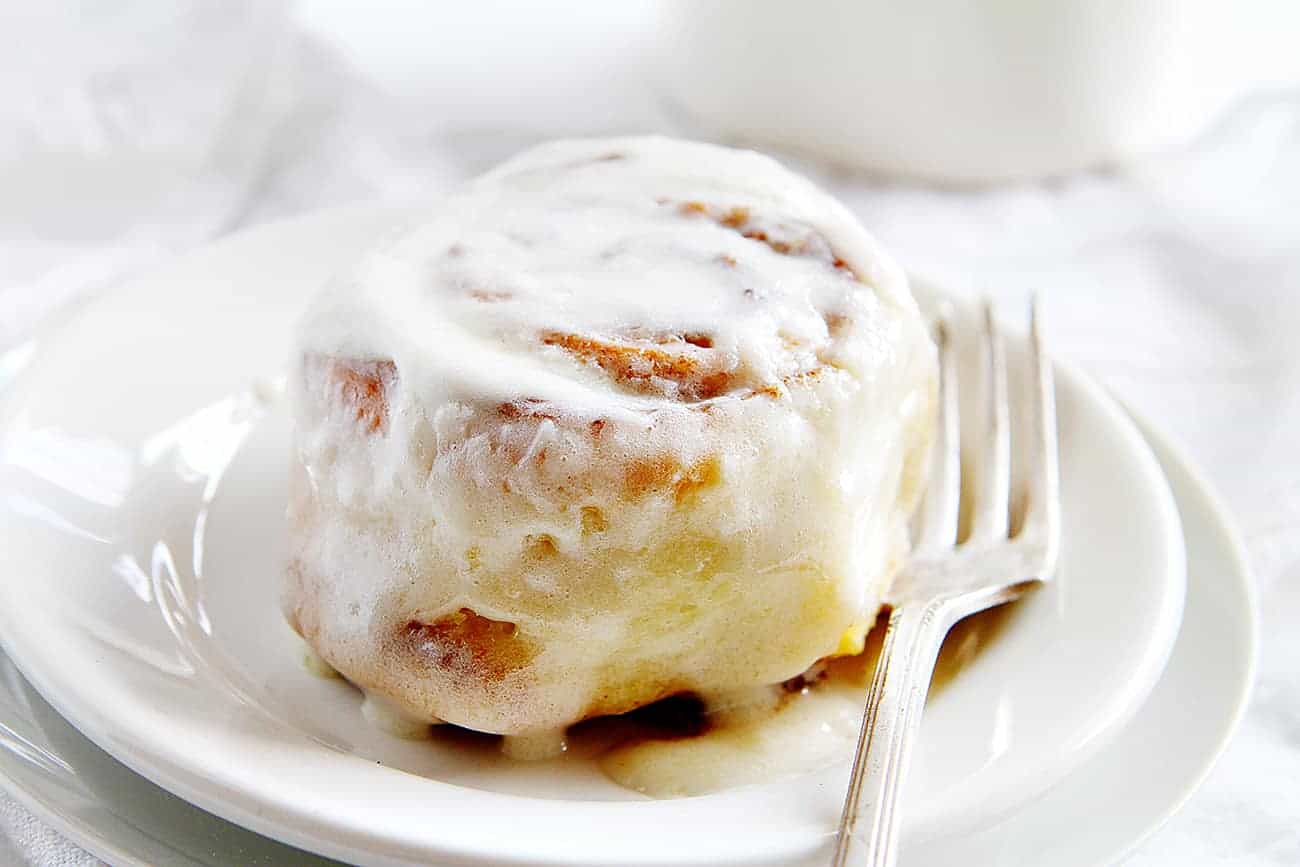 No matter the season, cinnamon rolls are a sweet staple when it comes to desserts (or breakfast, depending on your preferences). But in the spirit of utilizing this October's most plentiful produce, adding pumpkin into our next batch of cinnamon rolls will take this dish to a whole new fall level. Pillsbury offers a great pre-made option for those tight on time, but if you're looking to make these from scratch, I Am Baker boasts an easy homemade recipe that will knock your pumpkin socks off!
Pumpkin Cinnamon Rolls Ingredients:
1 (13.8 ounce) can store-bought pizza dough
3 tbsp. butter room temperature
1/3 cup (67g) packed brown sugar
2 tbsp. pure pumpkin pie spice
Whipped Cream Cheese Frosting Ingredients:
1 (3 ounce) package cream cheese, softened
1/4 cup (57g) butter softened
1 1/2 cups (188g) confectioner's sugar
'1/2 tsp. vanilla extract
1/2 tsp. pure pumpkin pie extract
1/8 tsp. salt
Directions:
Heat oven to 350°F (or 325 degrees in a convection) and prepare an 8 or 9 inch round pie dish with bakers spray, goop, or parchment.
Open and unroll pizza dough on a lightly floured surface. It should measure about 12 inches by 6 inches.
In a small bowl, combine brown sugar and Pumpkin Pie Spice with a fork.
Rub 3 tablespoons butter over dough so that it covers the entire surface.
Spread brown sugar and spice mixture over dough making sure it covers the entire surface.
Starting at the edge that is 6inches long, roll up the dough.
Cut into 6 even pieces.
Place in pie dish on its side so that layers of the roll are visible.
Bake for 25-35 minutes. Rolls should be dark brown but not burnt.
Frosting:
While rolls are baking, put cream cheese, butter, confectioners sugar, vanilla, pumpkin pie extract, and salt in a stand mixer fitted with paddle attachment.
Mix on low to just combine. Once ingredients are all incorporated, turn the mixer on high and leave it for 4-5 minutes. Frosting should be light and fluffy.
When rolls are done baking, allow them to cool for up to five minutes.
Place cream cheese frosting on rolls right in the pan OR invert rolls onto serving plate and then top with frosting.
Sweet Potato Shepards Pie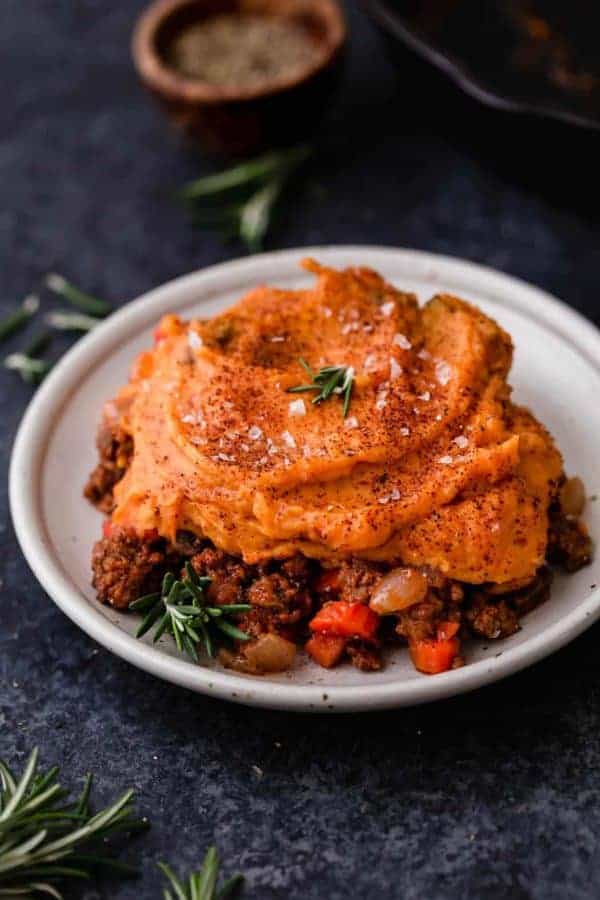 Shepards pie is one of those classic comfort foods that feel synonymous with the cold weather months. And by using sweet potatoes, you're making the dish even heartier (and healthier) while also allowing it to cater to certain diets. This recipe by The Real Food Dietitians is naturally Whole30 friendly, dairy free, edd free, gluten free, grain free, nut free, paleo friendly, and can be made 100% plant based. Read on to learn how to make it!
Shepherd's Pie Filling Ingredients:
1 pound ground beef or lamb
2 medium carrots, peeled and diced
1 small green pepper, diced
1 small yellow onion, diced
1 cup mushrooms, cleaned and stemmed, diced
4 cloves garlic, minced
3 ounces tomato paste
1 teaspoon chili powder
1/2 teaspoon dried rosemary or dried herb of choice
1/2 teaspoon fine salt or to taste
1/4 teaspoon black pepper
1/4 cup water
For The Sweet Potato Topping:
2 large sweet potatoes (about 12 ounces each), peeled and cubed (~6 cups cubed)
1 tablespoons butter (may substitute ghee or coconut oil for Whole30)
1/2 teaspoon chili powder
1/4 teaspoon fine salt
Directions:
Preheat oven to 375℉. Bake the sweet potatoes until fork tender, 45 to 60 minutes (see their directions for perfect baked sweet potatoes). Alternatively, you can steam peeled and diced sweet potatoes until tender.
In a medium skillet over medium-high heat, saute the ground beef, chopped carrots, green pepper, onion, mushrooms, and garlic. Continue cooking until the carrots are soft, about 12-15 minutes. Begin making the sweet potato topping while the filling cooks.
To make the topping: Place the peeled and baked/steamed sweet potato with all of the topping ingredients in a food processor (or blender) and process until smooth. NOTE: If using white potatoes, we recommend mashing them by hand rather than blending to prevent them from getting pasty.
Back to the filling: Once the carrots are soft, stir in tomato paste, chili powder, rosemary, salt, black pepper, and water.
Final step: Top the meat filling with the sweet potato mash. If you're not using an cast-iron skillet, transfer the meat filling to a casserole dish or 9×9 inch baking dish and top the meat filling with the sweet potato mash. Sprinkle the top with a little sea salt and chili powder.
Bake for 10 minutes. Remove from oven and serve.
Even though you can make all of these dishes at home, this is just the tip of the iceberg in what we could offer for your company's meal plan- and we can help you create a one-of-a-kind experience for your team to enjoy. Since we facilitate the event from start to finish, you won't have to lift a finger and will get to join in on the fun. Click here to learn more.