When it comes to connecting with our colleagues, we're all familiar with the typical events that bring our teams together: office meetings, water cooler talk, post-work happy hours, and company lunches. But all of these require in person interactions and for those of us still working from home, they're not logistically feasible.
So how can we engage our team and bring them together when they are working remotely?
Even before the pandemic, only around 40% of employees reported that they felt connected to their company's culture, which leaves more than half of the team feeling disengaged. To someone in a leadership role, this startling statistic should feel more like a warning; since 71% of executives feel that employee engagement is essential to their success, it is evident that this issue needs to be addressed.
With our Virtual Experience platform, we have created a perfect solution for employee engagement in a remote and hybrid world.
Our Virtual Experience platform offers activities for any type of team and can be as hands-on (or as hands off) as your employees would like. From coffee making classes to online yoga to team trivia, our dedicated account managers are ready to help you set up a solution that fits your needs. Let's take a look at how this platform can work for you.
Browsing Experiences By Category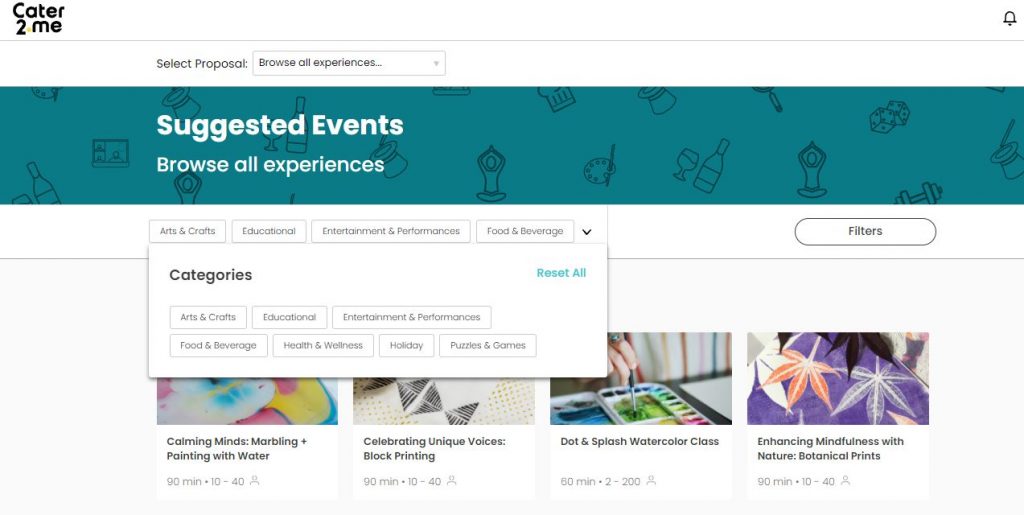 When we created this platform, we wanted to make sure that there would be activities available that could bring any type of team together. For hosts who are looking to book an experience, we have made the browsing process a breeze by breaking our experiences down into seven categories:
Holiday

This tab will be updated on a rolling basis depending on the incoming holiday and time of year!

Arts and Crafts
Educational
Entertainment and Performances
Food and Beverage
Health and Wellness
Puzzles and Games
Browsing Experiences By Filter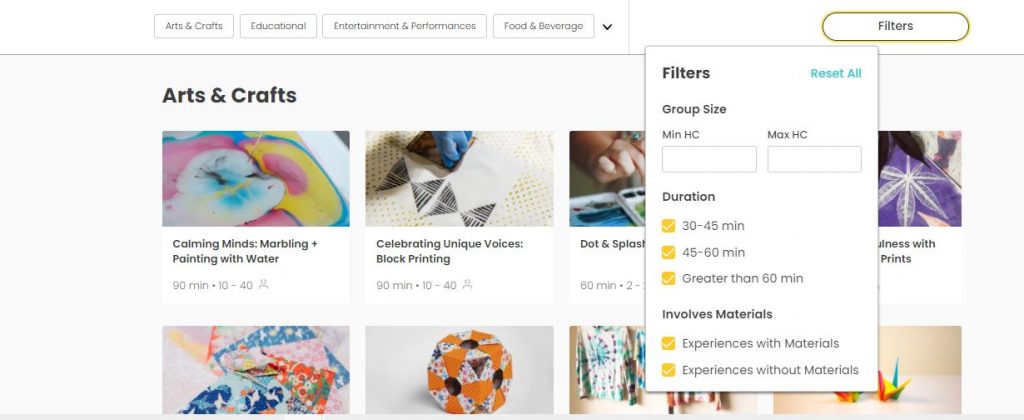 If you have specific parameters for your event, we also have broken down our available activities by specific search filters so you don't have to sift through our entire library of experiences. Our platform allows you to filter by:
Duration: How long you would like the event to last
Group Size: We offer experiences that can accommodate 10 to more than 100 guests. If your group is larger than the parameters set by the experience provider, we are always happy to ask the vendor if they can accommodate a larger audience
Materials: Some of our experiences require materials that are needed to facilitate the event. Cater2.me can ship these materials anywhere in the United States.
How to Set Up an Event
If you would like to set up an event, one easy way to begin this process is by reaching out to our team or if you're already a member of our platform, directly emailing your account manager. Another simple option is to complete a basic inquiry from the main host page. There you can begin browsing the experiences; once you find one that is of interest to you, you can click on the activity and see a brief description, learn how it works, see what is required, and find details about time, group size, and materials.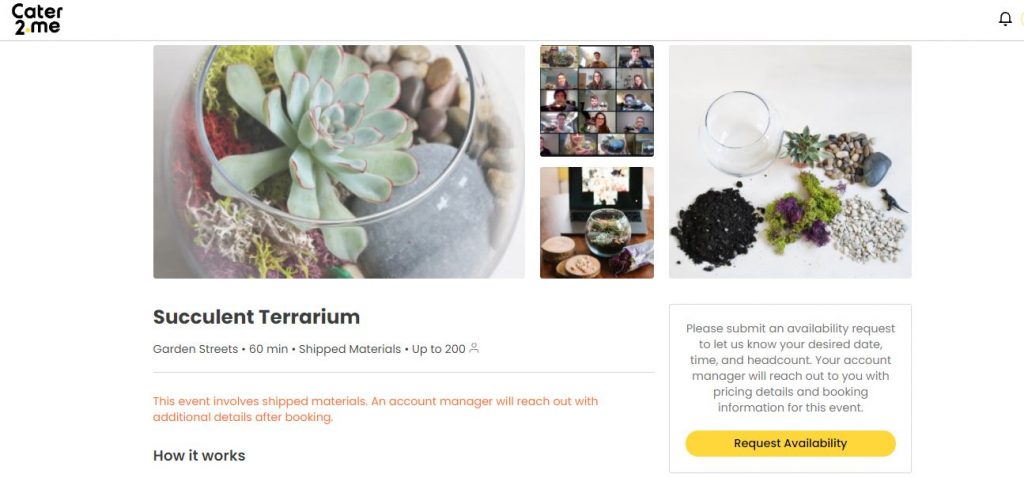 From there, you can directly request availability from clicking the "Request Availability" button. This gives you a place to provide your desired date, time, headcount, and any additional notes you feel are relevant to planning. Our account managers will receive the proposal and from there, they can confirm your event and begin planning!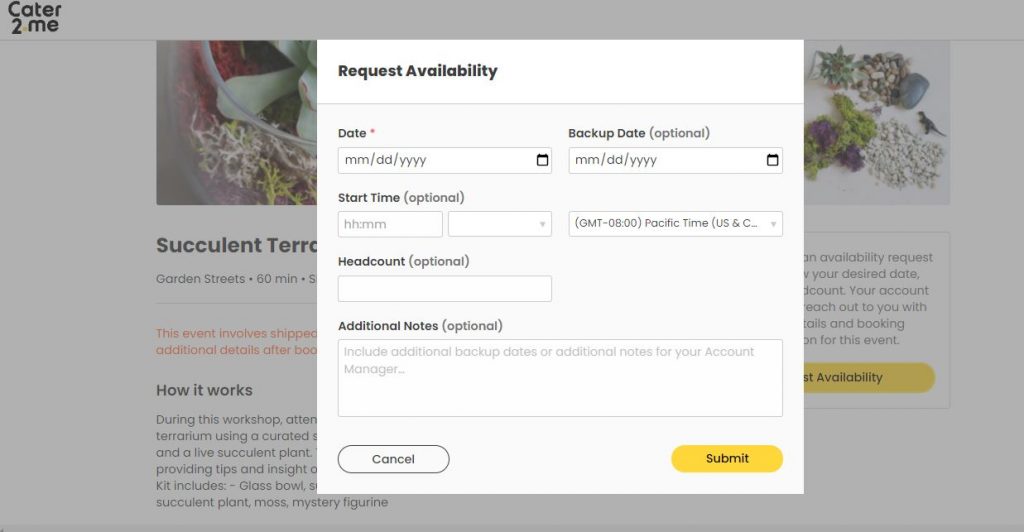 After our team has reviewed your inquiry and coordinated the event with the provider, your company's host will receive a link to the event page to send to your team. Participants will be able to view the activity page and join the event from there directly.
Remote Corporate Experiences With Cater2.me
If your team is still working remotely, we're ready to help you bring them together. Our dedicated account managers can help you set up a virtual event that is perfect for your WFH crew. Contact us today to see how our virtual experience platform can make your next virtual celebration one for the books!