Ahhh, the holidays. For some, they're full of festive bliss and for others, they're filled with anxiety around planning, preparation, and a whole lot of running around.
Regardless of your stance on seasonal celebrations, we're sure we can all agree on one thing: corporate holiday parties are the best way to close out the year with your team. Fun, food, and stress-free enjoyment are the pillars of these workplace events, and they give everyone a chance to share their holiday cheer with the people with whom they spend ⅓ of their waking hours.
When it comes to planning, Cater2.me provides the food, as well as everything else needed to set you up for success. All you'll have to do is show up and reap the benefits that the office holiday party can bring.
Allow everyone to connect
Navigating cross-team collaboration and connection have always been a challenge, but with COVID's debut last year, many companies have been working remotely with not much chance for in-person interaction. This means that many employees haven't celebrated with one another since 2019 or for those who are new to the team, haven't celebrated with (or even seen) their team members in the flesh at all!
In-person interaction is essential to building interpersonal relationships with your coworkers, which is pivotal to creating a strong company culture. And since the holidays will be the reason for many of our first in-person workplace interactions of 2021, these celebrations are vital to creating the culture that motivates your employees.
Since Cater2.me's solutions are fully managed, your team is saved the stress and time of putting together the event. Your team can sit back, relax, and connect with colleagues, without having to worry about who's bringing the dessert.
Boost corporate morale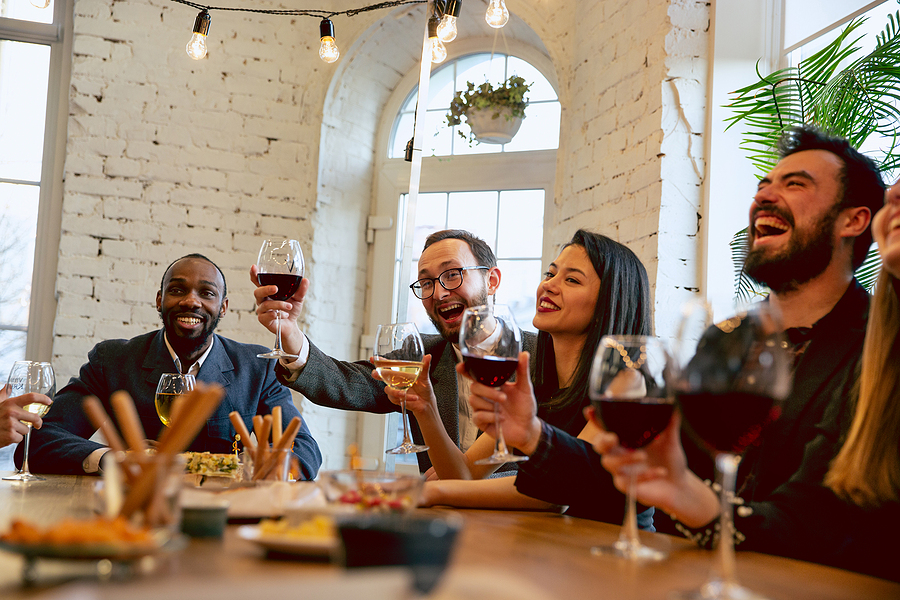 Every team can use a morale boost after a long year of work, and this is especially true considering the past two years that we've spent living with the pandemic. As we know, working from home has increased the employee's daily work schedules by 2.5 hours.
Reflect and recognize team wins
In addition to celebrating the holidays and the upcoming New Year, you can also use these end-of-season celebrations to recognize your team for their efforts throughout 2021. Recognition is considered to be a fundamental human need, and for good reason; it can improve productivity, decrease turnover, decrease stress, and improve overall employee satisfaction.
Since lack of recognition is the number one cause of employee turnover, making time to properly praise your colleagues for their efforts should be a top priority if you are a member of the management team. Furthermore, recognition is one of the top drivers of candidate interest in organizations. Praising your team during your holiday celebration is a great start to building a recognition system for your company that will truly turn into a gift that keeps on giving!
Click here if you are interested in having us take care of your team's holiday celebration!