The weather outside may be frightful, but the food is SO delightful! Fall foods are officially out, and Winter foods are ready to make their center stage debut as we head deeper into December. While many foods can be considered "Winter" foods (for me, its alllll about the comfort foods), there are some seasonal dishes that just taste better cozied up by a fire with festivities on the horizon.
We know that winter can affect our eating habits, but did you know that your body actually begins to crave more energy-dense (i.e., higher calorie) foods during this season? Well, in an effort to help curb your cravings, we've put together a list of four winter foods that are sure to satiate your need to nosh. Read on for the recipes.
Creamy Roasted Pepper Soup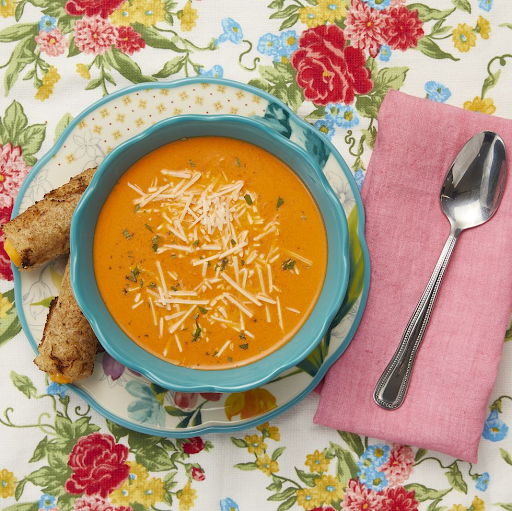 'Tis the season to eat soup. Soup is one of the classic cold weather comfort foods that many of us find ourselves craving in the wintertime. With endless varieties of this warm dish out there, it's hard to find one that you like making (and like eating in excess because let's be honest, we always make WAY too much for one sitting). 
With this roasted red pepper soup, the possibilities are endless and the flavors are fantastic. Enjoy it plain, add some tortellini for a heartier dish, or chop up some additional veggies to boost its nutritional value. No matter how you make it, it's sure to be a staple in your seasonal cookbook this year. Check out this recipe from The Pioneer Woman.
Creamy Roasted Pepper Soup Ingredients:
2 tbsp. olive oil
2 tbsp. Butter
1 whole medium yellow onion, chopped
3 cloves garlic, minced
2 tsp. fresh oregano, minced
1 whole russet potato, peeled and chopped (optional)
2 16-ounce jars of roasted red peppers, drained and sliced
2 tbsp. tomato paste
1/2 c. white wine
4 c. vegetable stock
1/2 c. heavy cream
1 tbsp. red wine vinegar
1 tsp. salt, plus more to taste
1/2 tsp. black pepper
Grated parmesan cheese, for serving
Fresh oregano leaves, for serving
Directions:
In a Dutch oven over medium heat, heat the butter and olive oil. Add the onions, garlic, and oregano and cook for 3 minutes, stirring occasionally.
Add the potato and roasted red peppers and stir, cooking for 3 more minutes. Stir in the tomato paste and cook for 2 more minutes. Sprinkle in the salt and pepper and turn up the heat to medium-high.
Pour in the white wine and let it reduce for a couple of minutes, then pour in the stock.
Bring the mixture to a gentle boil, then reduce the heat to medium-low and simmer until the potatoes are very tender, about 18-20 minutes.
Puree the soup using an immersion blender (or you can let it cool and puree it in a regular blender.) Add the cream and red wine vinegar and heat for a couple of minutes.
Taste and adjust seasonings, then serve with grated Parmesan and fresh oregano leaves.
White Chicken Chili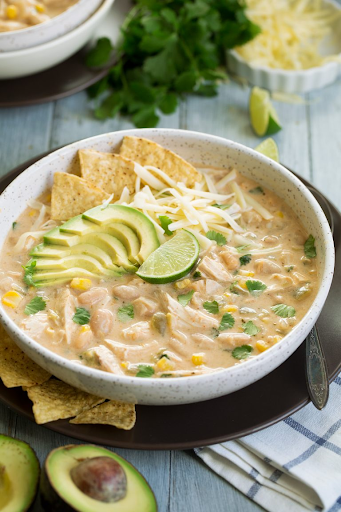 A twist on the classic chili, this version is sure to be a crowd pleaser. Perfect for any holiday party, white chicken chili offers a warm, creamy taste that makes it hard to put down. We can battle over whether chili is officially soup for days, but one thing I am sure we can all agree on is that this dish will carry us through the cold weather with ease. The best part? It can be made in a slow cooker (you can find out how to make that here)! Check out this recipe from Cooking Classy and learn how to make it yourself!
White Chicken Chili Ingredients:
1 small yellow onion , diced
1 tbsp olive oil
2 cloves garlic , finely minced
2 (14.5 oz) cans low-sodium chicken broth
1 (7 oz) can diced green chilies
1 1/2 tsp cumin
1/2 tsp paprika
1/2 tsp dried oregano
1/2 tsp ground coriander
1/4 tsp cayenne pepper
salt and freshly ground black pepper , to taste
1 (8 oz) pkg Neufchatel cheese (aka light cream cheese), cut into small cubes
1 1/4 cup frozen or fresh corn
2 (15 oz) cans cannellini beans
2 1/2 cups shredded cooked rotisserie or left-over chicken*
1 Tbsp fresh lime juice
2 Tbsp chopped fresh cilantro, plus more for serving
Tortilla chips or strips, monterrey jack cheese, sliced avocado for serving (optional)
Directions:
Heat olive oil in a large pot over medium-high heat. Add onion and saute 4 minutes minutes. Add garlic and saute 30 seconds longer.
Add chicken broth, green chilies, cumin, paprika, oregano, coriander, cayenne pepper and season with salt and pepper to taste. Bring mixture just to a boil then reduce heat to medium-low and simmer 15 minutes.
Drain and rinse beans in a fine mesh strainer or colander then measure out 1 cup. Set whole beans aside, transfer 1 cup beans to a food processor along with 1/4 cup broth from soup, puree until nearly smooth**.
Add Neufchatel cheese to soup along with corn, whole beans and pureed beans and stir well. Simmer 5 – 10 minutes longer.
Stir in chicken, fresh lime juice and cilantro. Serve with Monterrey Jack cheese, more cilantro, avocado slices and tortilla chips if desired.
Hot Chocolate Cookies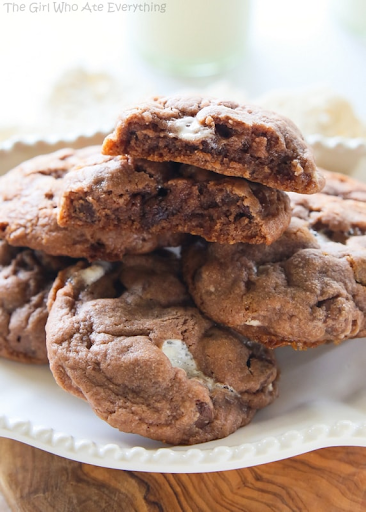 As if hot chocolate wasn't delicious enough, why not put it in your favorite dessert to make hot chocolate cookies? We think that this is a great alternative to the classic sugar cookies that dominate this season because let's be honest: we all love a chance to have a little hot chocolate. Perfect for warming up in the cold weather, these cookies are the epitome of wintertime flavors. And good news: they're super easy to make. See how you can do it yourself using this recipe from The Girl Who Ate Everything.
Hot Chocolate Cookie Ingredients:
1 cup (2 sticks) unsalted butter, at room temperature
1 cup white sugar
2/3 cups light brown sugar, packed
2 eggs
1 teaspoon vanilla
3-¼ cups all-purpose flour
4 (1-oz packages) hot chocolate mix (not sugar-free; a total of about 1 cup of hot chocolate mix)
1-¼ teaspoons salt
1-¼ teaspoons baking soda
1 cup milk chocolate chips
1 cup semi-sweet chocolate chips
1 1/2 cups mini marshmallows, frozen (see note)
Directions:
Cream butter and sugars until smooth. Beat in eggs and vanilla until combined.
In a separate bowl, whisk together the flour, hot chocolate mix, salt and baking soda. Add the flour mixture to the wet ingredients slowly until incorporated. The dough will be thick.
Fold in the milk chocolate chips and semi-sweet chips. Chill the dough for an hour. Chilling the dough allows the ingredients to blend and also makes a thicker cookie.
Preheat oven to 350 degrees.
Make balls of dough, around 1 1/2 tablespoons each, and place onto baking sheets lined with parchment paper. Hand place the marshmallows in the cookies. Although I have a pic of folding them in, I've found this is the best way. Make sure to tuck the marshmallow inside the balls if you can so that you don't have marshmallows sticking to your pan. Bake for 10-12 minutes or until edges are golden brown. The cookies will still look soft. They will continue to cook as they cool. Let cool for 5 minutes before removing from pan. I love these warm. If your eating them after they have cooled you can warm them in the microwave for 10 seconds.
NOTE: Some readers have found that freezing the marshmallows helps keep their shape and to not let them melt out of the cookies.
Baked Brie with Cranberry Sauce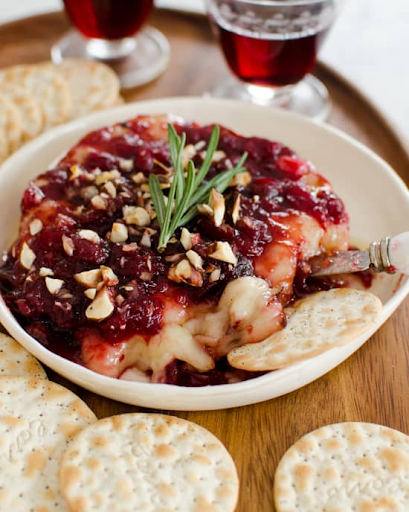 Ahh, how lucky are we to be living in the charcuterie-obsessed era? Cheese and meats are undoubtedly one of the best items to munch on regardless of the season, but something about a baked brie screams winter. It's the perfect holiday party appetizer (or personal snack) and when you add cranberry, the combination of smokey and sweet flavors make this recipe from The Kitchn a must-make this season.
Baked Brie with Cranberry Sauce Ingredients:
8-ounce round brie cheese, at room temperature
1/3 cup cranberry sauce, such as our Spiced Cranberry Sauce
2 tablespoons packed brown sugar
1 teaspoon vanilla extract
1 teaspoon orange zest
1/8 teaspoon ground nutmeg
1/4 cup hazelnuts, unroasted and roughly chopped
Fresh rosemary, to garnish
Assorted crackers, like cracked black pepper cracker thins
Directions:
Preheat the oven to 425°F. Peel or slice off the top rind of the brie and scrape out a small amount of cheese to form a shallow hollow in the center. Place the cheese in a small baking dish like a pie pan. (If you plan on transferring the cheese to a serving dish after it's baked, line the pie pan with a square of parchment paper.)
Mix the cranberry sauce, brown sugar, vanilla, zest, and nutmeg. Top the brie with this cranberry mixture and sprinkle the hazelnuts over it.
Bake for 8 to 12 minutes or until the fruit is bubbling and the cheese is gooey. This is a delicate process, and baking time can vary. The goal is to take the cheese out after it has softened, but just before it collapses into a heap.
If desired, lift the parchment paper and use a spatula to carefully slide the cheese onto a prettier serving dish. Garnish with a rosemary sprig and serve immediately with assorted crackers.
Keep yourself warm, cozy, and well-fed all Winter long with these delicious recipes!