Since we launched Group Ordering – our flexible catering platform – back in April 2020, we've had the opportunity to work with and collect feedback from a wide range of clients and industries, including leading companies across the biotech and life sciences industries.
Through our partnerships with clients like NGM Biopharmaceutials and PathAI, we've gained insights into the particular pain points of companies working in these industries and have developed specific solutions to help them engage their in-office teams with flexible, adaptable meal programs as well bring their national and international teams together via remote, culture-building programming.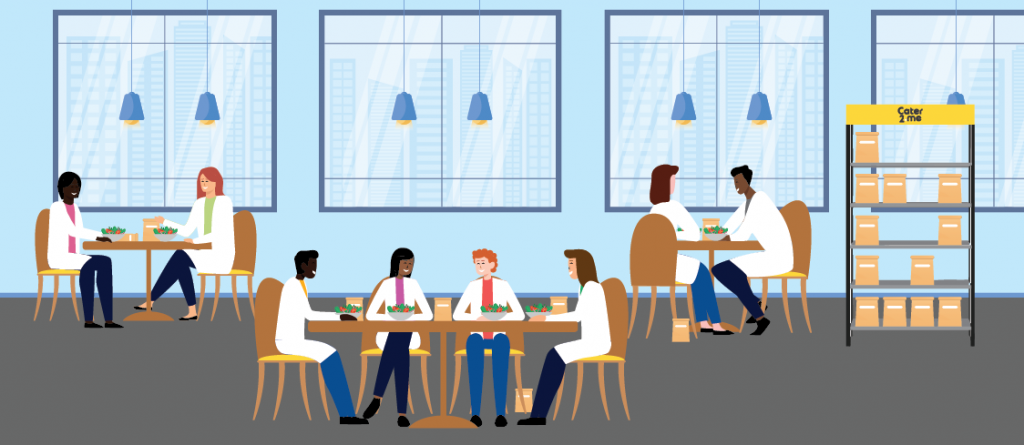 What sets biotech apart?
Large populations of essential workers – often scientists and lab technicians – who are required to report to a physical office on a consistent basis
Corporate teams that typically come into the office, but on a less consistent / more flexible schedule
Lab workers who tend to work in shifts with tight meal breaks, making it essential that their meal delivery is on-time, consistent, and dependable
A focus on efficiency, with teams frequently streamlining delivery to a single driver for each meal to help reduce foot traffic in the office
We've solved these pain points for a number of clients across the country.
Catering to a leading testing company
While we had served them sporadic meals dating back to 2016, a leading life sciences company in the Bay Area came to us in the spring of 2020 as they pivoted into COVID-related lab work and ramped up their in-office lab teams. As a result of this shift, they needed a flexible and reliable catering solution capable of:
Serving upwards of ~1,000 meals per day
Delivering simultaneous meals across multiple locations
Accommodating populations with varying daily headcounts
Providing meals at different times throughout the day
Provisioning flexible and dynamic company meal subsidies
Through our Group Ordering platform, we've been able to provide a single solution for their entire staff, allowing team members to select meals based on their location, and provide the company with enhanced permissions tools to monitor and maintain company budgets. Complementing our platform, our dedicated account management team provides oversight for day-of logistics while our on-site teams assist with meal setup and maintenance, ensuring that meals are on-time and set up efficiently and reliably.

Providing ultimate flexibility to PathAI
We work with clients across more than a dozen markets, and similarly, our partnerships with emerging life sciences companies aren't limited to the Bay Area. In Boston, PathAI uses our Group Ordering platform to serve their in-office staff – which fluctuates in headcount – weekly lunches.
Prior to Covid, when office attendance was more reliable and consistent, the PathAI team served weekly family-style meals to bring the team together over a shared experience. As a result of COVID, PathAI has embraced a more flexible in-office work policy, resulting in more frequent headcount fluctuations.
To accommodate a more flexible, dynamic office headcount while also continuing to support the company's initiative of encouraging team interactions through shared meals, PathAI turned to Cater2.me to enhance their program for their new workplace policies. With our Group Ordering platform, management doesn't need to worry about whether the whole office or just a subset of the team comes in on any given day: meals reflect the company's in-office population and are delivered together, providing a reliable, cost-effective solution for PathAI.
Get in touch with us at hi@cater2.me to learn more about how we're serving organizations with flexible, customizable programs to engage both in-office and remote teams!