We know that catered meals are in high demand as more companies move toward flexible work environments, so we built functionality to help assist you in ordering catered meals so that no one on your team misses a meal!
Our Group Ordering platform is a great way for companies to have a fully managed meal program with added flexibility for hybrid workplaces. With a Cater2.me meal program, your team can select and customize their meals, which arrive individually wrapped, labeled, and organized. And of course, because meals are selected by each individual, you'll never have wasted food or unnecessary leftovers!
While many companies love the idea of having their team members select their own meals, we've often heard that executives and top-level managers may not have the time to log into the platform to place their own orders.
Not to worry! With our new Executive Assistant feature, you can designate certain team members to order on behalf of managers and executives so they can participate in meals without having to manage their own accounts.
With this new feature, anyone with the Executive Assistant role can:
Order meals on behalf of one or more executives to whom they are assigned
Receive access to use their assigned executives' payment methods for meals that go beyond the company allowance
Easily view a summary of orders for their assigned executives
Setting up the Executive Assistant Role
Assigning designated team members the Executive Assistant Role and giving them access to order on behalf of other group members is easy.
Any Host or Assistant Host in a Group can assign the Executive Assistant Role on their Group Management page, accessible via the main menu in the Cater2.me dashboard. Of course, they can always ask their Account Manager for assistance

Once someone has been assigned the EA role, they will have access to the Managed Participants list, which they can get to via the main menu
From the Managed Participant list, an EA can then request to order on behalf of other users in their group

When they do this, they can also ask for access to the users' payment information in case they ever want to place orders beyond the company's allowance amount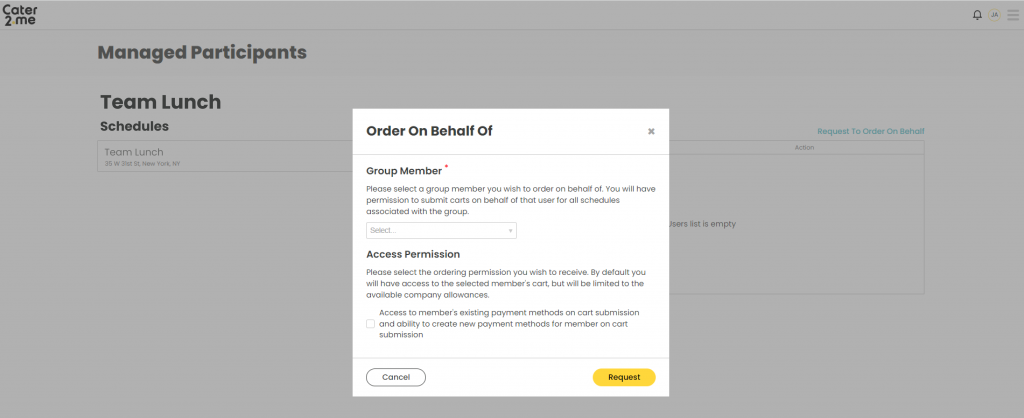 Once permission to order on behalf of another user has been requested, that user will receive a notification allowing them to accept or deny the EA permission to order on their behalf
If permission is accepted, the EA will then see the relevant user appear in their list of managed participants
Ordering meals on behalf of your assigned executives
Once you've been assigned the EA role and have been given permission to order on behalf of one or more group members, placing orders is very simple.
When you click into a meal tile, instead of being directed to your personal cart, you'll be taken to a Summary page where you'll see a table at the top listing out all of the executives to whom you've been assigned. From this table, you can see your current permission status for each user and can click any of the accepted users' Open User's Cart button to place an order on their behalf.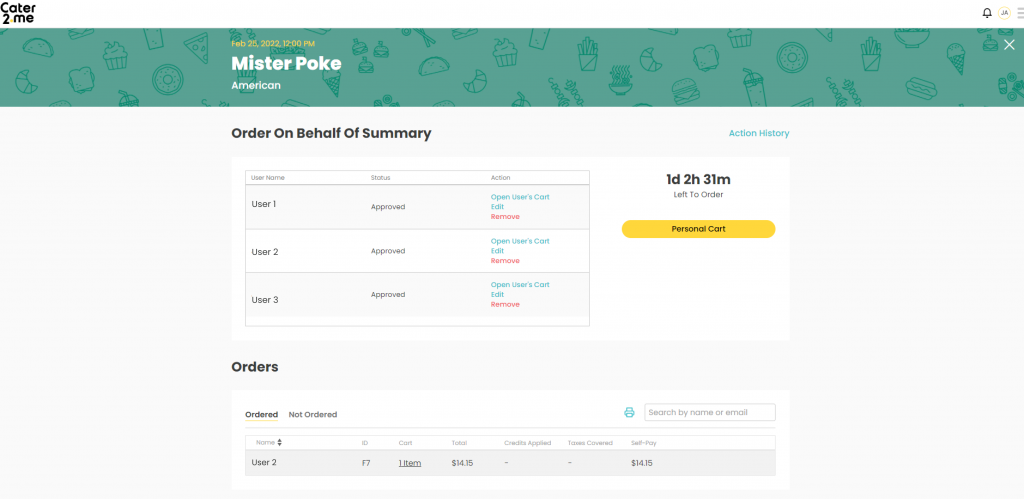 Each of these users is also listed out in the Orders table at the bottom of the page, separated into different tabs based on whether they've already placed an order, saved a cart but not yet submitted, or have not ordered yet.
Once you've opened a user's cart, you can make selections, add items to their cart and check out. If the user has given you access to their payment information, you'll be able to order in excess of the company allowance.
Once you've placed the order, you can navigate among your other assigned executives via the navigation dropdown at the top of the screen. You can also navigate back to the Summary page where you can access your Personal Cart.
Additional things to note
Pretty simple so far, right? Just a few more things to keep in mind.
Once an EA places an order on behalf of another user, that user will receive a notification letting them know details about the meal that has been ordered for them. They can always go in prior to the order submission deadline and update their cart or cancel their order if they prefer.
Each user can only have one EA assigned to them to order on their behalf. This is to prevent any confusion as to who is placing orders for a particular person.
Executives will still receive all system notifications to which they subscribe, even if they have an assigned Executive Assistant. If you want your executives to be completely hands-off, make sure their notification settings are all toggled off on their Account Settings page.
Contact us to find out how our Executive Assistant feature can benefit your meal program.