While we love providing teams with great catered lunches, we know that we can't be there for every meal.
To help you with some meal inspiration, we're sharing a preview of some of the recipes we're compiling from our team. Our Cater2.me crew created some great recipes, with everything from from spicy Jamaican tacos to delicious chewy brownies. And the best part – everything is super simple, requiring only 10 ingredients or fewer.
Check out some of our team's homemade recipes below!
Jamaican Jerk Cauliflower Tacos
Chrissy Rieder
Growing up, Jamaican food was an all-time favorite – curry goat, oxtail stew, jerk chicken. I became a pescatarian a couple of years ago and wanted to find a great vegetarian alternative to jerk chicken. This dish is not only simple and delicious, but it is now a weekly staple. Be warned – this dish may be spicy!!!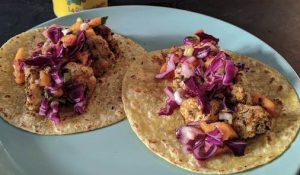 Prep Time: 20 minutes
Cook Time: 20 minutes
Ingredients:
1 large cauliflower head
2oz Walker's wood Jamaican jerk seasoning
2 tablespoons olive oil
1 1/2 cups red cabbage (sliced)
1/2 cup green onion (chopped)
1 mango (diced)
1 lime (juiced)
Cilantro – handful (chopped)
Salt/Pepper (enough to season)
Corn or Flour Tortillas (your preference)
Instructions:
Preheat oven to 400 degrees
Cut the cauliflower head into florets and place the florets into a large mixing bowl.
Drizzle 2oz of olive oil and 2oz Jamaican jerk seasoning over florets (if you are sensitive to spice, use less jerk. seasoning) and mix, making sure to coat the florets evenly in the olive oil and seasoning.
Place coated florets on a large baking sheet that is covered with parchment paper.
Bake for 20 minutes or until the cauliflower is tender.
While the cauliflower is baking, combine red cabbage, green onions, mango, cilantro, lime juice in a bowl making your mango slaw. Add salt and pepper to taste.
Once the cauliflower is baked to perfection, assemble your tacos.
The East Texas Etouffee
Jonathan Schalchlin
Cooking this crawfish etouffee reminds me of being back home in East Texas. I can almost smell the pine trees. Remember to be generous with the Cajun seasoning and cayenne pepper. I recommend pairing this with an Abita Purple Haze, some French bread and top it off with Louisiana The Perfect Hot Sauce. This is a vinegar based hot sauce that really puts a kick in this crawfish. The best part about this dish is it is even better the next day! Laissez les bons temps rouler!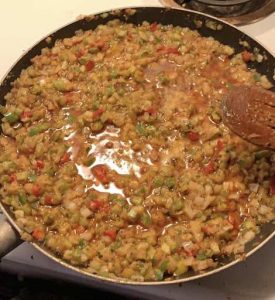 Prep Time: 15 minutes
Cook Time: 45 minutes
Ingredients:
2-3 sticks of melted butter
1 1/2 cup of flour
1 tbsp of Cajun seasoning and cayenne
1 cup chopped celery
1 whole white onion, chopped
1 clove chopped garlic
1-2 chopped green bell peppers
1-2 lbs. of crawfish
24-32 Fl oz chicken stock
1/3 cup rice
Instructions:
In a large saucepan combine melted butter with Flour. Cook on medium heat stirring continuously for about 10-12 minutes. Do not burn the roux. It should be a nice brown color.
Add the onion, pepper, and celery and stir frequently and cook for about 10 minutes. The onion, pepper, and celery should look like it has a nice peanut butter color coating.
Next, add the garlic, crawfish, and chicken stock. Bring this to a medium-high heat and cover the pan for about 10 minutes. Add more flour or butter to adjust the thickness of the etouffee.
Serve over a bed of rice.
Classic Chocolate Brownies
Nora Mooney
When I was growing up, my grandma would make us the best brownies to take back home after every visit! Since then, making brownies from scratch holds such a special place in my heart. Plus, you only need one bowl to mix everything up by hand – it couldn't be easier!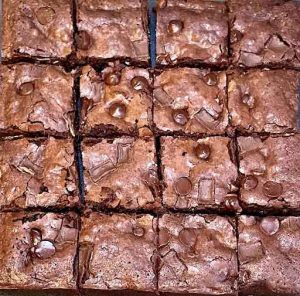 Prep Time: 15 minutes
Cook Time: 30 minutes
Ingredients:
1/2 cup unsalted butter, melted gently
1 1/2 cups granulated sugar
1/2 cup light or dark brown sugar
4 large eggs, at room temperature
1 1/2 teaspoons pure vanilla extract
1 cup cocoa powder (preferably Dutch-processed), sifted
1/2 cup all-purpose flour, sifted
1 1/4 cups chocolate chips (or any mix-ins you like)
Instructions:
Preheat oven to 350 degrees
Spray a 9×9 square baking pan with cooking spray and line with parchment paper. Spray the paper with cooking spray. (Brownie batter likes to stick.)
In a large bowl, combine the sugar and melted butter until the mixture is soft. Add in the vanilla extract and eggs and mix thoroughly.
Carefully fold in the flour and cocoa powder until combined. Don't over mix, some streaks of flour and cocoa are okay.
Add in 1 cup of the chocolate chips and mix until just combined.
Pour the batter into the prepared pan. Sprinkle the remaining 1/4 cup of chocolate chips on top.
Bake for 25-30 minutes, or until a toothpick comes out of the center just barely clean.
Allow the brownies to cool in the pan for 15 minutes before lifting them out onto a cooling rack to cool completely. Slice into16 squares once completely cool.
Enjoy!
Peanut Butter Stuffed Dates
Zoe Kirby
I kept seeing this snack all over TikTok and thought I would try it out as it seemed fairly easy and super delicious! Dates provide a great source of fiber and nutrients. They are historically used during Ramadan to help with nutrient loss that can occur during fasting, as well as aid in digestion after eating a large meal after fasting, such as at Eid al-Fitr. These sweet treats have been great for a mid-day snack or a dessert substitute, but I would limit yourself to 3 at a time, as they realllllllllly help with digestion if you get my drift.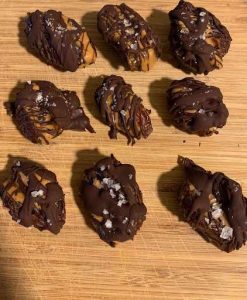 Prep Time: 5 minutes
Cook Time: 10 minutes
Ingredients:
Dark chocolate chips – About a cup for every 9 dates
Medjool dates – 9 dates, but can make as many as you would like
Peanut butter – about 2 tablespoons per 9 dates
Maldon Sea Salt
Optional: Peanuts (or other nut of your choice)
Instructions:
Slice your dates lengthwise to the pit, make sure not to cut all the way through.
Remove the pit and the stem of each date.
Add your chocolate chips to a small microwave- proof bowl and heat in lengths of 10 seconds, stirring in between, to prevent the chocolate from burning, about 30 seconds total (Optional: if you don't have a microwave, or you prefer to double boil, you can. Just add chocolate to a smaller bowl, fill a larger pot with just enough water to boil and place the small bowl in it, stir the chocolate until it's melted and has a glossy finish, then remove from heat.)
Fill a small Ziploc bag with peanut butter and push it to the corner. If you don't have a Ziploc bag, you can spoon the Peanut Butter directly into the date.
Pipe peanut butter into the date, just enough to be stuffed, but not too much that it is overflowing.
*Optional: if you want to add a few peanuts before covering in chocolate, you can. This gives it another texture and has been compared to a Snickers bar.
Once stuffed, you can either fully submerge your stuffed date in the chocolate and toss with two forks, or you can just drizzle chocolate on top of the date, depending on how much chocolate and sweetness you want. Place on parchment paper so that the chocolate doesn't stick to plates/cutting boards.
Top with a few flakes of maldon sea salt.
Place in the fridge for at least 20 minutes before eating to make sure they are hardened and stay together. They will keep up to two weeks in the fridge.
There you go – delicious recipes to add to your cookbook this season. And for your in-office meals, be sure to get in touch!