There's nothing better than fresh food from the farmer's market, especially when spring is just around the corner. Plus, a new season means new eating habits!
If you're a food lover, then you've probably heard of the term "farm-to-table." For those of you unfamiliar, the concept has been around since the early 1900s. What it boils down to is you're buying foods made with locally sourced ingredients that are often natural and organic. Why is this important? Chefs and restaurants can get their ingredients faster, fresher, and healthier when they source locally. Besides, when you eat well, you feel good!
Here at Cater2.me, we're thrilled to work with so many amazing farm-to-table vendors and develop relationships over our shared loved of food! It's important that we acknowledge our vendors and spread the word about their amazing businesses. As a thank you, today, we're putting the spotlight on two of our favorites to show our appreciation!
Read on to find out their story and how they've contributed to the local environment.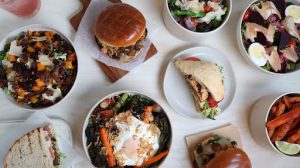 B.GOOD (@b.goodofficial)
B.GOOD was founded by two best friends who bonded over tasty food in their uncle's kitchen. It was homemade comfort food made from farm-fresh ingredients that felt like a hug in the stomach. Having enjoyed the food so much, they decided to open their own restaurant using some of the same ingredients, working closely with farmers, bakers, and growers. They started in Boston, MA, and have since expanded all across New England to Rhode Island, Connecticut, New Hampshire, and Maine!
What better way to eat B.GOOD food while at the office! You can eat all sorts of fresh, nourishing meals, whether it's kale and grain bowls, salads, sandwiches, or even juicy burgers – there's tons to choose from. With their Catering menu, you can order individual meals or group-portion bowls for large groups, depending on your dietary restrictions. If you enjoy comfort food, we highly recommend giving them a try!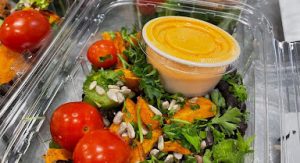 9 Miles East (@9mileseastfarm)
When you're on the go and super busy, 9 Miles East may be the place for you! It's a 29-acre veggie farm near Saratoga Springs, NY. They prepare and deliver healthy delicious, boxed meals to workplaces across the NYC suburbs area, Upstate NY, and Boston. Their boxed meals are typically colorful, fresh salads inspired by the worlds healthiest and tastiest cuisines. The boxes are available individually packaged or in a platter form to accommodate modern dietary preferences, which is why employers love them. And now that the weather is getting warmer, it's the perfect time for a spring salad at your desk!
Along with their salads, they offer GO baskets, which are yummy grain bowls with quinoa, high-quality vegetables, and delicious seasonings and sauces. You can also get tasty soups and family portion entrees!
We hope you enjoy the stories behind our farm-to-table vendors. Be sure to head over to their social media accounts to give them your support.
Are you interested in booking a meal or experience with one of our vendors? Learn more here.