The Cater2.me Group Ordering platform provides employees with the power to select and customize their meals, allowing them to tailor their orders based on their specific dietary needs and taste preferences. While employees may love the increased freedom to choose, we never want them to worry about missing a meal because they forget to make a selection.
Enter our Backup Plan feature!
By enabling this feature, meal participants get a meal recommendation automatically added to their carts as soon as their order is open for selection. Better yet – each meal recommendation is specifically tailored to the employee's dietary preferences set in their account. For any given meal, if an employee doesn't like the recommendation, they can revert their cart and add whatever other item they prefer.
Enabling Backup Plan
In order to turn on a meal participant's Backup Plan, the Host must first enable the feature on one or more meal schedules. Once the feature is enabled, meal participants should make sure their dietary preferences are up to date. Backup Plan meals conform to any of the following dietary selections:
Omnivore
Gluten-free
Dairy-free
Vegetarian
Vegan
Participants can also have the Backup Plan select meals based on the most popular menu items or their previous order history.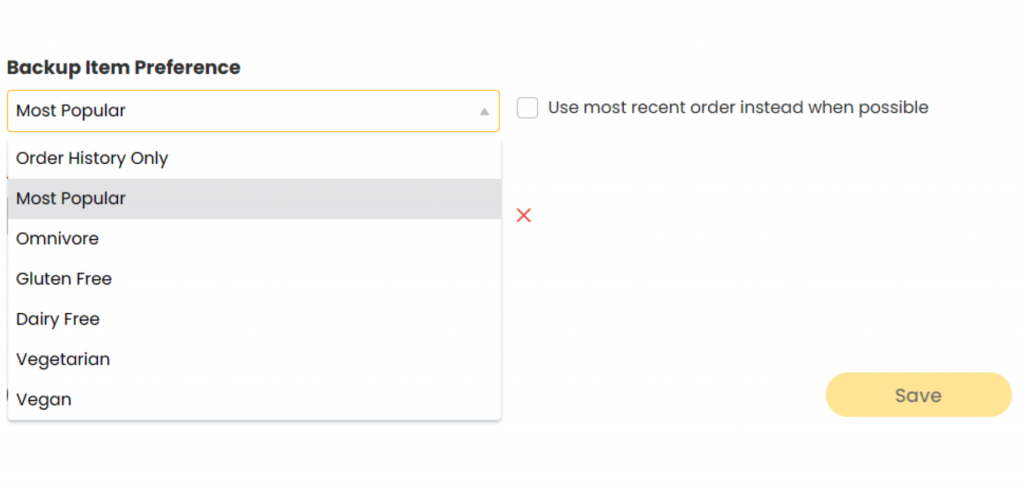 In addition to customizing the type of meal they'd like to receive; participants can select the specific days for which they'd like in the Backup Plan enabled. This is particularly helpful feature for those employees who have flexible work schedules or have specific days they tend to travel or work from home.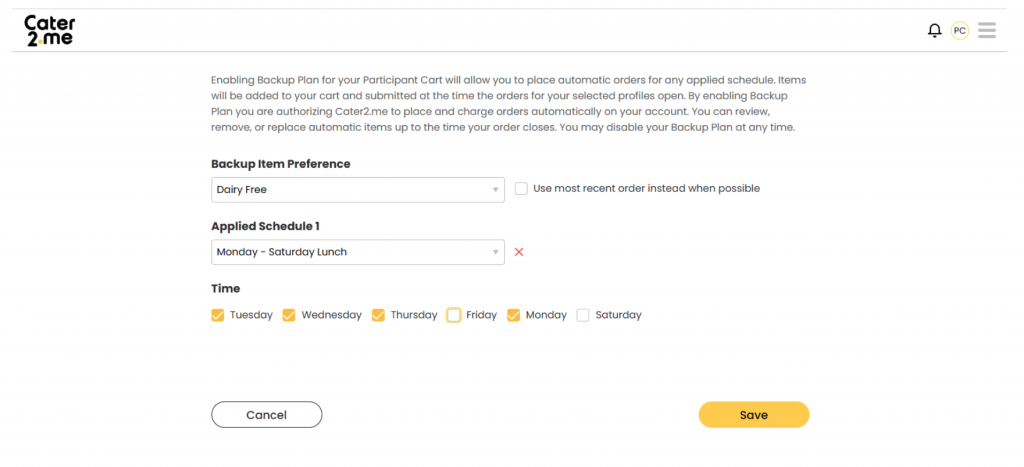 Backup Plan isn't just a solution for meal participants worried about forgetting to place their orders. This feature can also help save your team time, particularly if they spend time reviewing each menu to find the items that conform to their diets. With Backup Plan, just configure the settings to your tastes and schedule, and we'll automatically add a meal that meets your needs!
Backup Plan Host Carts
Meal Hosts can also take advantage of Backup Plans. Through Backup Plan, Hosts can select the quantity of each type of meal they wish to receive per day, for each of their meal schedules. This is a useful feature for any Hosts who order meals on behalf of their team or who like to order additional meals in case there are extra team members or guests in the office.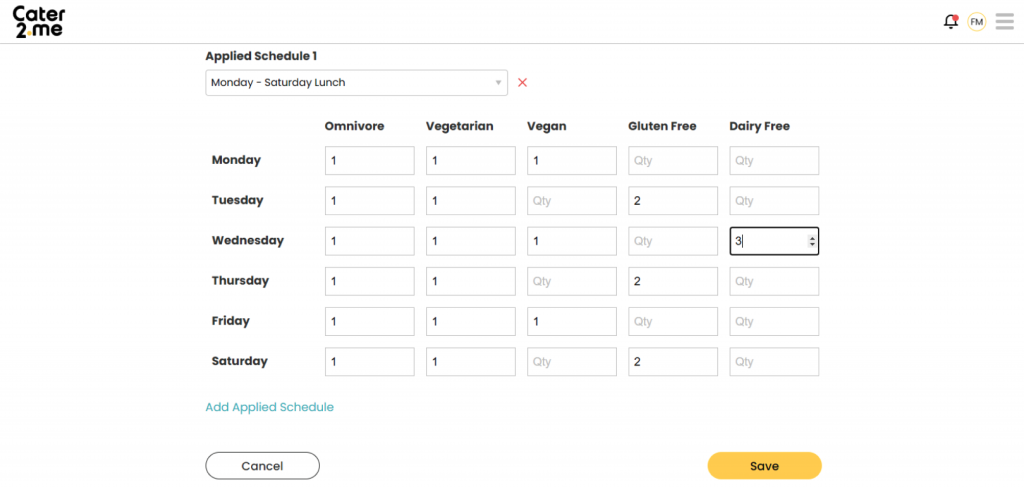 Staying In budget
The Backup Plan feature works for all Group Ordering orders, whether you're on a Flexible Subsidy or Fixed Price program.
With Flexible Allowances, if a Backup Plan meal recommendation exceeds your allowance amount, you'll be charged automatically for the balance. If you're on Fixed Price program, there's never any need to worry about paying out-of-pocket, even when Backup Plan enabled.
Enabling the Backup Plan feature for your company saves both you and your team time, adheres to dietary preferences, and ensures that you never miss a meal.
Contact us today to set up the Backup Plan feature and be sure to check out our other posts to learn more about the Group Ordering platform and experience: