There's nothing like the taste of your mom's cooking. Just the whiff of the yummy smell makes you can't wait to eat!
This Mother's Day, Cater2.me would like to highlight our team's mother's or mother figures' delicious homemade recipes. You'll be able to enjoy mouthwatering cornbread stuffing, Caribbean spicy shrimp, rich and creamy cheesecake, and so much more. Try preparing one of these tasty recipes with your mom or surprise her by making one on your own! Everyone loves a surprise, especially when its food related.
Here are our team's mom's easy, delicious homemade recipes!
Cornbread stuffing
Jonathan S.
Growing up, my mom used to cook Thanksgiving food for the whole family. When I say family, I mean my big East Texas family, including uncles, aunts, cousins, and grandparents! The cornbread stuffing was always my favorite. Every year, my mom would make this for me when I wanted a home-cooked meal! My mom decided to share her favorite cornbread stuffing recipe with you so that you too can savor its deliciousness. Just don't forget to add some hot sauce!
Prep Time: 30 minutes
Cook Time: 60 minutes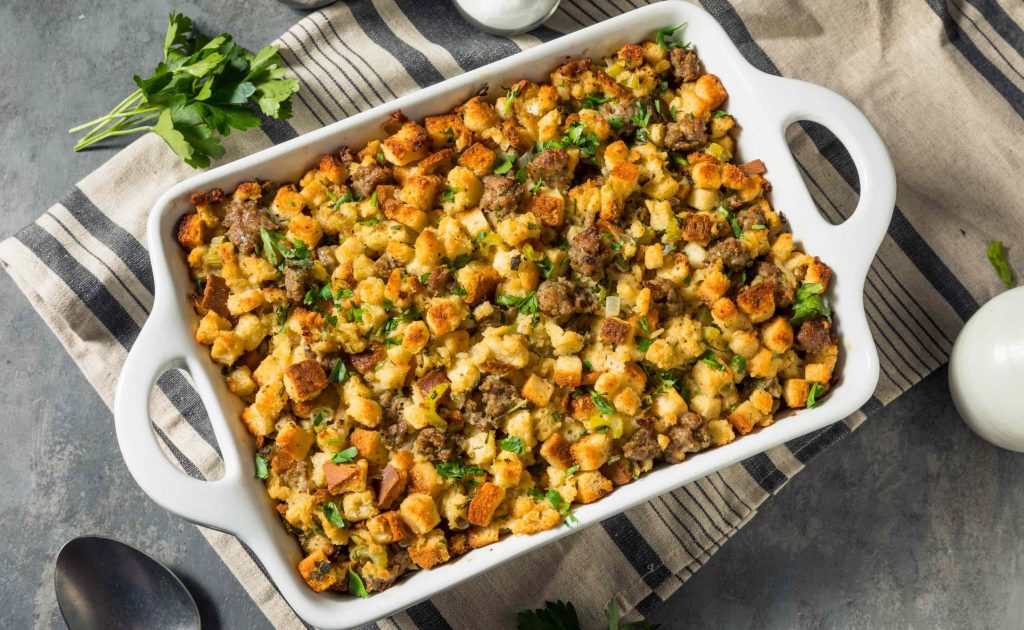 Ingredients:
Cornbread mix
1/2 package of seasoned croutons
2 large boxes of chicken or turkey broth (64 ounces)
5 eggs beaten
4 hard-boiled eggs chopped
2 tbsp poultry seasoning
2 tsp salt
2 tsp white pepper
1 roasted chicken pulled apart/ shredded
Instructions:
Make a pan of cornbread. Break it up in a large bowl. Add:
1/2 packaged of seasoned croutons
2 large boxes of chicken or turkey broth (64 ounces)
5 eggs beaten
4 hard-boiled eggs chopped
2 tbsp poultry seasoning
2 tsp salt
2 tsp white pepper
1 roasted chicken pulled apart/shredded
Let it soak in a sauté pan, heat bacon grease and add: 1 chopped onion and chopped celery. Cook until tender
Add to cornbread mixture
Pour into a large pan and cook for 1 hour at 350 degrees
Caribbean Spicy Shrimp
Lashawna W.
My mom loves to cook! She always comes up with new recipes or gets them from family members who've been passing them down for generations. We Jamaicans love spicy food! It's in everything, and I mean everything! The Caribbean spicy shrimp dish is so good every time I go visit her, she has it ready for me on the table. The cabbage adds an extra kick to this dish, it's so good and complements it well. I can't wait for you to try it!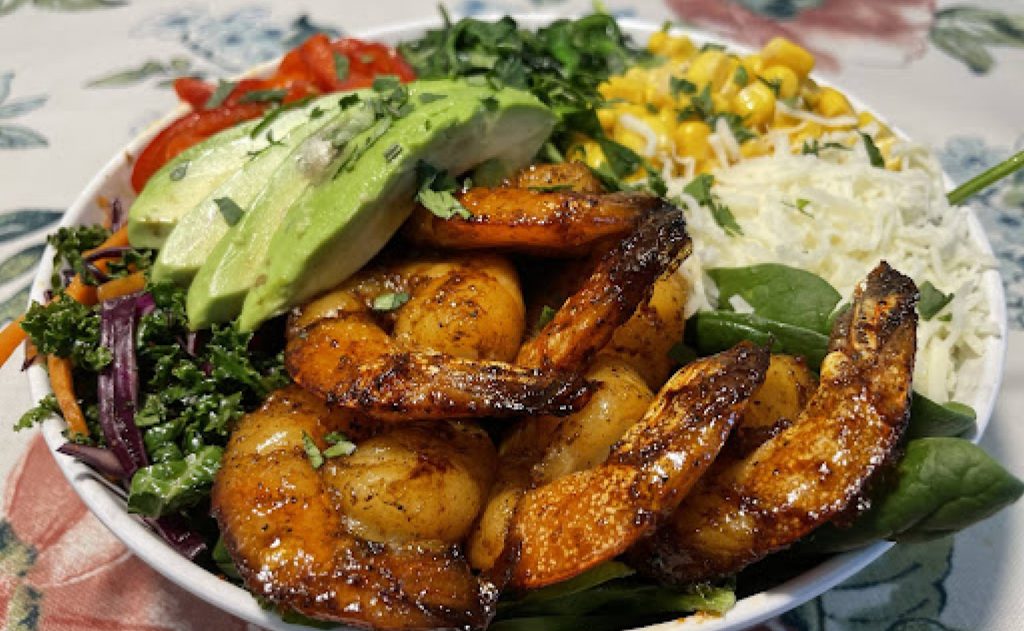 Prep Time: 10 minutes
Cook Time: 20 minutes
Ingredients:
1-pound large shrimp (peeled and deveined)
2 tbsp avocado oil
1/2 chopped red bell pepper
1/2 chopped green bell pepper
1/2 chopped yellow bell pepper
1/2 chopped onion
1/2 tsp salt
1 tsp paprika
2 tsp garlic powder
1/4 Mrs. Dash original seasoning blend
1 small head cabbage (chopped about 5 to 6 cups)
Instructions:
Chop or slice cabbage and set aside
Clean shrimp with vinegar and lime
Heat up a large pan on low heat with 2 tbsp of avocado oil. Then lightly season with 1/2 tsp salt, 1 tsp of paprika, 2 tsp of garlic powder, 1/4 Mrs. Dash original seasoning, and 1/2 of chopped red bell pepper, green pepper, yellow pepper, and 1/2 chopped onion
Sauté for 5 minutes
Add the shrimp and cook for 10-15 minutes
Once the shrimp are cooked on both sides, add the cabbage and cook for another 5 minutes
Serve with rice of your choice!
"No Leftover" Meatloaf
Zoe K.
We call my stepmom's meatloaf "no leftover" because there are never any leftovers, it's just that good. We would love to experience the next day's meatloaf sandwich, but that has yet to happen haha. The best thing about this meatloaf is that my step-mom makes it perfect every single time, and my dad, who was a chef for 15+ years, cannot make it to save his life, so it gives us a great laugh every time.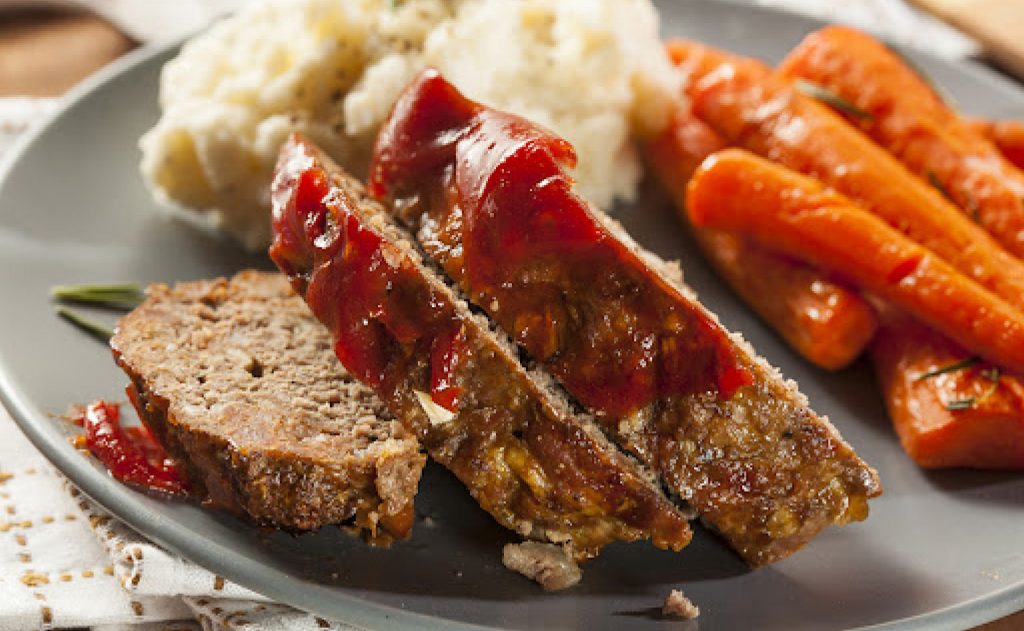 Prep Time: 10 minutes
Cook Time: 1hr – 1.5hr (depending on oven, monitor after 1 hour)
Ingredients:
1.5 lbs. of ground beef
1 cup of milk
1 tbsp of Worcestershire sauce
1/4 tsp dried sage
1/2 tsp salt
1/2 tsp dried mustard
1/4 tsp ground pepper
2 minced garlic cloves
1 small chopped yellow onion
1/2 cup of breadcrumbs
1/2 cup of ketchup (put on top of meatloaf)
Instructions:
Heat oven to 350 degrees
Combine all ingredients, except ketchup
Place in ungreased loaf pan
Spread the top with your ketchup
Bake 1 – 1.5 hours, temp should be 160 degrees
Let sit for 5 minutes
Serve with your favorite mashed potatoes!
Coffee-Spiced Pork Chops
Jonathan A.
This isn't so much a Mother's Day recipe with the exception of the fact that my wife loves these pork chops and maybe someday she'll be a mom, so that's close enough. While we tend to eat more plant-based meals these days, I've been making pork chops for a long time and they're always a crowd pleaser in our house. I've never used a recipe and the rub mix is more art than science, so measurements listed are just a rough starting place. Cooking time is also going to depend on the thickness of your chops, so it may take some practice. The chops should give just a little when you push into them with your finger. And if you do it right ,you won't leave any meat on the bone.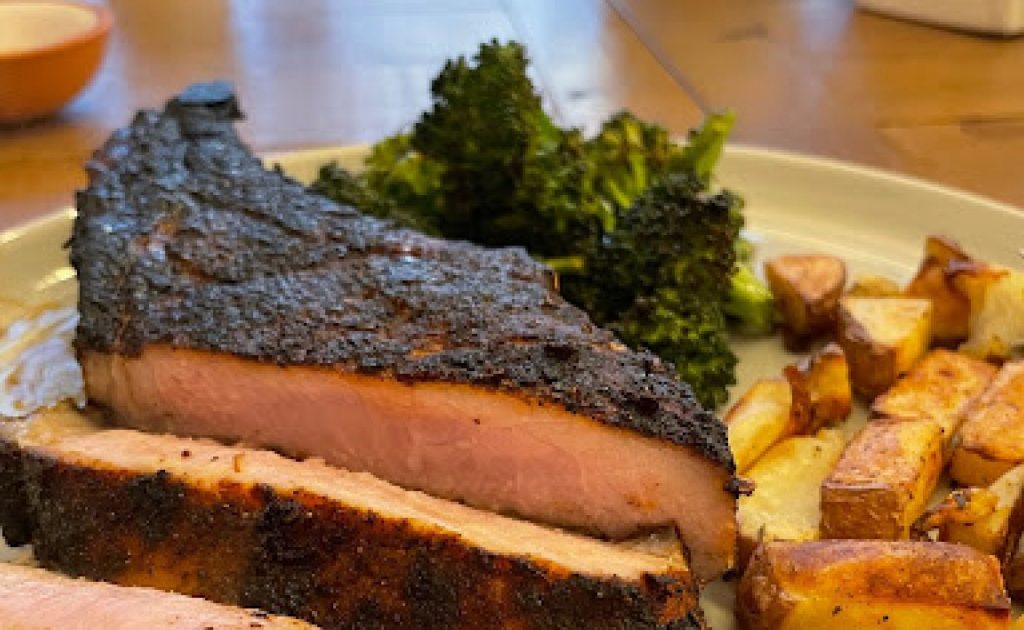 Prep Time: 5 minutes
Cook Time: 15 minutes
Ingredients:
2 bone-in pork chops (roughly 1-inch thick), use rib chops with the fat cap included
3 tbsps. Brown sugar, dark or light
1/2 tbsp Fresh ground coffee
1/2 tbsp Chili powder
1/2 tbsp Smoked paprika
1/2 tbsp Ground cumin
1/2 tbsp Ground coriander
1/2 tbsp Garam masala
1/2 tbsp Chili flakes
1/2 tbsp Oregano
A few tuns of a fresh pepper mill
Kosher salt
Instructions:
Prepare the pork. If the fat cap is more than an inch thick, either trim it down or score using a paring knife, cutting through the fat about every half inch all the way down the chop. This will prevent a thick-cut piece of pork from cupping while cooking.
In a small bowl, combine all seasonings with the exception of the salt. If there are clumps of brown sugar, break them up with a spoon to combine
Generously salt both sides of the pork as well as the fat cup. Then rub both sides of chops with the spice rub, making sure to rub the seasoning into the meat
Let pork rest for at least 25 minutes or in the refrigerator for up to 12 hours but make sure to let the prk come to room temperature before cooking
preheat the oven to 415 degrees
Slowly heat a cast-iron skillet on the stove (you can get it started in the oven if you'd like). Once the skillet is warm, turn the flame to high
Place pork chops fat-side down in the skillet for 3-4 minutes to let the fat render. You can move them around with tongs to help prevent any of the rub from burning
Once the fat has started to render, place both chops down and cook one side for 4-5 minutes. Flip and cook the other side for another 3-4 minutes. Place in the oven for 3-4 minutes to finish cooking
Take the chops out and let rest off of the heat for 5 minutes before serving
For an extra treat, while the pork rests, I like to take a slice of fresh bread and cook them in the pan juices. Yum.
Enjoy!
Mini Cheesecakes
Nora M.
My mom does not have a big, sweet tooth, but she LOVES cheesecake. I usually make her a whole cheesecake for Mother's Day but baking a whole cheese from scratch is quite an undertaking, so here is a recipe for mini cheesecakes! These are so much easier to make than a whole cheesecake and they take a fraction of the time. No water bath or springform pan is needed, these are made in a standard muffin tin. Happy Baking!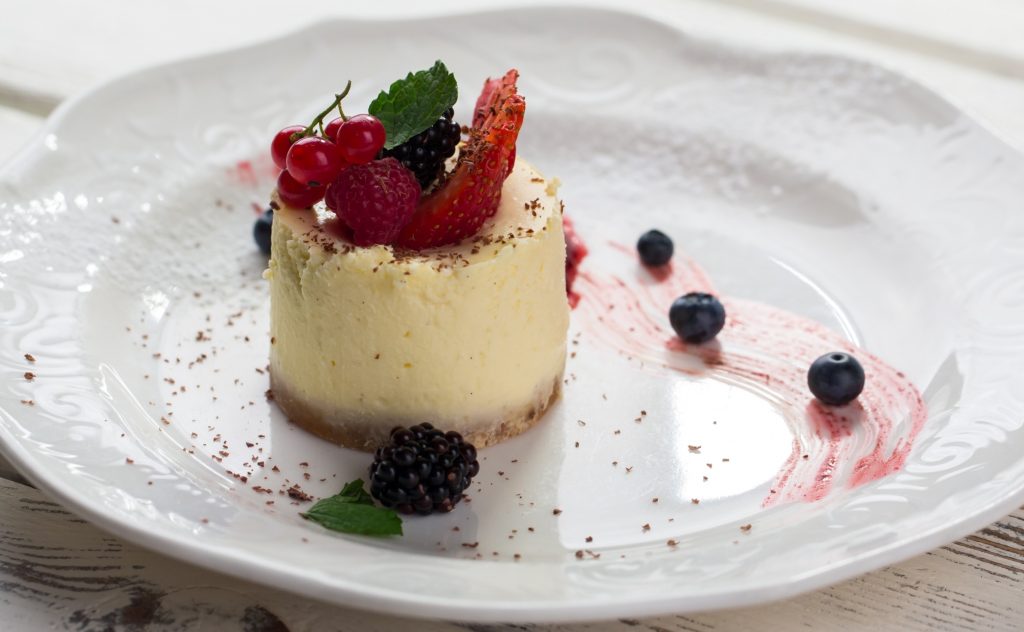 Prep Time: 30 minutes
Cook Time: 20 minutes
Ingredients:
Graham Cracker Crust:
3/4 cup graham cracker crumbs (about 4-5 full sheet graham crackers)
3 tbsp unsalted butter, melted
2 tbsp granulated sugar
Cheesecake Filling:
12 oz. block full-fat cream cheese, softened to room temperature
1/2 cup granulated sugar
1/4 cup full-fat sour cream, at room temperature
1 tsp pure vanilla extract
1 tsp fresh lemon juice (optional, but I like to add it in, or some lemon zest)
1 large egg, at room temperature
Instructions:
Preheat the oven to 350-degree F. Line a standard 12-count muffin pan with liners.
Combine all of the crust ingredients in a medium bowl. Mixture will be sandy. Firmly press a heaping tablespoon of crust mixture into each liner. Pre-bake for 5 minutes
Using a handheld or stand mixer fitted with a paddle or whisk attachment, beat the cream cheese and granulated sugar together on medium-high speed in a large bowl until the mixture is smooth and creamy, about 1 minute. Add the sour cream, vanilla extract, and lemon juice/zest then beat until fully combined. On medium speed, add the egg and beat just until combined. Divide the batter evenly between all the liners.
Bake until the edges are set, and the centers only slightly jiggle, about 18-20 minutes. The jiggle is good, you don't want to overbake these.
Set the pan on a wire rack and allow cheesecakes to cool at room temperature for 30 minutes, then transfer to the refrigerator and chill for at least 2 hours and up to 1 day. If chilling for longer than 2 hours, loosely cover the cheesecakes. The cheesecakes will slightly sink in the middle as they chill.
Once chilled, add your choice of topping and serve. Cover and store leftover cheesecakes in the refrigerator for up to 5 days.
Aunt Karen's Banana Bread
Erin P.
My great aunt is a tremendous home chef and was never happy with other recipes for banana bread, so she made her own! In my family this is one of our favorite comfort and breakfast foods!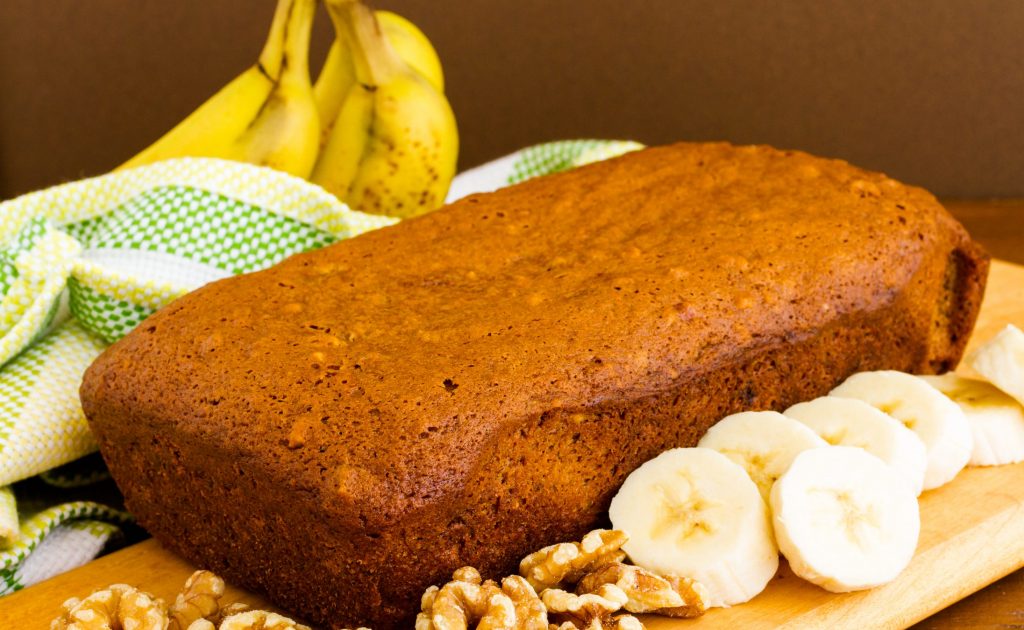 Prep Time: 30 minutes
Cook Time: 1 hour
Ingredients:
6 tbsp softened butter
4 oz. packaged of softened (1/3 less fat) cream cheese
1 cup sugar
1 large egg
1 1/2 cups all-purpose flour
1/4 tsp baking powder
1/4 tsp baking soda
1/4 tsp salt
3/4 cup mashed bananas
1/4 tsp vanilla extract
(optional) 1/2 cup toasted chopped pecans or walnuts
Instructions
beat butter and cream cheese at medium speed with an electric mixer until creamy
Gradually add sugar, beating until light and fluffy
Add egg, beat until blended
Combine flour, baking powder, baking soda, and salt; gradually add to butter mixture, beating at low speed until blended
Stir in bananas, vanilla, and (pecans/walnuts)
Spoon batter into a greased and floured 8 X 4-inch loaf pan
Bake at 350 degrees for 1 hour or until the pick inserted into the center comes out clean and sides pull away from the pan, shielding with aluminum foil for the last 15 minutes to prevent over browning if necessary
Cool bread in a pan on a wire rack for 15 minutes
Remove from pan, and cool for 30 minutes on a wire rack before slicing
Fudgie No-Bake Cookies
Camellia T.
These were my favorite cookies as a kid, and still today as an adult! They are so easy to make and one of the first recipes I ever remember making with my mom for various occasions and holidays.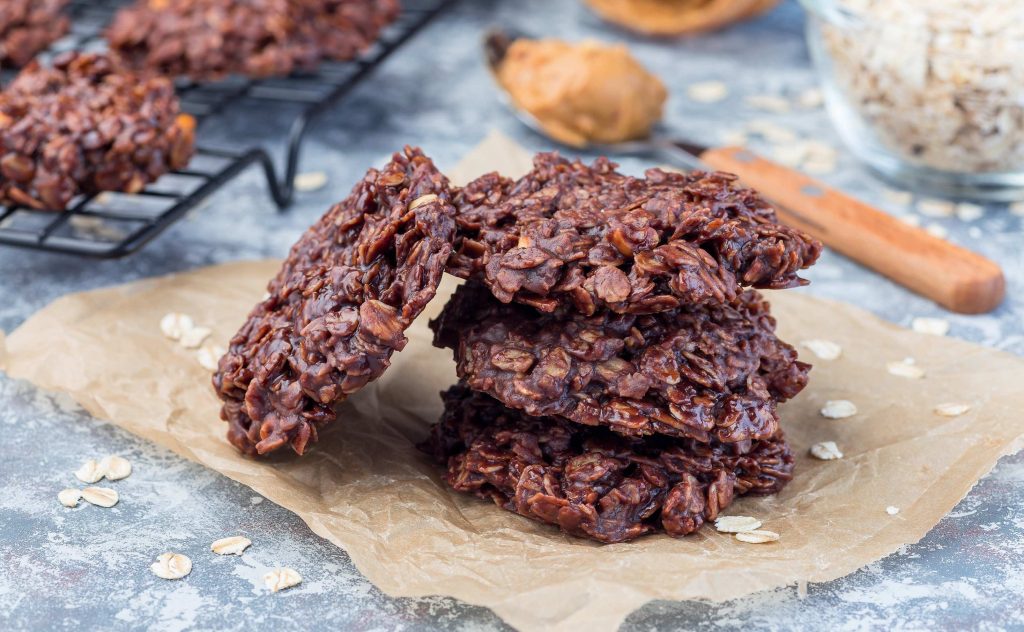 Prep Time:5 minutes
Cook Time: 5 minutes
Ingredients:
1 stick (1/2 c.) unsalted butter
1 3/4 c. granulated sugar
1/3 c. unsweetened cocoa powder
1/2 c. milk of your choice (I use skim)
1 tsp vanilla extract
2/3 c. creamy peanut butter
3 c. quick oats (not old-fashioned oats)
Instructions:
Line two baking sheets with parchment paper or silicone mats
In a large saucepan combine butter, sugar, cocoa, and milk
Set over medium heat and cook, stirring frequently until it reaches a full boil
Allow the mixture to boil for 60 seconds without stirring.
Remove from heat, immediately add in vanilla, peanut butter and quick oats. Stir mixture with a spatula until well combined then, using a medium cookie scoop or two spoons drop mixture onto lined baking sheets.
Allow to rest at room temperature until set, about 20-30 minutes (can also refrigerate to speed up the setting).
Dirt Pudding
Alex L.
This is such a simple dessert that my mom would whip up for the kids on a whim because she knew we liked it so much. Rich and creamy, just thinking of this makes me think of my mom and all of us kids standing around the kitchen island, eating this right out of the serving bowl.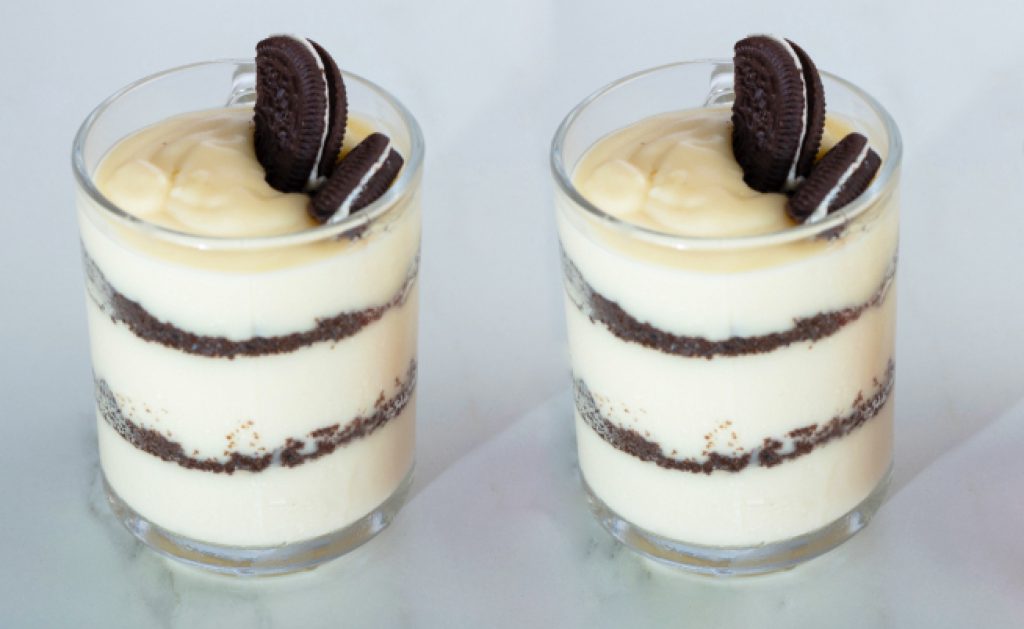 Prep Time: 20 minutes
Cook Time: 0 minutes
Ingredients:
8 oz cream cheese (room temp)
1/2 cup butter (room temp)
1 cup powdered sugar
2 small boxes French vanilla pudding mix
3 1/2 cup cold milk
12 oz Cool Whip
1 lb. crushed Oreos
Instructions:
Mix the cream cheese, butter, and powdered sugar with a mixer
In a separate bowl, whisk pudding mix and milk together until thickened
Fold Cool Whip into the pudding, then mix with the cream cheese mixture
In a large bowl or casserole dish, alternate layers of the pudding/cream cheese mix with Oreos, ending with a layer of Oreos on top
Serve room temp or cool and serve. Store in the fridge.
Challah with Saffron
Dara S.
Love freshly baked bread? You're in the right spot! This Ina Garten recipe is a Silverman Shabbat favorite. I'll tell you how to make it so you can eat it for dessert with your favorite coffee or tea. It takes a little while to make, between mixing, kneading, rising, and baking, but it's totally worth it and extremely delicious!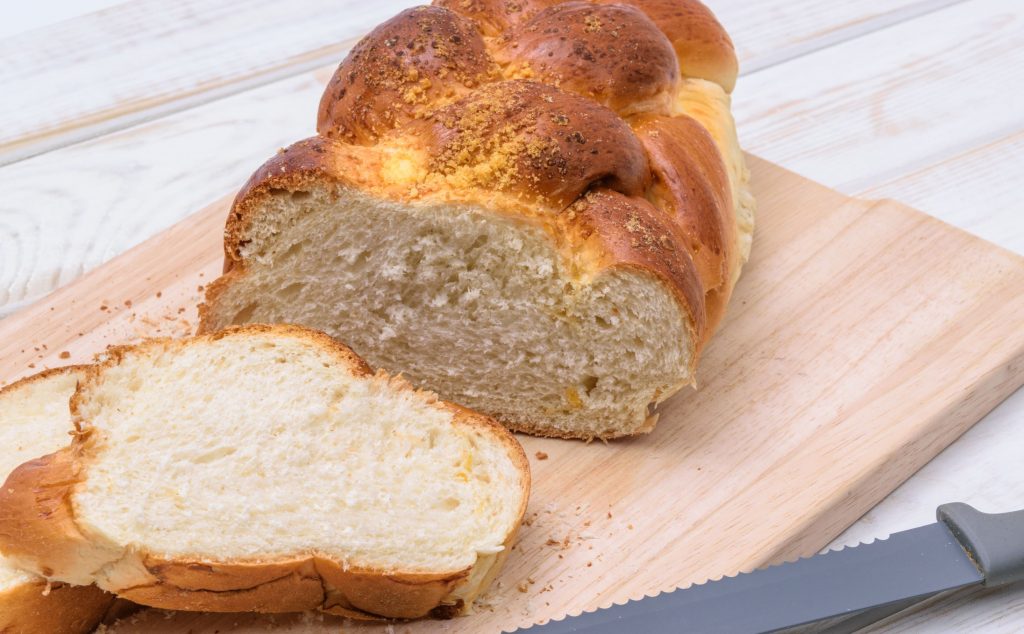 Prep Time: 30 minutes, 3 hours proof
Cook Time: 35 minutes
Ingredients:
1 cup warm (115 to 120 degrees) water
2 (1/4 ounce) packages active dry yeast
1/2 cup sugar
1/4 teaspoon saffron threads
3 extra-large eggs, at room temperature
1 extra-large egg yolk, at room temperature
5 1/2 to 6 cups all-purpose flour
1 tbsp kosher salt
1/4 pound (1 stick) unsalted butter, diced, at room temperature
Vegetable oil
1 extra-large egg beaten with 1 tbsp water for egg wash
Instructions:
Warm the bowl of an electric mixer fitted with the dough hook by rinsing it with hot water. Pour the warm water into the bowl (be sure it's at least 110 degrees when it's in the bowl), and mix in the yeast, sugar, and saffron
Allow to sit for 5minutes, until it starts to froth, which tells you that the yeast is active. Add the eggs and egg yolk and mix on low speed
With the mixer on low, gradually add 4 1/2 cups of flour, scraping down the bowl as you go. Add the salt and butter, then slowly add between 1 and 1 1/2 more cups of the flour, mixing on low for about 5 minutes and continuing to add a dusting of flour to the bowl but only enough so the dough doesn't stick to the bottom of the bowl. The dough will be soft and a little sticky
Turn the dough out onto a floured board and knead it by hand for a full 2 minutes. Roll the dough into a ball with the smooth side up. Brush a large bowl with vegetable oil and place the dough in the bowl, smooth side down
Roll the dough around to cover it with oil, then turn it smooth side up, making sure the entire dough is covered with oil to prevent a crust from forming. Cover the bowl with a clean, dry kitchen towel and allow to rise in a warm place for about 2 hours, until doubled in size
Punch the dough down lightly and turn it out onto an un-floured cutting board. With a sharp knife, cut the dough into 4 equal pieces. Line a sheet pan with parchment paper
Turn the first ball of dough smooth side up and roll it into a cylinder. Roll the dough in a rope 17 inches long and lay it, seam side down. On the parchment paper. Repeat for the other 3 balls of dough, laying them side by side on the parchment paper
To braid the dough, pile one end of the ropes on top of each other and pinch them together and under. With the pinched end away from you, take the far-right rope and move it leftover 2 ropes
Then take the far left rope and move it right over 2 ropes. Continue taking alternate ropes and laying them over 2 ropes until you've braided the entire bread. Pinch the ends together and fold them under. Cover the bread with a clean dry kitchen towel and allow it to sit in a warm pace for 45-60minutes, until doubled in size
Meanwhile, preheat the oven to 350 degrees. Place an oven rack in the lower third of the oven. Brush the bread thoroughly with the egg wash and bake for 35 to 40minutes, until the outside is browned, and it sounds hollow when you tap the bottom. Place the challah on a baking rack and cool completely.
There you go! Recipes you can make with or for your mom this Mother's Day. Thanks for all your hard work and sacrifice – we really appreciate all you moms out there!