In the era of remote and hybrid working, companies are constantly looking for fresh new ways to keep teams engaged, thriving, and connected. Video conferencing, especially when working from home, can help your team build relationships, communicate more effectively, collaborate with other departments, and be more productive with their time. That said, overuse of virtual meetings and video use can lead to "zoom fatigue", and ultimately burnout. A key thing to consider when using video platforms to communicate and connect is that the WAY in which your organization uses it is just as important as how MUCH you use it.
Here are three ways to use video to improve company culture without bringing on "zoom fatigue".
Make Onboarding Purposeful and Personal
This is the first time a new hire is interacting with the company and his or her team. Yet, Gallup found that as much as 88% of employees surveyed did not think their company had a very positive onboarding experience. Face-to-face interaction can grow relationships more quickly than email and there is nothing more important than creating a welcoming first impression. Many apps, such as Loom, allow you to record and share videos hassle-free with your colleagues. Ask team members to film a welcome message for a new hire or share what they love about the company. New hires also have a lot of information to absorb, so consider creating fun and engaging animated orientation videos that showcase information about the company, culture, and HR benefits.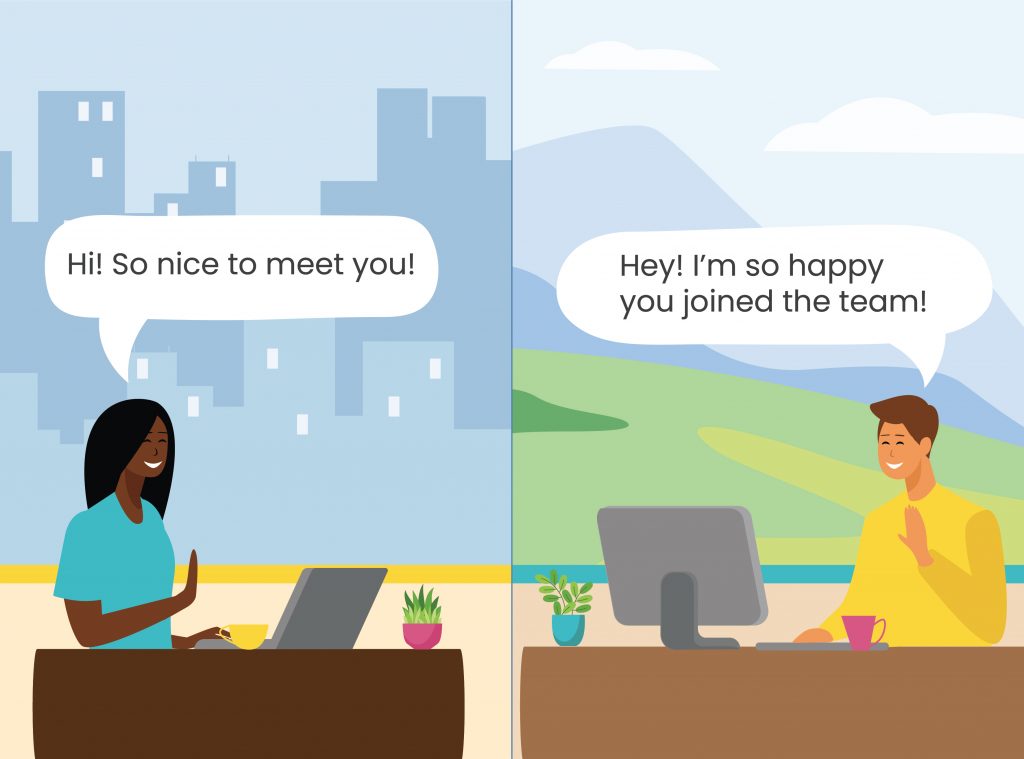 If you do not have an in-house creative team to do this, Fiverr is a great resource for accessing a cost and time-efficient graphic design marketplace. Brent Pearson, the CEO, and founder of Enboarder says onboarding should be interactive to keep participants engaged and connected. "Do not ignore the social side of onboarding," Pearson said. "Coach managers to come up with creative ways to connect with the team." Adding personal touches and communicating in authentic ways with new hires will set a strong foundation from day one.
Infuse Fun, Inspiration and Creativity into the Workplace
The pandemic put the importance of connection at the forefront both at home and at work. But many companies struggle with how to engage employees when some are in the workplace and others are remote. Virtual team-building events are a great way to not only allow for connection, but to motivate teams, infuse creativity and FUN into the workplace. Cater2.me offers curated virtual experiences that are customized for all types of teams, such as Cookies and Cocktails, Virtual Escape Room, Wine and Charcuterie Class, Paint and Sip, Magic Shows and more. Virtual interaction in a relaxed environment helps solidify trust at all levels, leading to better teamwork and higher engagement. "Companies know they need to be looking for ways to bring people together that feels more authentic," says Adrian Gostick, an executive-leadership coach. "It's not about just planning a virtual party. It's about making it meaningful, and making people actually want to be there."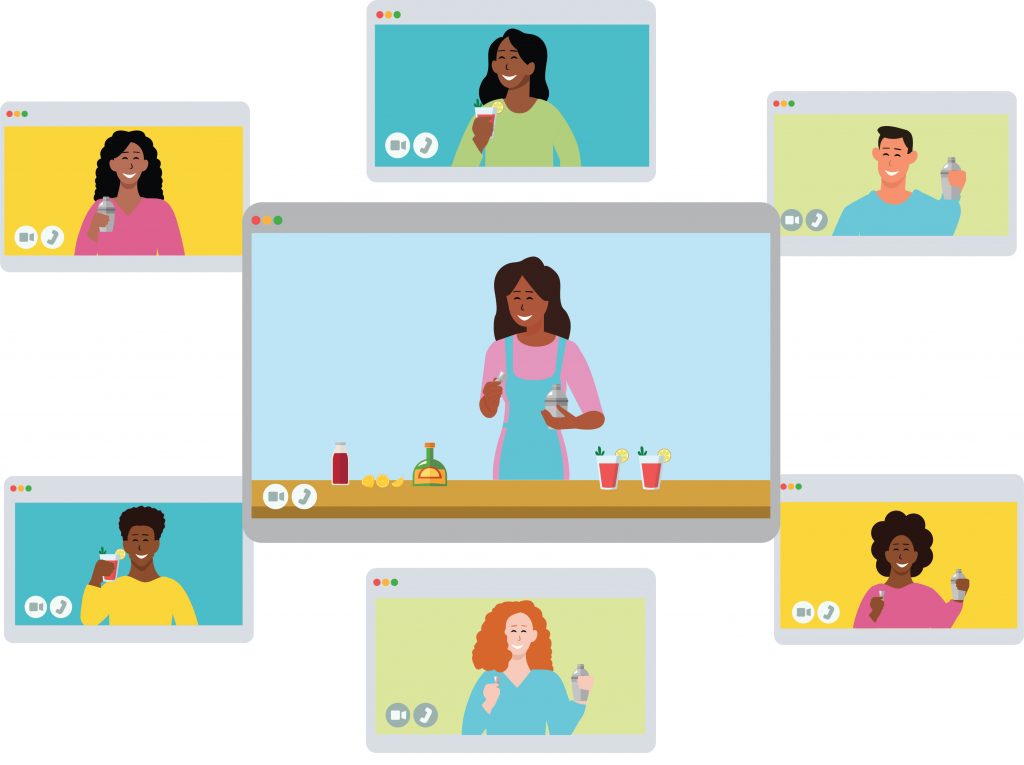 Another way to get employees more involved, and to showcase their passions, are through employee-led activities. Leading a zoom yoga or cooking class for their colleagues is a nice shift away from "you have to do this," toward, "what interests my team?" We also can't ignore the monotonous feeling many employees have with back to back zoom meetings. One idea is to start a meeting with icebreakers, a simple but fun activity that not only allows the team to get to know each other better but also puts them in a positive frame of mind for a productive discussion.
Commit to Employee Well-being
Adults spend a significant portion of their lives working in their offices so it's important that there's a healthy connection between work and one's overall well-being. Virtual wellness programs are a great way for organizations to show their commitment to the mental, physical and emotional well-being of their employees. There are many on-demand and live video programs available to choose from that can provide easy-to-access virtual wellness resources for employees. At Cater2.me, we offer (and participate in) a suite of wellness activities and classes through our Virtual Experience platform. From Mental Health and Mindfulness, Nutrition, Physical Fitness, Financial Wellness, Emotional Wellness, Work Efficiency, and more, you can provide your employees the time they need to recharge and thrive.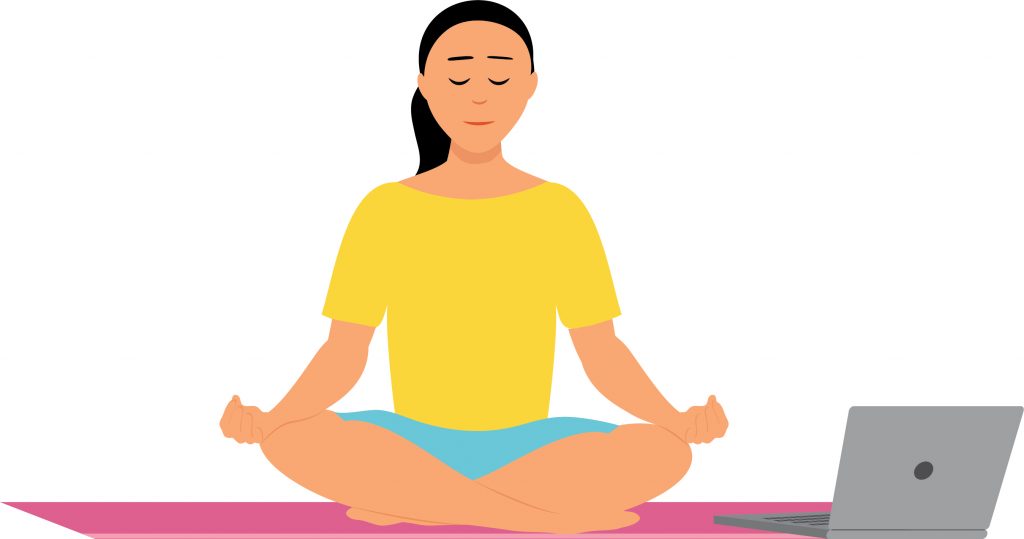 The struggle with zoom fatigue is real, but with a little creativity, virtual events, meetings, and the use of video to collaborate, communicate and connect can really benefit both employees and employers. And this ultimately benefits the bottom line!