Can you believe it's already the hottest month of the year? With summer in full swing, it's time for BBQs, afternoon parties, and patriotic-inspired recipes! For the Fourth of July, why not dazzle your guests with red, white, and blue recipes that have everyone talking about how awesome your party was. Whether it's a potluck, block party, backyard BBQ, or happy hour with your work team, we've compiled a list of quick and easy recipes to help add a festive sparkle to your July 4th gathering, even if you are short on time this year!
So, what are you waiting for? Gather your ingredients, enjoy the sun, and get into the true American spirit!
Rice Krispie Treats
Rice Krispie Treats are delicious, quick, easy, and have been around for generations. The perfect dessert for when you're in a hurry – it's even kid-friendly and great for getting the whole family involved! Good news, the recipe requires no baking, yes you read that right, no baking is required. All you need is marshmallows, Rice Krispie cereal, butter, and food coloring to make the patriotic layers! Check out the recipe here if you want to make it yourself. Bonus: if you have any leftover treats, take some to the office for your co-workers!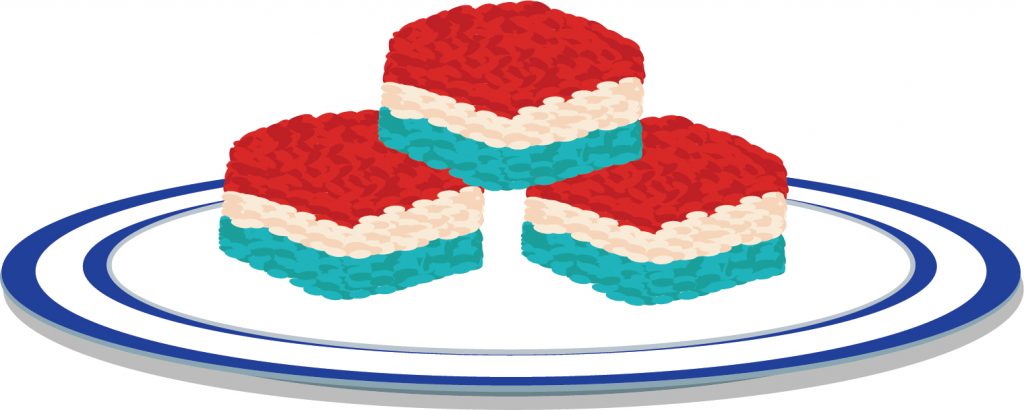 Zoe Kirby's Delicious Fruit Platter
Fresh fruit platters are a must at any summer celebration so why not spruce one up for July 4th? For any party, event, or get-together, you can get creative and make all kinds of art using fruits. Since we're celebrating the 4th of July, a flag using your favorite produce is perfect for a light, fresh dish. Cater2.me team member Zoe Kirby's delicious platter design is a great way to start off your party. And, it only takes 5 minutes to put together! All you need is a pretty plate, blueberries, bananas, and cherries (or strawberries, watermelon…you get the point). This is perfect when you're planning a party and don't have a lot of time. Two Healthy Kitchens provides tips on how to artfully prepare your Fourth of July fruit salad along with some primo tips (think cookie-cutters for star shaping and how to avoid banana browning by adding the fruit right before serving).

Sweet and Savory Watermelon Bites
A refreshing and savory watermelon appetizer topped with feta, blueberry, and drizzled balsamic is sweet, salty, and delicious! It's a recipe that everyone will enjoy, so maybe make some extra in case your guests get hooked. With a star-shaped cookie cutter, cut out the watermelon (or use a knife), stack the feta on top, skewer it with a blueberry, and drizzle on the balsamic. Let's just say this is the easiest and quickest appetizer we have ever tried. It's refreshing and satisfying all in one bite. To make this recipe, click here!

Stuffed Strawberry Cheesecake
With strawberries still in season, why not make red, white, and blue stuffed strawberries for your barbecue? This festive dish will impress your guests with its bite-sized, addicting flavor! There are only a few ingredients: cream cheese, powdered sugar, vanilla extract, cool whip, strawberries, and blueberries. Using a hand mixer, beat cream cheese, powdered sugar, and vanilla extract until fluffy. Pipe the mixture over the cut side of the strawberry after your transfer it to pipping bag. Top it off with blueberries and you've got a delicious treat to enjoy while watching the fireworks! Here is a recipe to get you started!

Red, White, and Blue Roasted Potato Salad
July is prime for BBQs and there's nothing better as a side dish than roasted potato salad! Our Cater2.me chefs recommend roasting the potatoes instead of boiling them, as it gives the dish a crunchy texture. Simply use small potatoes like baby red or fingerlings, cut them in half, season them with your favorite seasoning and olive oil, line your pan with foil or parchment paper (easier clean-up), and rub a touch of olive oil into the pan to keep it from sticking. After the potatoes are done baking, add red onions, peppers, and mayonnaise or for a no-mayo version just sprinkle with rosemary and a touch of salt. Voila, you'll have the perfect complement to your July 4th BBQ menu.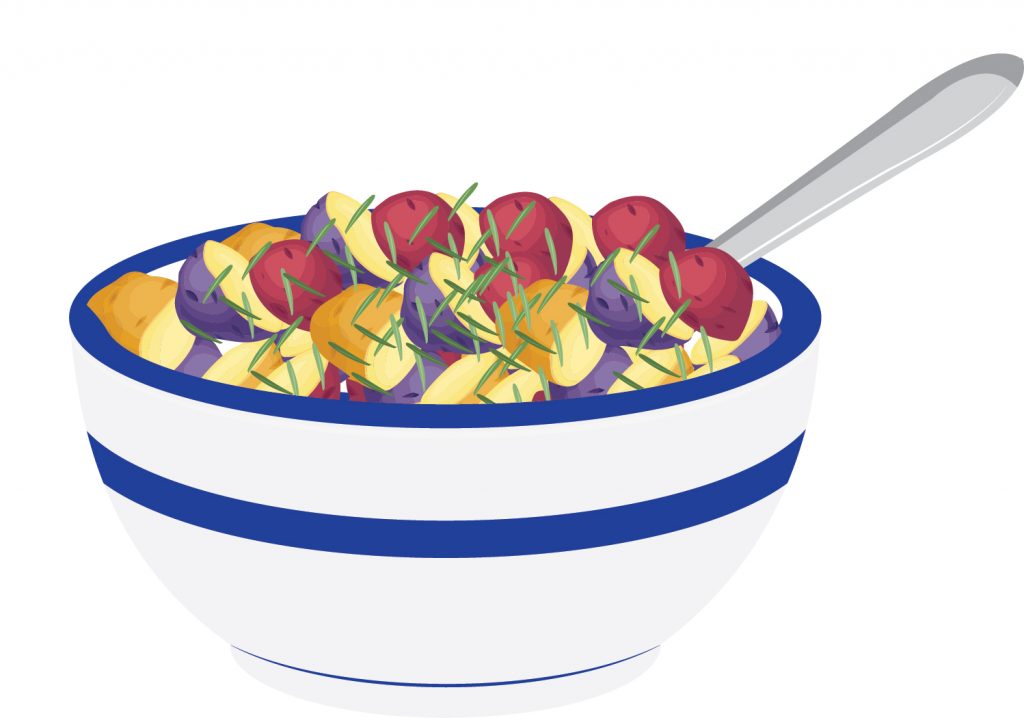 Red, White, and Blue Cocktail
Get your Independence Day party rocking' with red, white, and blue cocktails! A summery twist on a margarita made with tequila and fresh watermelon, it's the perfect way to toast to a festive Fourth of July! Imagine the looks on your friends and family's faces when you bring out a drink themed after the American flag. It's a showstopper! To get the rich red color, use grenadine, and instead of salt, dip the glass in blue sanding sugar and kosher salt for that salty and sweet flavor combo. Garnish with melon stars on a skewer and you've got a delicious (and eye-catching) cocktail. Not just for July 4th, you can make this quick and easy recipe if you're planning something special for your team.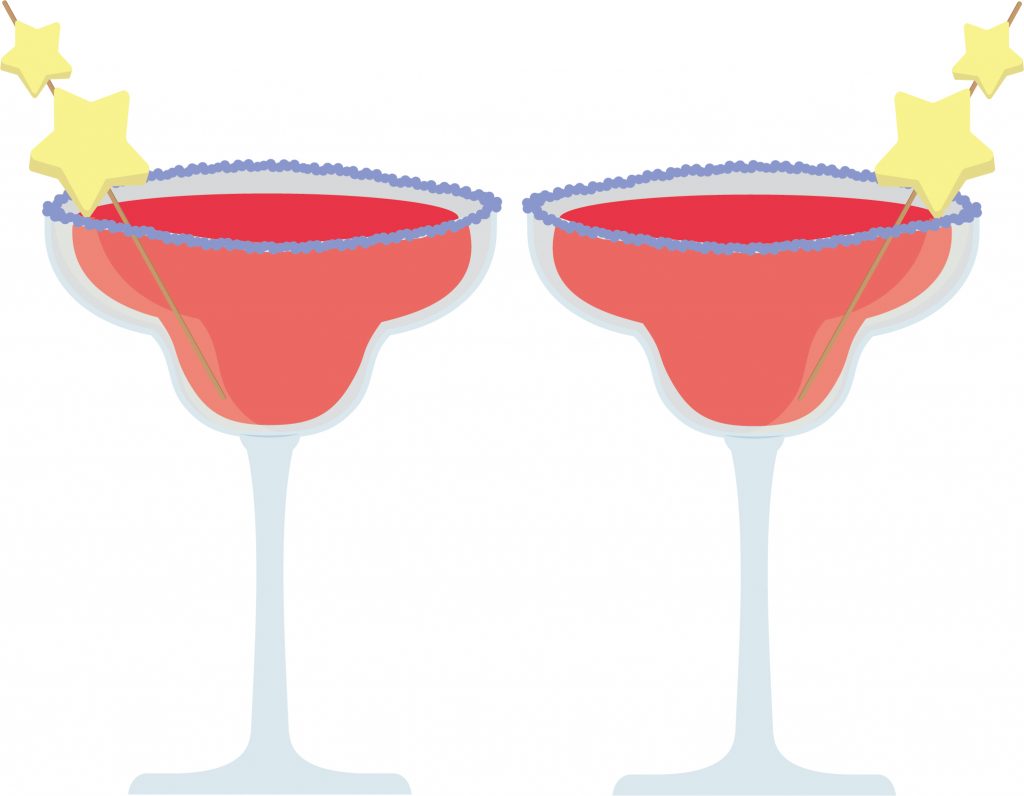 Fourth of July Jello Shots
Fourth of July jello shots are fun, simple to make, and sure to be a hit at any summer party! The layers might seem intimidating, but the process is actually very straightforward. All you need is cherry or strawberry jello for the red layer, blueberry or blue raspberry jello for the blue layer, and sweetened condensed milk and unflavored gelatin for the white layer. Click here for detailed instructions on how to make these jello shots yourself! If you want to make the jello shots alcohol-free, just substitute the vodka for cold water. You'll be left with delicious, sweet jello cups that even the kiddos can enjoy!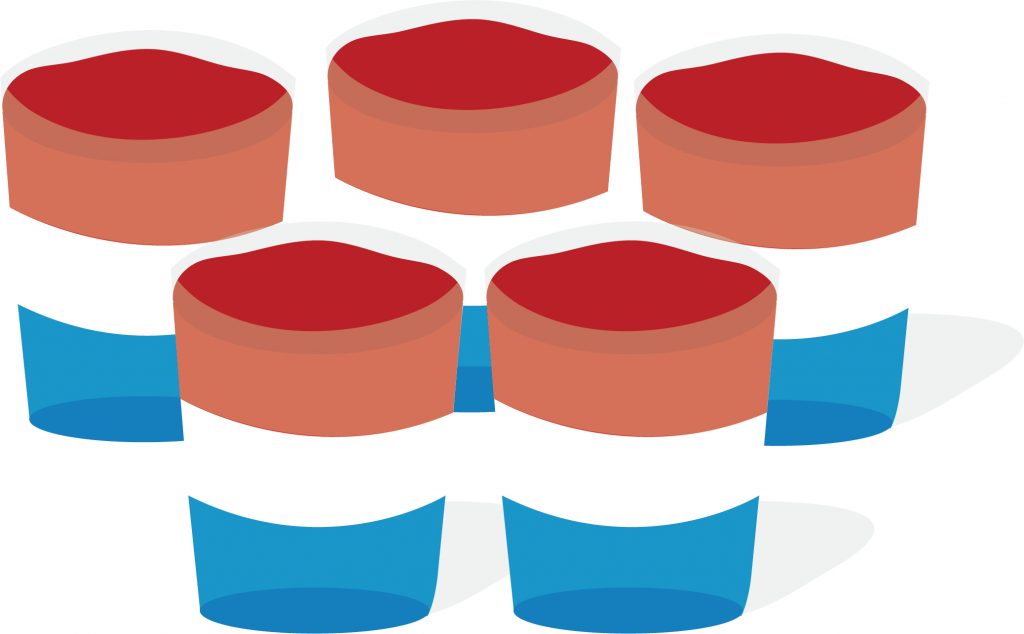 Life and work can get so busy at times and celebrating the July 4th holiday with some yummy food is the perfect way to get some downtime with friends and family. These dishes will be the talk of your Fourth of July party or summer cookout.
Want to spice up your team's lunch this summer while keeping cool? Click here to find out how!