Communication is the fabric of everyday life and paramount to success, whether you're at work and need to convey information to your team or talking to your friends and family to build and maintain relationships. In the business world, quality communication allows everyone to understand their roles and responsibilities, it boosts productivity, improves team dynamics, and enhances professional growth. Here are some key skills to incorporate in your communication with team members to ensure a positive and successful workplace.
Practice Active Listening
Active listening is a helpful skill for an employee of any level or role to develop. It helps you truly understand what people are saying in conversations and meetings (and not just what you want to hear, or think you hear). By doing this, your employees feel heard, valued, and able to voice opinions, ideas, and concerns. Become an active listener by following these steps: make eye contact, listen carefully without interrupting, ask open-ended questions, and avoid distractions. You can stay focused by reiterating the speaker's message in your head if you're having trouble staying engaged. You'll not only develop your interpersonal communication skills, but you will build trust and establish closer bonds with your team members!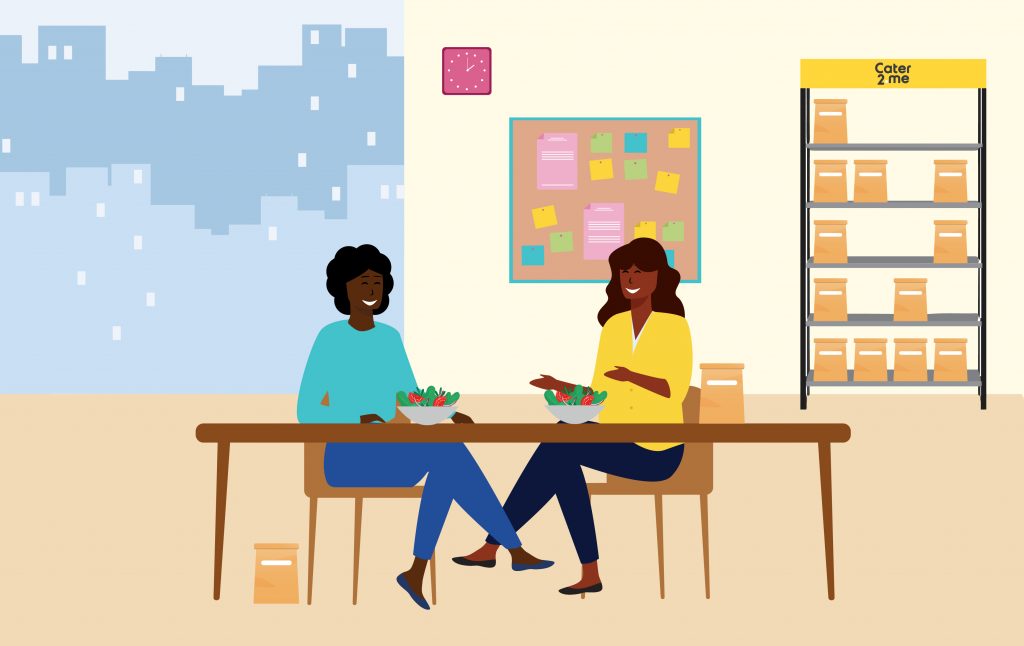 Be Clear and Concise
Communicating well is key to unlocking work performance, but often words can get lost in translation, so it is important to be clear and concise. Setting specific objectives makes your team feel confident and helps them work towards a common goal. Just think, if you don't give your team detailed instructions about a project or task, then they won't know what to do and the work will not only take longer but may be completed incorrectly. Having clear expectations eliminates confusion and increases the chances of being successful in achieving the goals set for them. Studies show that precise objectives are the most crucial element of employee engagement. It'll help them perform better, stay engaged, and ultimately be more productive!
Consider Your Communication Channel
The need for alternative communication channels has increased as more companies go remote and hybrid. Nowadays there are tons of ways to communicate effectively with your team thanks to advanced technology. Incorporating video calls like Zoom or Google Meet can save a lot of time on communication efforts. It makes employees more engaged, improves team management, and promotes collaboration. You can also communicate via messaging apps like Slack or Google Chat. This allows team members to communicate in real-time and share updates quickly and seamlessly, making it much easier to work together. Also consider alternative ways to bring your team together for meetings such as a catered breakfast for your morning meeting. Breakfast meetings are great for productive outcomes as concentration levels are at their peak during the morning. In fact, a OnePoll survey found that 67% of respondents said their attention levels are likely to be higher during breakfast. Bonus: employees will appreciate it and feel valued for their contributions!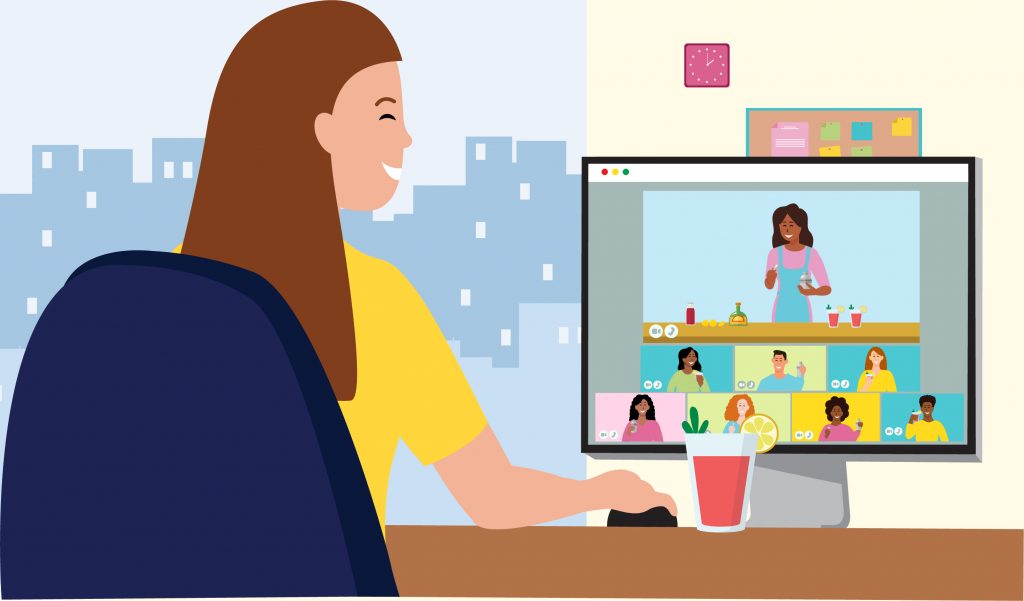 Communicate Feedback
Being able to give and receive feedback appropriately is not only an important communication skill for the office but in your personal life as well. The best way to get feedback is to really listen to what someone is saying, rather than getting defensive. Being attentive is another way to show you're listening. That puts you both at ease. If you don't know what to work on, ask questions for clarification, reflect, and take action so you can put it into practice. However, constructive criticism is just as important. It's always good to be clear and specific, don't be personal instead focus on the behavior, and follow up with continued support. In the workplace, feedback lets you know how you can improve your focus and results by getting positive criticism.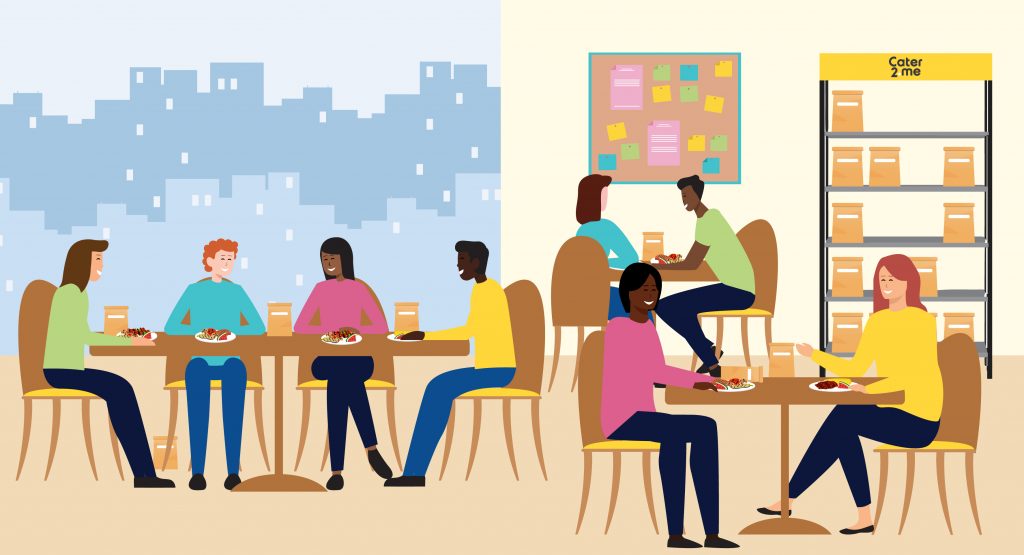 Use a Friendly Tone
A friendly tone or smile will encourage your employees to talk to you openly and make them feel more comfortable in a workplace setting that can often be high-stress. You can practice friendliness at work by sending personalized messages, such as wishing someone a happy birthday or saying to have a great weekend. To get to know your employees better, set up one-on-one coffee chats or provide a delicious catered meal where you can step away from your desks and gather more casually. Treating your colleagues like a person, not a number, shows you care, builds interpersonal communication skills, increases morale, and they'll feel more comfortable talking to you when concerns or challenges arise.
Lead with Empathy and Patience
Saying things like "Thank you for getting in touch about this" or "I get where you're coming from" shows that you've listened to the other person and respected their viewpoint. Empathy is simply putting yourself in someone else's shoes and understanding how they feel. Helping to provide solutions to their problems will make them trust you and feel assured that their feelings are taken care of. Empathy and patience go hand in hand because when you are patient, you are able to focus outward, think, and choose care and compassion in your words and for others emotions. Many employees are feeling frustrated with the demands of today's new and evolving workplace so learning how to be patient with your team and in stressful, high-pressure situations will help define you as a true leader.
Find Fun Ways to Communicate as a Team
By incorporating team-building activities, your employees will not only be able to communicate in a positive environment with each other, but they will build relationships, and have more fun at work! You can host a scavenger hunt, lunch and learn, set up office trivia, play board games or plan a virtual cooking class with the office. When the holidays come around, end of year deadlines and planning for the next year can take a toll on employees. To get your team into an uplifting spirit and enhance positive communication during this time, consider throwing an in-office gathering or hiring a mixologist to teach the team how to make yummy cocktails together! Cater2.me offers virtual mixology classes, cookie decorating and more that help connect and engage teams that may not be able to communicate in person. Creating a fun work environment helps employees connect and feel like they're part of the team and that will ultimately improve how everyone communicates with each other.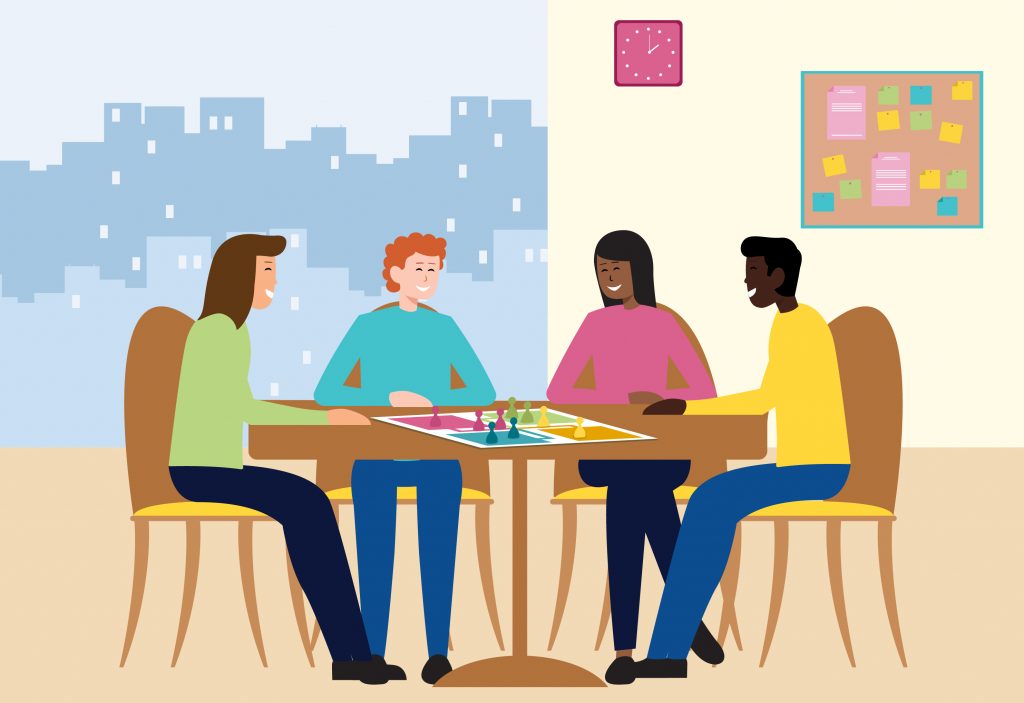 Encourage a Collaborative Environment
Having a collaborative environment impacts employee engagement, job satisfaction, communication, and retention. A study found that 33% of employees believe team-oriented cultures boost loyalty. Collaboration improves teamwork and achievement at work, which contributes to the organization's overall success. You can do this by offering positivity and rewards, using collaboration tools such as Asana or Slack, setting realistic goals, and identifying individuals' strengths. Catered lunches are another way to build a collaborative environment, where employees can connect over a great meal while strengthening bonds. Keeping the lines of communication open throughout the workday creates a more enjoyable work environment!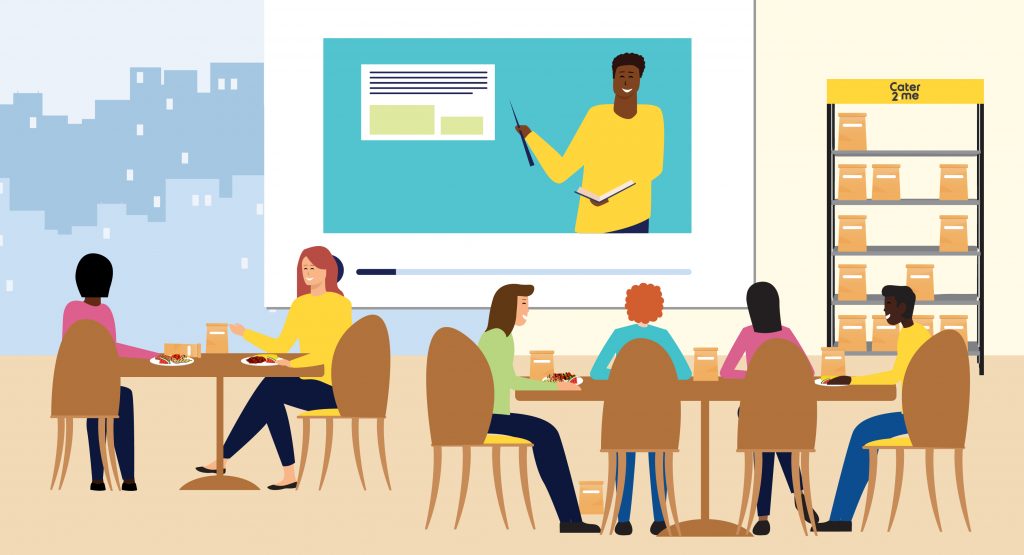 Developing communication skills is something that can be continuously honed and developed, so why not host a team lunch and lunch focused on improving communication skills? By incentivizing professional growth through food, you'll allow your colleagues to leave with valuable tools…and a full stomach to fuel the rest of their day. Learn more about how Cater2.me can provide experiences to allow for open, collaborative, and positive communication through our meal programs and virtual experiences.