Cater2.me hosted a webinar last week to bring together representatives from three of our partners: Feeding America, Replate, and Greener by Default. In our conversation, we discussed how companies, and their teams can implement a social impact program at work and how to get employees involved.
According to Cone Research, 88% of Americans feel their job is more fulfilling when their employer provides opportunities to make a positive impact on social issues. In addition, 71% of Americans want their company to provide opportunities for them to help make these changes.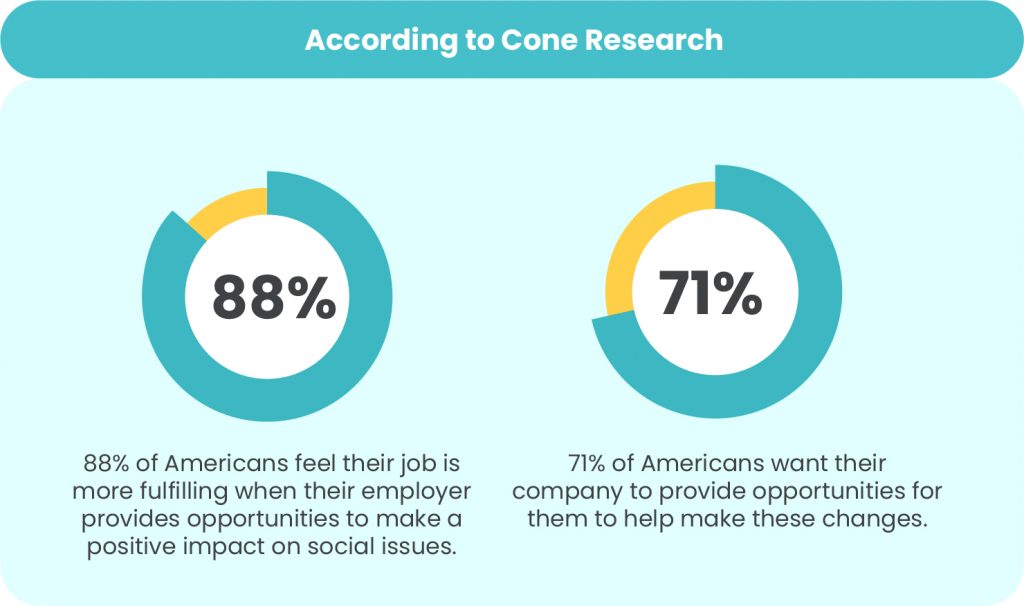 Through shared meals and experiences, Cater2.me helps companies engage their teams, encourage collaboration, and increase employee value. And with our partners, we're happy to help our clients contribute to their local communities and the environment through their meal programs.
Read on to find out the impact food has and why it's important to emphasize it at work!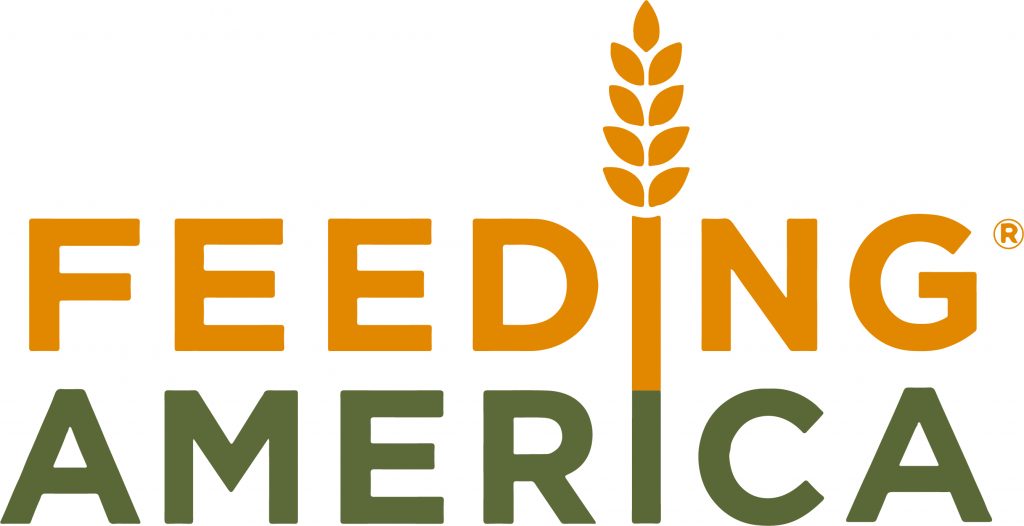 About Feeding America – Catherine Herzog, New Business Corporate Partnerships Team
Feeding America is the largest domestic hunger-relief organization in the US. They work with 200 food banks across the US and more than 60,000 pantries and agencies. Through our partnership, we have committed to helping provide 1.5 million meals to help combat hunger across the country.

About Replate – Courtney Garcia, Head of Communications
Replate is a social enterprise that donates surplus catered food to nonprofits in the community. Using Replate's technology, organizations with surplus food can connect with communities experiencing food insecurity and schedule food donations with a tap of a finger.
Courtney states, "Our goal is to make it as easy to donate as it is to throw away food." Once you schedule a pickup, they'll be there within a couple of hours, and then they'll transfer the food to people who are helping the community.
About Greener by Default – Katie Cantrell, Co-Director
Greener by Default makes plant-based food the default while applying behavioral economics to food policy to nudge diners toward healthier, more sustainable choices. By using this strategy, institutions can reduce carbon emissions, save on food costs, and improve health.
Katie says, "Everyone has the freedom of choice. They get the options they need, but we make the more sustainable choice easy."
Why are food-focused causes important to consider for your company's social impact or CSR programming?
Feeding America – Catherine:
All of us need food to survive, think, learn, develop, and grow. We can't do any of those things without safe and nutritious food. Food isn't a luxury, it's a basic need, and there are so many ways to get involved to make sure we're taking care of that.
Replate – Courtney:
Following the pandemic, a lot of companies are offering flexible schedules. Most companies want to encourage their employees to come in and also give them flexibility, so having someone like Cater2.me provide lunch for your employees is a great way to encourage them and get them involved. You have the food there, so it's an easy way to give back. It encourages them to come, build relationships and donate food. They'll see how much social impact the food can have by donating it.
Greener by Default – Katie:
This is a tangible way to engage employees and make sustainability a priority. Food is something we all eat together, so if we can reduce our carbon footprint collectively through our food choices, then that's something we can all take pride in.
Can you each provide some perspective on the correlation between sustainability and food?
Replate – Courtney:
Food waste is a big contributor to climate change because when you throw that food away and it sits in the landfill it produces methane gas admissions. The United Nations says landfills and wastewater emit 67million metric tons of methane each year, which is 20% of methane emissions. As a result, climate change occurs, causing more problems in the world.
Feeding America – Catherine:
With the help of our food banks, Feeding America saved 4.7 billion pounds of food from going to landfills last year.
Greener by Default – Katie:
A project drawdown looks at the best and most realistic solutions to climate change. Two of the top 5 are food related. Number 3 is reducing food waste, and number 4 is eating more plant-rich diets. There have been several studies that have shown that the food system alone will take us past the climate accord. It's an area where we all can individually and collectively make a huge difference.
As Hunger Action Month comes to a close, can you talk about how food insecurity has shifted over the last couple of years?
Feeding America – Catherine:
The last couple of years has certainly shed light on what food insecurity and hunger looks like in the US. This last year about 38 million people will experience and have experienced food insecurity. That's including 9 million children so we're looking at about 1 in 8 individuals and 1 and 6 children. If you look back in 2020 that skyrocketed up to 60 million individuals who are experiencing food insecurity. At Feeding America, we feel very grateful to be there for individuals who are facing such a challenging time and while we are starting to come out of the height of the pandemic, we are now seeing inflation, so families are paying 10 percent more for groceries per year. Food banks are paying 40 percent more to keep up with demand, so we really are having a wide impact and a lasting impact.
How can companies make sure that they're addressing the needs of all employees with an inclusive social impact program?
Greener by Default – Katie:
Feeling that you can eat a delicious healthy meal with coworkers is a powerful form of inclusivity. We found that if you offer a plant-based default as the lowest common denominator, it meets a lot of different types of people's needs. And then you have meat and dairy available for those who want it then it meets everyone's needs by default. Letting people opt for meat is really the most inclusive way to serve food.
What are some challenges you have heard they are facing as companies try to build and launch their program?
Feeding America – Catherine:
When a company feels its campaign didn't go as well as it expected, it's usually because its employees didn't buy into it, and a campaign is so much better when your employees are involved. You can send a survey to your employees asking what causes matter to them and what they want to support. It's important for your employees to understand why your company works with an organization and what it means to you. The more we care about an organization and its cause, the more people will get involved.
What are some ways that organizations take their employees into consideration and ensure that their CSR initiatives fit with the employees' interests while also aligning with their business goals?
Feeding America – Catherine:
You can get involved in lots of different programs at Feeding America to end hunger. We're here to help people all across the country with hunger relief, and we have a number of different programs you can get involved in, such as supporting our local food banks or our kids' program. You can support so many things and get really specific about the business goals that matter to a specific company. The best way to start is to talk to an organization that interests you, then see if it works with your company.
We love providing great meals to our clients while also helping them support important social initiatives. We hope we've provided some valuable insights on how your company can easily engage in social impact programs through catered meals! Besides furthering a cause, you'll attract employees and keep them engaged in important social issues. Watch the video here!
Interested in bringing your team together over catered meals? Click here to learn more!