Throwing an end-of-year office party is synonymous with the holiday season, especially when it brings employees together, creates memories, strengthens relationships, and most importantly, shows your employees how much you care and appreciate them. In fact, a party may be just what your team needs to boost morale, especially after a busy, productive year.
Organizing a party can be exciting, but stressful, so here are 6 tips for a successful event that will ensure its well-planned and that your employees will talk about it for years to come.
Plan in Advance
It's essential to plan ahead, especially if you want your party to be a hit, so staying organized by making a checklist helps ensure you're on top of things. You'll need a budget, a venue, date and time, decorations, food and drink options, entertainment, and invitations. A well-thought-out plan will keep all surprises out and reduce stress because you've got a list of everything you need to do. Parties take time to plan, so giving yourself 2 or so months ahead of the event will ensure that not only things can be accomplished in that time, but also gives time for your employees to make plans to attend.
Polling employees to see what dates and times works best for them is a great way to ensure the maximum number of people can attend your office celebration. It's the holidays, so a lot of people go away on vacation, or visit family, or observe cultural and religious holidays, which may limit their availability. Maybe they're religious and celebrate the holidays during certain days. Your employees will see how much effort you put into planning a great party and they won't want to miss it, especially if you promote it a couple of weeks before!
Make Your Party a hit with Delicious Food
You can't have a company holiday party without food. Don't worry, we'll take care of the catering so you can focus on other things! We work with local vendors who provide delicious and thoughtfully curated menus, and each meal is labeled with common allergens and dietary restrictions, so your employees know exactly what they're eating. No more guessing over what's in Carol's Crockpot at the company potluck! Having a diverse vendor list also allows you to serve dishes from around the world or employee cultures, so they can connect over food. In a survey, more than 55 percent of respondents said food in the workplace makes them feel appreciated. It's no secret that catering meals to your team is a great way to bring everyone together and make them enjoy a tasty meal, especially during a holiday party!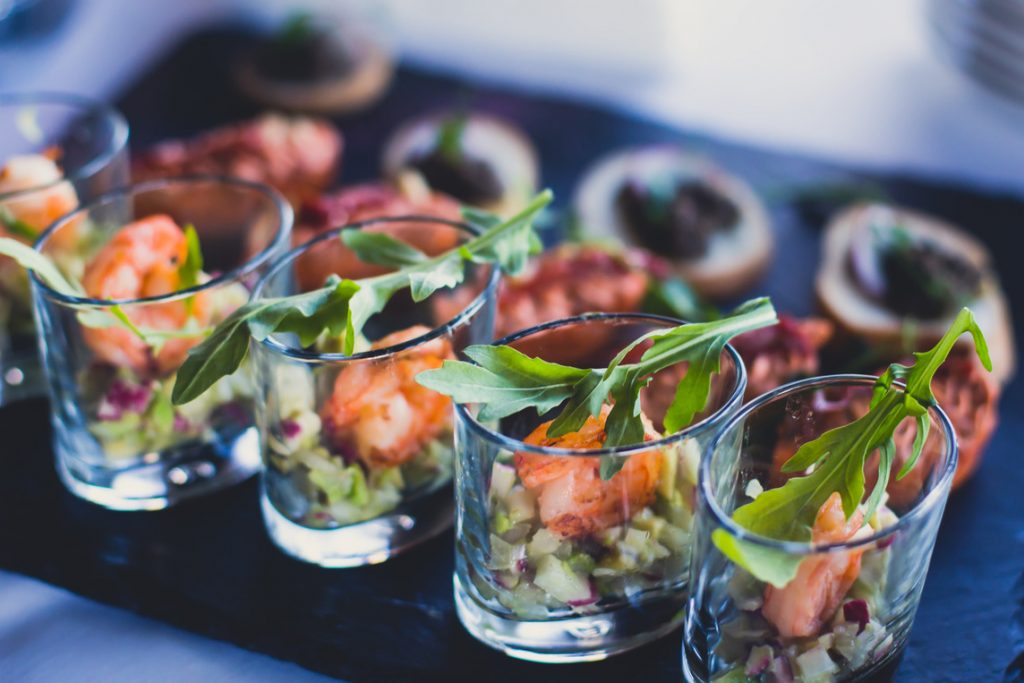 Provide Team-building Games and Activities
What's a party without fun games and activities? There is a whole array of holiday activities you can have while staying within your budget, such as holiday cocktail competitions, ugly sweater contests, card decorating contests, gift wrapping tournaments, family feuds, guess the holiday song, board games, and prizes for the winners! A Forbes article says team building is the most important investment you can make for your people. It builds trust, mitigates conflict, encourages communication, and increases collaboration, which can result in more engaged employees. Your team can also build relationships outside of the office and get to know each other on a personal level.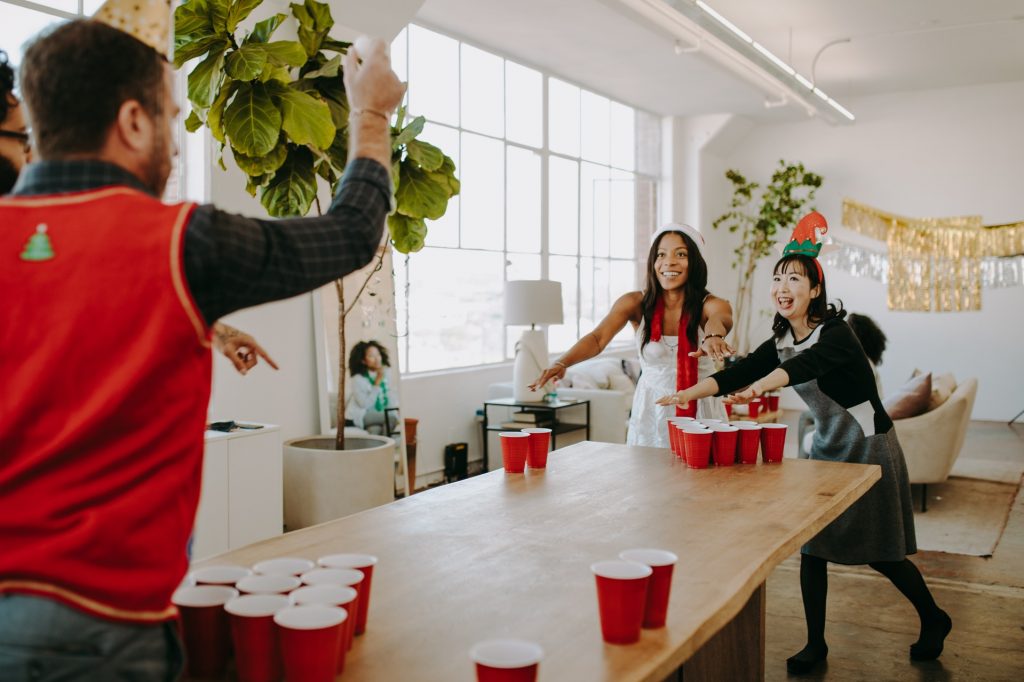 Rewards and Recognition
You can demonstrate employee appreciation and make your company holiday party extra special by including end-of-year rewards and recognition. Employees will feel good about their work and will enjoy being recognized by their colleagues, which can also promote healthy competition. In fact, peer-to-peer recognition can boost employee performance by 14%. You can give out goal-oriented awards like top sales performer, or employee of the month, or superlatives that bring attention to what that employee brings to the company, such as exceptional listener, excellent feedback, living by your values, driving success, excellent team player, and so much more! To make the awards even more special, you can even personalize them and include trophies.
Virtual Party
If you have a remote team and want to show them how much you appreciate them, virtual parties are perfect!! Our Virtual experience platform is a great way to party. Host a virtual cocktail making happy hour, winter cookie decorating class, or paint a classic snowy scene. Alternatively, another great team activity is to have your team decorate their home office/desk area, take a picture, and share it in the company's newsletter so they can guess whose desk it is. Rather send your remote employees a gift instead of a party? Our Happy Hour boxes are thoughtfully curated and full of delicious, premium treats. Keeping your team in the holiday spirit can be accomplished virtually through a variety of activities and games!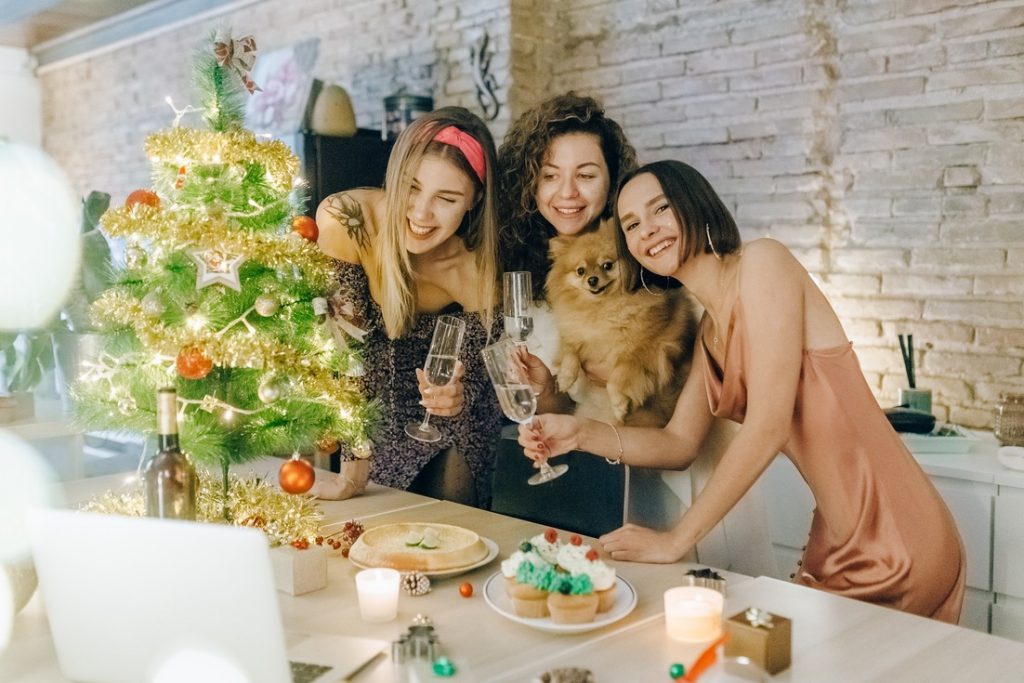 Have a Plan for the Leftovers
It's the end of the night, everyone is full and there's leftover food. What do you do? Don't worry, Cater2.me partners with Replate to help businesses reduce food waste, boost corporate social responsibility efforts, and make a positive impact on the environment. Together we've saved 19.5 million gallons of water, recovered 71,334 pounds of food, and helped provide 59,445 meals to neighbors facing food insecurity. After your holiday party, you can schedule for pick up in just a few clicks, reducing your company's food waste while simultaneously providing food for those in need in the local community.
We hope our list of ways to make your office party a hit has given you some insight and inspiration. Your team will feel appreciated, happy, and engaged which leads to more productive employees!
Click here if you're wondering how, you can get upper management on board with our catered meals!