Cater2.me strives to make our clients' lives easier and more convenient by bringing new and innovative enhancements to our platform. With our Slack integration, team members can get information about their meal program without having to leave the Slack app.
We're going to give you an overview of our integration with Slack and show you how easy, efficient, and convenient it can be to use a variety of commands, enhancing the Cater2.me experience for your team!
Benefits of the Integration?
Our Slack integration is a great way to get your employees involved with their meal program, which can improve in-office attendance and create opportunities for employees to engage around shared meals.
With our integration, employees have visibility into the details of their meal, including upcoming restaurant orders and menus, as well as an opportunity to provide feedback. Meal hosts have additional functionality to view their program analytics, including cuisine breakdown and feedback. These are great tools to help company admins stay informed of their team's tastes and preferences!
Here's How to Set it up:
Set-up is quick and easy:
Log in to your Cater2.me account
From your home page, click on the menu (three bars) in the top right corner
Select Integrations
Click on "Connect to Slack"
Click "Add to Slack"
Next, "Sign into your workspace" (this will be your company's workspace) and click "Continue."
Next, you'll see a page requesting permission to access your Slack workspace (to add our Cater2.me App). Click "Allow"
Once approved, you'll see a "Thank you!" page. Click "Open Slack App". Alternatively, click "Open Slack" in the redirect banner at the top of your screen which will open the Slack app in your computer (if you have one installed)
Once you open Slack, navigate to the "Apps" section of your left panel and look for "Cater2.me"
Click on "Cater2.me" and click on the "authentication site" hyperlink. Clicking this link will enable you to authenticate your Cater2.me account with Slack
Click "Confirm" on the Confirm Slack account page
You'll receive a welcome message from Cater2.me and you're all set to start using the bot!
Simple as that! Slack users now have access to quick commands.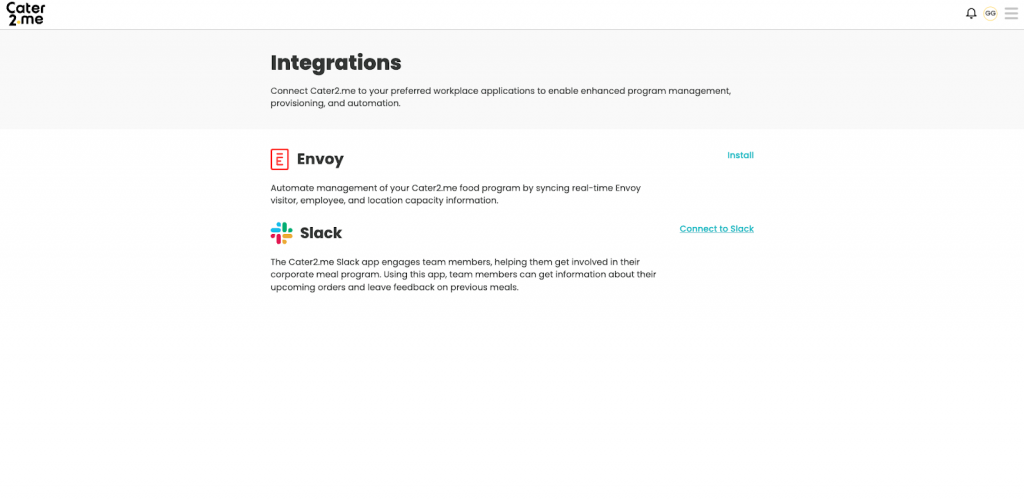 What are the Commands?
Users can see the most important details about their meals directly in Slack by using the following four commands:
Easily view your upcoming meals: If a user types "upcoming", the bot will reply with details about upcoming meals, like order date, time, profile, schedule name, vendor name, deadline to order, and cart status. (if you're the host, you'll see the status of both your host and participant carts).
Rate your meals from within Slack: If your employees want to comment on an order, they can type "feedback". That command allows you to leave feedback on the overall experience as well as the item(s) you enjoyed. Additional feedback can also be added, and hosts can leave feedback for both the host cart and participant cart.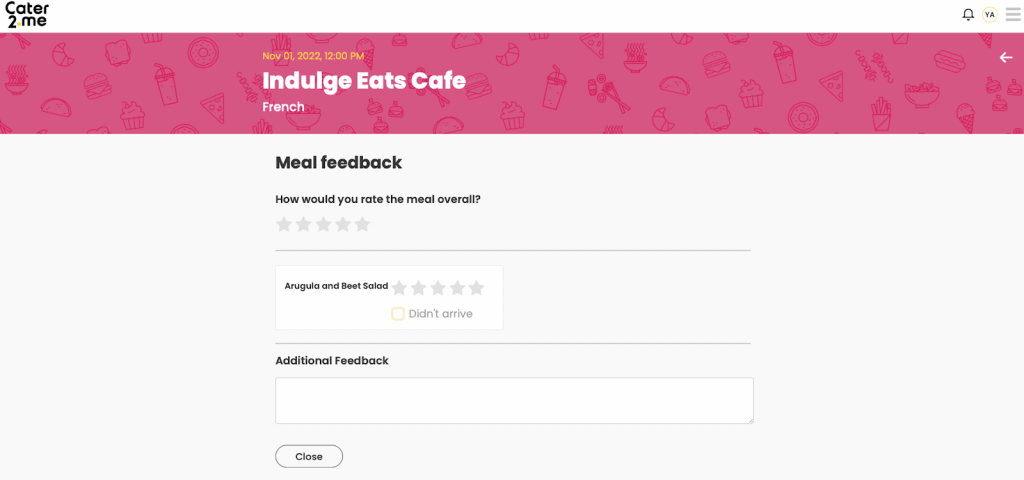 Set your notifications preferences: In the app, users can type "notification" and customize their in-Slack notification preferences.
Get help: If a user forgets or isn't familiar with the commands, they can type "help" to view a list of available commands.
View your team's feedback: Users with Host or Meal Manager roles can type "analytics", which provides your team's average order ratings.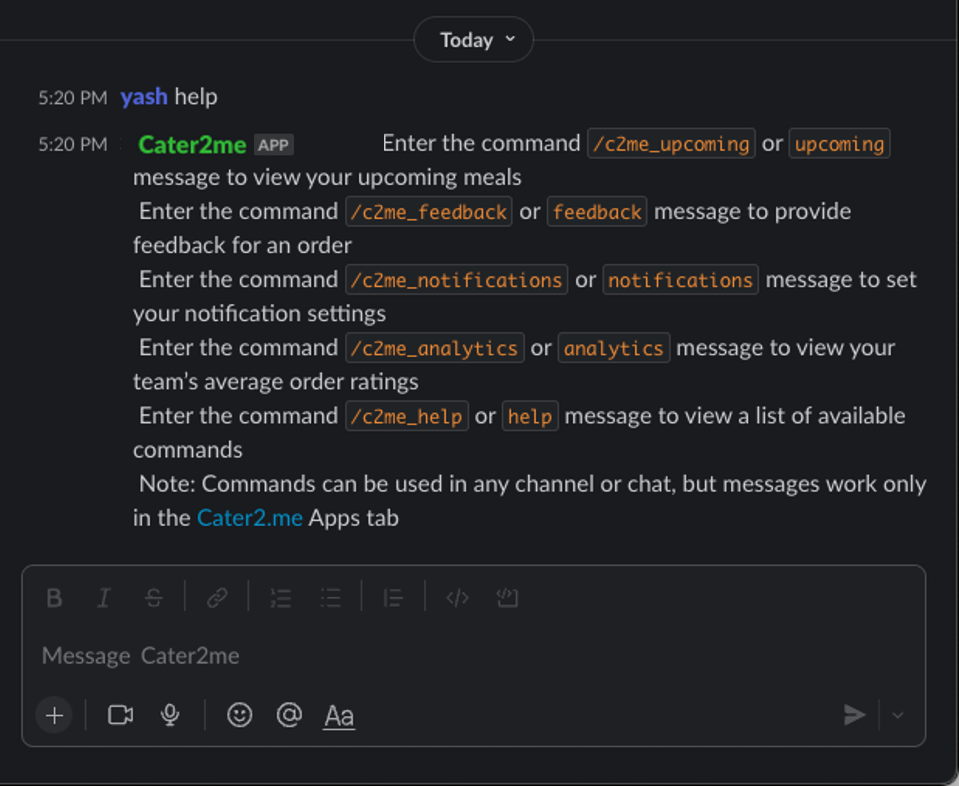 Our Slack integration provides our clients who use Slack a quick and easy way to get engaged with their Cater2.me meal programs, without ever having to leave the Slack application. It's a great way to increase excitement and participation in team meals and streamline teams' engagement with Cater2.me. Your Slack experience may differ based on the type of Cater2.me meal programs you participate in.
To learn more about all of our Cater2.me technology features and catering options, click here.