Corporate Catering for team meals and workplace events requires a delicate balance. We want to ensure that everyone – even your pickiest eaters – has something to eat without blowing your budget or having a surplus of leftover food. Whether we're organizing meals for a daily lunch, a team meeting, or a company-wide holiday party, our expert team is trained to strike the right balance and provide you with a great experience. To give you a sense of how we plan your meals, we're providing some BTS insights into how we portion and budget, including some hot tips direct from the source: our expert-trained Cater2.me account managers!
1. Know Your Audience
Before diving into specifics, our account managers say, "it's essential to understand the audience." As a corporate catering company, we always want to know the fundamentals. That includes questions like:
Who will be attending?
Is the meal going formal or casual (or somewhere in between)?
Is there a related program or specific theme we should be aware of? For example, are we catering to a group of vegans for an Earth Day presentation?
What type of appetites, diets, and taste preferences do we need to satisfy?
Will the audience be full from a big meal two hours prior, or hungry from a full day's work?
One of the most important questions is around dietary needs – we always prefer to know the dietary preferences of your audience so we can plan the menu accordingly. Of course, if you're unsure of your audience's preferences, we use our standard rule of thumb: we make sure around 20% of main courses are Vegetarian or Vegan, with a handful of Gluten Free and Dairy Free options. Of course, we can offer a wide variety of meals based on allergies to nuts, soy, egg, and shellfish, and can also plan around diets like Keto and Whole30.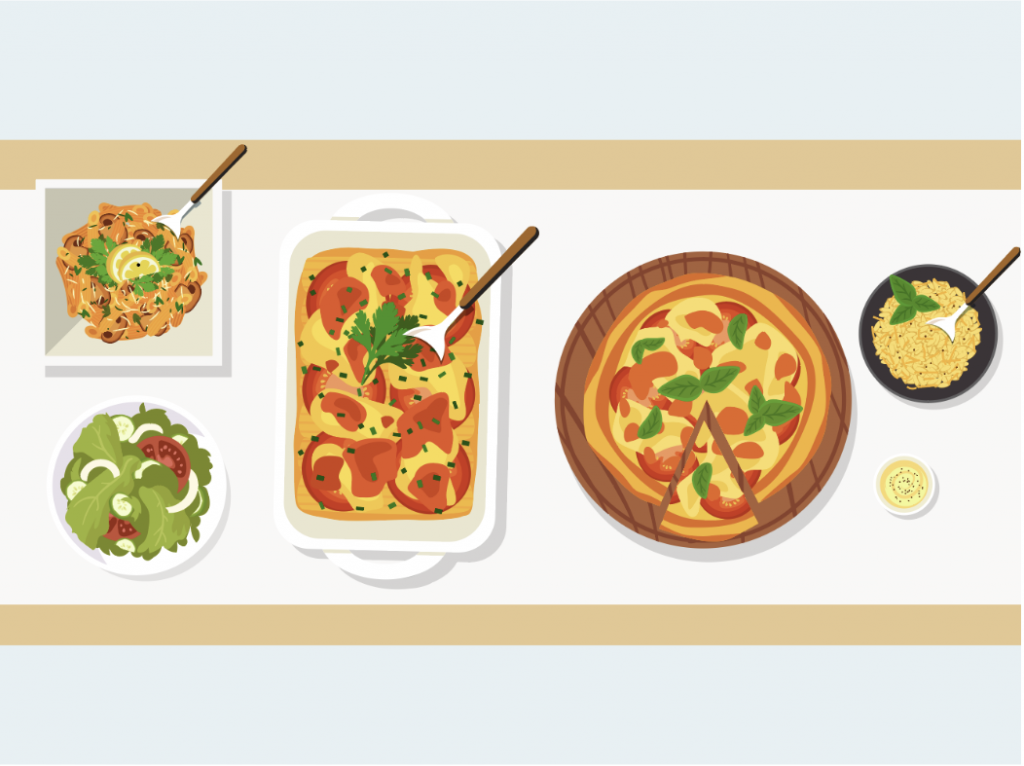 2. Solving the Portioning Problem
Portioning a family style buffet is very tricky (even for experts), and each element of the meal – from the entree to the sides and salad – poses its own unique challenge. When it comes to the entree, it's critical that every single participant, no matter their dietary needs, can enjoy the main course. However, the more choices offered on a buffet, the more expensive the meal becomes and the more likely it is that a single option will run out. With that in mind, we'll always look for inclusive entrees, a mix of meat and meatless options and try to keep the number of entree choices between 2-3. We can always provide more if budget allows!
One of the great things about working with so many different restaurants across dozens of cuisines is the variety and authenticity of the flavors we can bring to our clients. But working with so many restaurants means that portion sizes can often vary across from vendor to vendor! To account for this, we require a minimum portion size for entree proteins to help make each meal consistent.

3. Elevating Your Event
When we move from team lunches to events, things can get a bit more complex when it comes to portioning. For events where appetizers or hors d'oeuvres are involved, portioning may not be as straightforward. We'll always want to know the runtime of the event and details about the program. For example, guests will eat more at a mix-and-mingle event than they will for a presentation. In general, we tend to portion 4-6 bites per person per hour, making sure there's a mix of hearty and light bites as well as meat and non-meat options.
Beyond just the food, we're also considering how to elevate your experience! That may mean providing waitstaff and bartenders, warming equipment, and thematic decor. Luckily, we have years of experience and a team dedicated to making these types of arrangements.
4. Budgeting Basics
Since 2010, we've worked with thousands of clients across industries, cities (even outside the US!), and budgets, and managing our clients' budget is a key feature of our service. We will always work with clients to understand their budget and will provide guidance on different meal styles, vendors, and cuisines, to ensure alignment on expectations. We're eager to customize programs for our clients, and thanks to our wide vendor and client base, we're often able to negotiate special pricing whenever budgets become challenging.
These are some of the many things we account for when planning our clients' meals. By understanding the audience, portioning wisely, and adhering to a clear budget, we can help create experiences that are memorable and satisfying for all.