We often look to employee onboarding process as one way to kick things off on the right foot. I remember my first day with Cater2.me like it was yesterday. Filled with such a warm welcome and genuine hospitality, it was unlike any other first day on the job. From team introductions and a training plan to an awesome team lunch and fun swag, I felt like I was given an opportunity to truly be successful.
With research telling us that 86% of employees quit within the first six months (the same amount of time I've been with Cater2.me) we're always seeking ways to do better. Here are 4 ways we strive for onboarding excellence:
Prepping for a Newb
In preparation for a new hire, it's important to review their application or resume to get to know a little bit about them. Simply knowing from what part of town they'll be commuting to work will go a long way when you make your first impression.
Our Human Resources team works with hiring managers to send out welcome emails with everything a new hire needs to know (what to bring, what to wear, when/where to go, etc.). And we (of course!) give our newbies the rundown on catered meals for the week and the plentiful snacks we have on hand (and how to request special items they may like).
Swag
Swag can seem like a no-brainer, but when done thoughtfully, it can encourage an early sense of company pride. Consider items that can be used both in and outside of the office.  We give new employees soft t-shirts, hoodies, tote bags, and a reusable Cater2.me water bottle (because hydration should be sustainable, of course!). To make it even more personal, our co-founders welcome our new employees with a handwritten note.
In fact, check out Swag.com. It's a great place to buy quality promotional products that you'll actually want to keep. They work with thousands of companies like Facebook, Google, WeWork, Microsoft, Starbucks, and Netflix.
Team Intros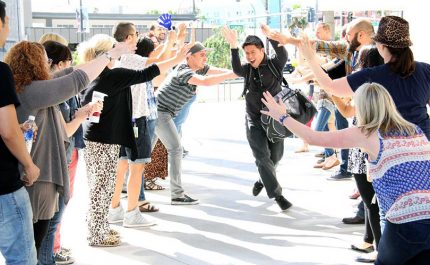 To help integrate a new employee into the team setting, be sure to make introductions right away. If you know of things the new hire has in common with a member of the team, call it out! Building those friendships and reinforcing ties from the beginning will make for a happy and productive team atmosphere.
Learning Pace & Style
No two new hires are the same, so we never go through training the same way twice. The art of training lies in creating a solid training plan and tailoring it to each individual. Recognize strengths, weaknesses, and learning preferences from one hire to another and adjusting to what works best for them.
Remember, don't rush it! Communicate a clear and fair timeframe for mastering a subject but remember that some trainees may take more time on one topic than another. Always trust that the time spent mastering one area will be coupled with the swift completion of another.
Thoughtful onboarding makes a world of difference in company culture. With a plan and some creativity, you can create a first impression that leaves a lasting mark. It's a gift that keeps on giving.
Speaking of employee onboarding, Cater2.me is hiring! Check out our Jobs page.