Eating boring office meals, alone at your desk, is becoming a thing of the past. More corporations are changing their workplace culture by providing corporate food delivery and encouraging coworkers to share meals together. But how do they get away from the basic meals and make things a little more fresh, exciting and fun? We've put together a list of the most fun, exciting trends within corporate food delivery, here.
Build-Your-Own Corporate Food Delivery Options
Living in the 21st century, it's no secret that everyone has their own dietary preferences and restrictions. What better way to accommodate everyone than by letting them create their own meal? A corporate food delivery service provides the ingredients, while your employees apply their vision of a perfect meal. The end result is fun and delicious! Give your team an Instagrammable moment with a DIY taco bar. Or celebrate the end of the week with a French "Fry"day station! Your team will thank you for the good food, bonding time and overall experience together. To get you started, here are some ideas that your employees or team might love (we love them, too!)
Nacho Bar
Always a crowd pleaser, a nacho bar has something for everyone. Who doesn't love guac and queso?
Baked Potato Station
A loaded baked potato just screams comfort food. Switch it up with some fun ingredients like buffalo chicken or steamed broccoli and cheddar!
Bibimbap
This fun Korean dish is completely customizable! Start with rice and throw in any meats and veggies you want. Top it with a fried egg and gochujang sauce for a flavor explosion!
Food Trucks
What is it about ordering food out of the side of a van that feels so exhilarating and not at all creepy? We don't know the answer, but we do know food trucks are a great way to add a little fun to any event. And they are often available as a corporate food delivery option. The best part? There's no setup or cleanup. The caterer brings the food to you, because well… they're operating out of a mobile vehicle. Your team can order their perfect meal and then sit down to enjoy it together. Less work for you, so you have more time to connect!
Themed Catering
You don't need an excuse to connect with coworkers over good local food, but just in case you did, we've got you covered! There's always a reason to celebrate and there's a theme for every occasion. Maybe you want tacos and margs for Cinco de Mayo or a hot cocoa bar when those winter months start to hit. Celebrate pride with a rainbow-themed juice bar. Ice cream bar for national ice cream day, anyone? If you need more inspiration, here is a list of reasons to celebrate, complete with theme ideas:
Get excited about national spaghetti day with an Italian theme. We're talking pasta, bread, tiramisu — basically any carbs you can think of. Add in a dreamy playlist, some Italian wine and you're good to go.
Enjoy the newest episode of your favorite TV show with your team, complete with themed meal items, desserts and drinks.
Celebrate National Pirate Day with seafood and eye patches. A blue punch will make you feel like you're sailing the high seas. You can even make a treasure map and have your team search for the pirate booty.
Unicorn Day calls for cupcakes, candy and all things sweet and colorful. Play pin the tail on the unicorn and have your team create their own horns for some extra fun!
National Pi Day is always a good reason for an office celebration. Order a couple of pies and maybe even throw in some pizza.
Have a low-waste, eco-friendly meal on Earth Day. Use real or compostable plates and utensils. Get the team reusable straws and start a save the trees initiative.
Happy Hour
Did you know that Office Happy Hours are becoming a thing? After a long week of hard work, we all need a break. A fun Happy Hour, on a Friday evening, can be a great way to connect with your coworkers and wind down. Keep it simple with a choice of beer or wine and three to four snack options. You can even spice it up with something a little more fun:
90's Throwback Happy Hour
– Get a 90s playlist together, pick up some bubble tape, ring pops, pizza bagels and hot pockets. Throw in some old school beers and butterfly clips and you are ready for a throwback party!
Tiki Bar
–  Turn up the Bob Marley, mix up some daiquiris and pretend you're relaxing on the beach. A fruit display and Caribbean-inspired food will take it to the next level.
Happy Hour Sushi & Sake
– With a variety of sushi rolls complete with warm and cold sake, this one is super easy to throw together. Just be careful not to eat too much of the wasabi!
Game Night Happy Hour
– Who doesn't love a good board game night? This is a great way to break the ice with your coworkers and have some fun. Games, beer, wings and a veggie tray? It doesn't get better than that! Throw in a box of wine if you're feeling fancy.
Corporate food delivery isn't just for lunch! Breakfast is a great way to get your day started right and bring the team together. Order a variety of donuts from your favorite local bakery. Or set up a crepe station with sweet and savory fillings. Maybe go a healthier route and have a do-it-yourself acai bowl station! Whatever you do, just make sure you order the coffee — lots of it.
You've ordered the main dish and the sides already, but don't stop there! Add an extra fun element with a specialty station. Get a little fancy with some afternoon tea and finger sandwiches. Or celebrate the first day of summer with some shaved ice. A s'more station will make the office feel cozy and provides a fun activity with roasting your own marshmallows. Here are some more fun, unique station ideas to try:
Cotton Candy machine
Ice cream sundae bar
Christmas cookie decorating station
Bruschetta Bar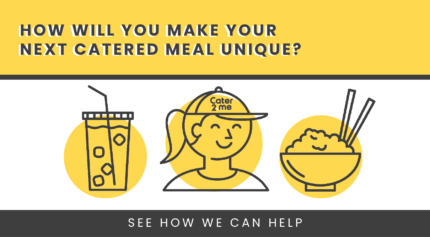 Ready to spice up your office meals? Corporate food delivery doesn't have to be boring. You can make it exciting. Cater2.me is here to help. Check out our customizable, unique catering and meal plan options to bring some fun and celebration to your office.
[inbound_forms id="8228″ name="WOW Concepts Lookbook Download"]