Our Group Ordering platform just got a whole lot tastier with On-Site Ordering, where Cater2.me brings restaurants and food trucks into the workplace to make meals for your team, prepared to order!
As our clients plan their returns to the office, we have been reinventing our corporate catering meal solutions to fit their evolving workplace needs. Many businesses are looking for ways to bolster their company values and create a strong sense of culture, connection and employee appreciation. And how can they do that? Through food.
This simple offering can do more for team morale than you think. Generally, 56% of full-time employees are "very" happy with their current job; that number jumps to 67% among those who are provided with free food. And since only ⅓ of offices offer free food and drinks to their employees, doing so can make you stand out from the return-to-work crowd. And what better way to boost morale than bringing a talented local vendor on-site for a fun, fresh meal? Before we get into On-Site Ordering, let's learn a little bit about the Group Ordering platform in general.
What Is Group Ordering?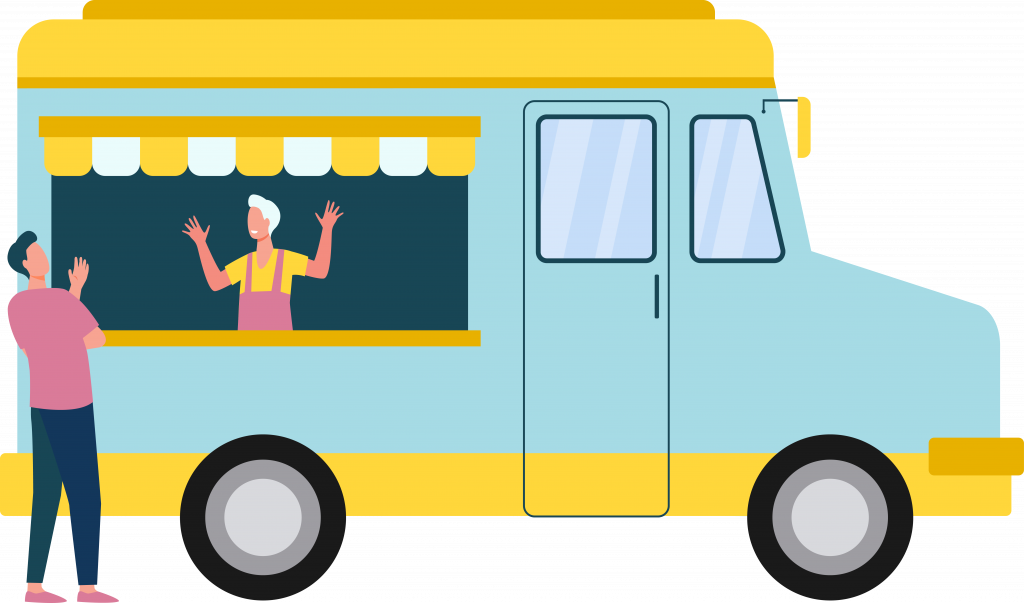 Group Ordering provides ultimate flexibility for companies looking to provide meal benefits for their teams, while offering employees the ability to customize their meals to their own tastes and preferences. It's benefits include…
Flexibility for Companies
You'll only be charged when an order is placed, so there's no need to guess who will be in the office – ideal for fluctuating headcounts and temporary staff
Flexible subsidy options allow companies to choose how much to contribute to each meal
Same variety of trusted local vendors curated by Cater2.me catering specialists
Personalized for Team Members
Employees can select and customize their meals based on a variety of curated options
Menu items are labeled with allergen information, ensuring dietary needs are met
All meals are assigned a custom label to guarantee they get to proper recipients
Focused on Health & Safety
Meals are individually packaged and labeled for safety and convenience
Contactless delivery by properly trained staff
Spaced out meal distribution to reduce crowding and encourage social distancing
Enhanced equipment and onsite staff available for additional precaution
On-Site Ordering: Everything You Need to Know
Rather than bringing catered food to the workplace, this solution brings the chefs right to your office to make meals for your team in real-time. With Ordering On-Site, a vendor- think taco trucks, made-to-order crepes, custom chopped salads, ramen, and more- will come to your office location during a designated time slot to prepare and distribute your team member's orders. 
How Does On-Site Ordering Work?
Your team members are notified when a meal will have on-site service that day through a cart notification when they go to place their order. Ordering for an on-site meal looks like this:
We'll plan a great vendor with inclusive meals to meet any of your team member's dietary preferences
Team members can place orders directly on the Cater2.me app, either in advance or on the day of the meal
Our on-site vendor receives your orders in real time
There's no need to wait around in line- team members will receive a notification when their meal is ready for pick-up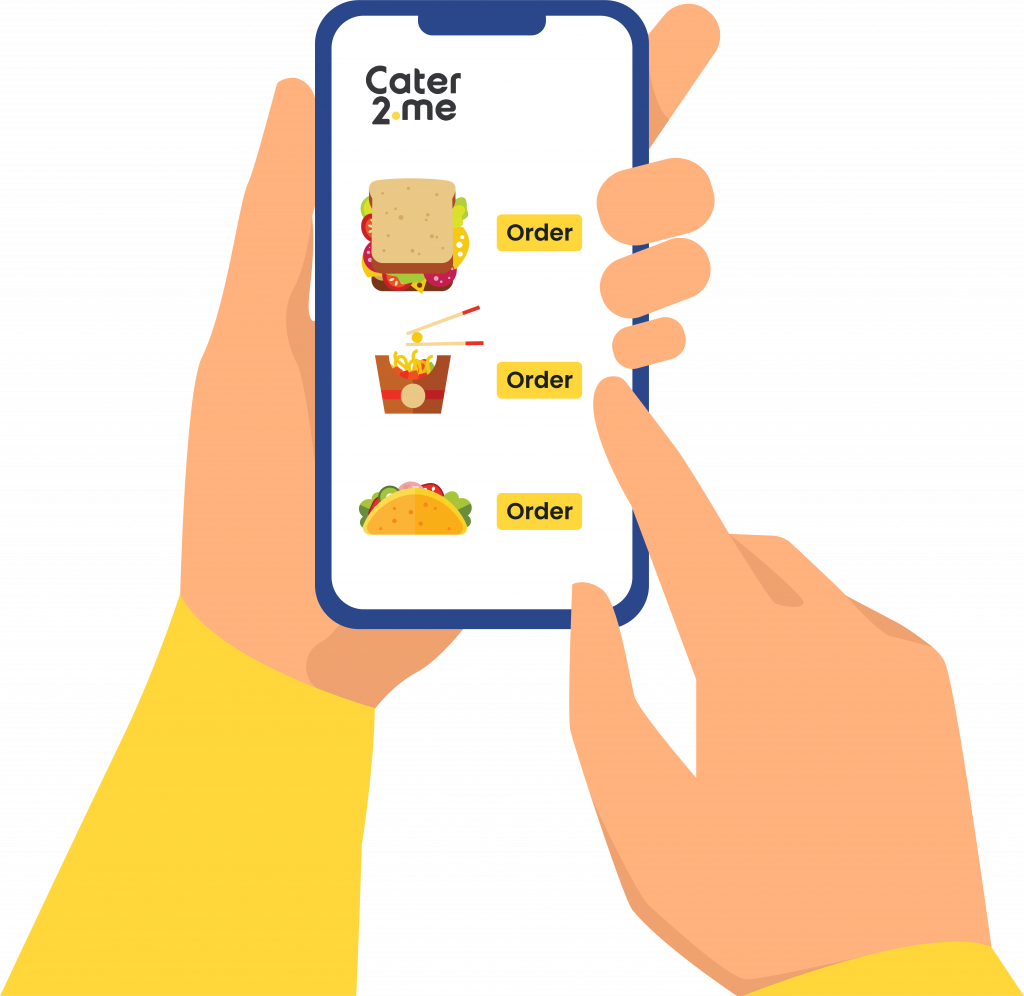 Remember, your team has the entire duration of the meal time frame (which is approximately 2 hours) to order a meal, but they are also able to submit orders in advance in order to reduce wait time during the meal period.
After placing their order, the user will be notified that it has been received by the vendor through a cart header update and email confirmation. The subject line of the email is, "Your meal from [Vendor Name] is ready for pickup!" Both the email and the cart view message show your team member the estimated time for pick-up.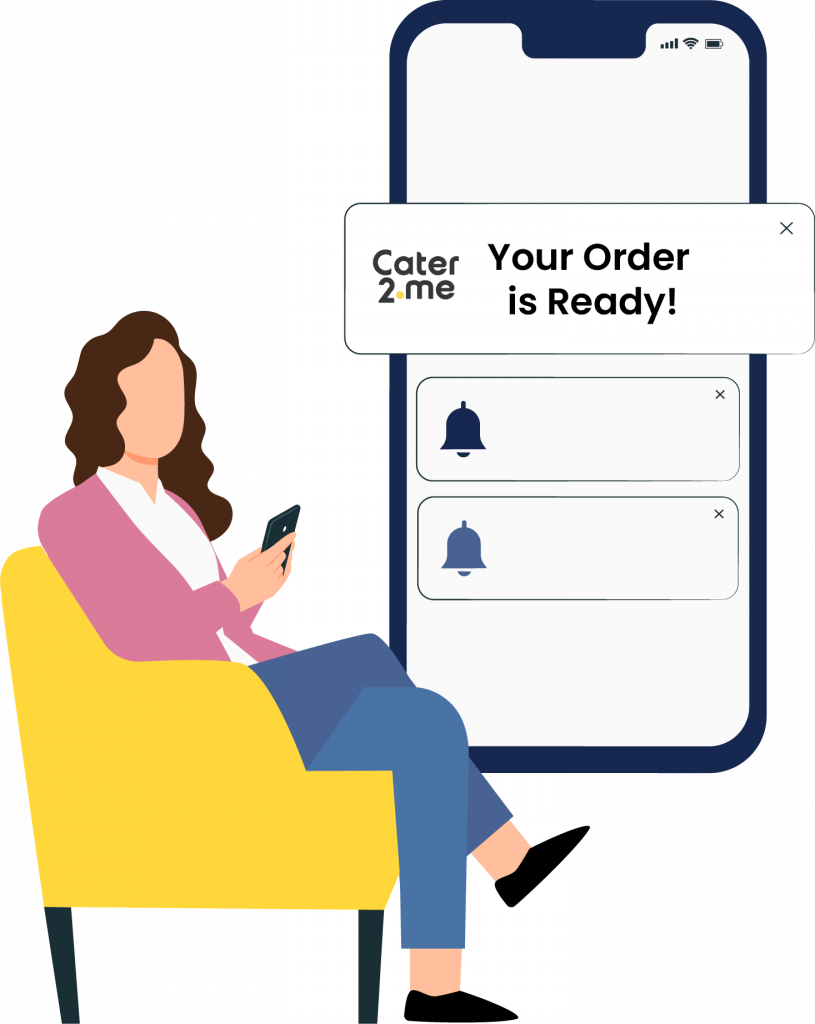 Why Your Team Will Love an On-Site Meal
Makes mealtime more engaging with new cuisines, concepts, and flavors
Drives convenience by placing orders and receiving pickup notifications directly in the Cater2.me app
Cultivates team culture through memorable experiences, holidays, and company milestones
Ready to learn more about our On-Site Meal Solution? Our dedicated account managers are ready to help you create a program that works for you and your team, and will be there with you every step of the way to ensure that it goes to plan. Get in touch.