2021 is officially passing us by. We have a mere 162 days until the start of 2022, and our vaxxed summer will soon be turning into a vaxxed holiday season. This means one thing: office holiday parties are officially making their long-awaited return after COVID halted our end-of-year celebrations (and every other event under the sun). Since the holidays will be the reason for many of our first in-person workplace interactions of 2021, you need to ensure that the celebrations are extra special– which is why planning them sooner rather than later is essential.
If you're struggling to come up with end-of-the-year party themes and are looking for some festive inspiration, you came to the right place! Our account managers are prepared to help you plan the best post-pandemic party your office has ever seen, so let's take a look at these four celebration ideas perfect for bringing your team together.
Masquerade Ball
Now that we are well acquainted with the idea of masking up, let's turn back the clock to the original masked party: the masquerade ball. As we mentioned earlier, many of those coming back to the office haven't formally met their teammates in person. What could be more fun than trying to guess who is who as your colleagues enter the party in disguise? It offers an element of excitement that this past year has surely been lacking, and it will also give people the opportunity to let loose and ring in the new year the right way!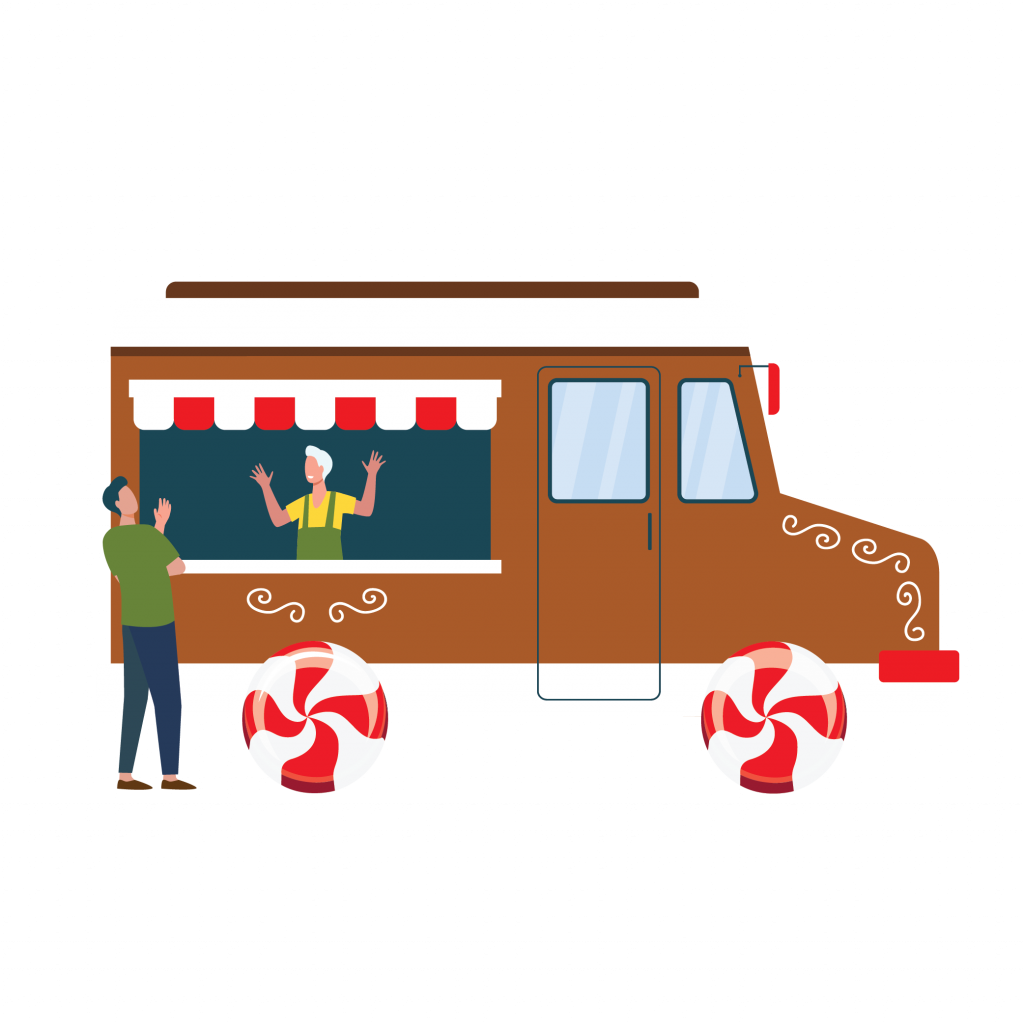 Even the most mysterious of the masked need to be fed. Our On-Site meal option is a great solution that brings the chefs right to your office! With Group Ordering On-Site, a vendor- think taco trucks, made-to-order crepes, custom chopped salads, and more- will come to your location during a designated time slot to prepare and distribute your team members' orders. Learn more about On-Site Corporate Catering Orders here.
Murder Mystery Party
If you have a team that's more hands-on, why not take the typical holiday dinner party and turn it up a notch by making it a murder mystery party? This activity will allow your team members to get to know one another in a less-than-traditional way, and will also allow them to put their problem-solving skills on display! Bringing together the team to meet a common goal is an easy way to break the ice, and also relieve tension (as we saw in this iconic episode of 'The Office').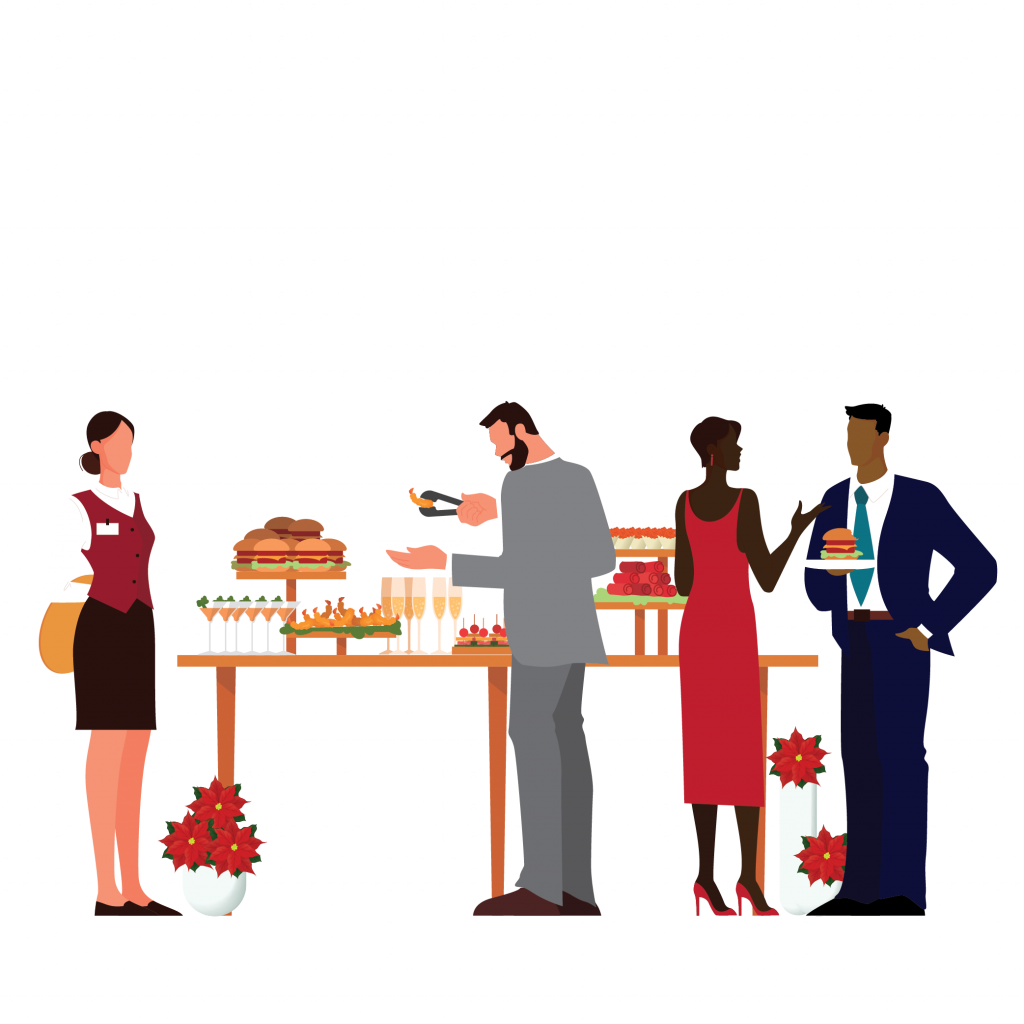 Our family-style corporate catering meal solution would be the perfect addition as our on-site staff will handle everything from set-up & tear down to food distribution. Our on-site coordinators and vendors alike are working hard to abide by enhanced COVID safety standards while still providing a delicious meal with a no-contact delivery. Learn more about family-style catering options here.
Ugly Pants Party (AKA the "Ugly Sweater" Spin-off)
After only seeing your coworkers from the shoulders up for over a year, why not gather together in your most ridiculous holiday attire to celebrate your return to in-person interactions? Ugly sweater parties have been a holiday season staple for decades, but since many of us don't know what our coworkers' legs look like below the screen, we think that this is the perfect way to bring some fun to any post-covid workplace event. Everyone's ugly pants choice will tell a little about their personality, offering an easy ice breaker for teams who have not met each other face to face! You can even take it a step further by having teams make their ugly pants together right in the office. Let that creativity flow!
Now you have a theme, but what about the rest of the party? When it comes to food, we've got you covered. Our Group Ordering corporate catering solution is the perfect way to feed your team while giving them the freedom to customize their meals. All food arrives individually packaged and labeled with employee names through a no-contact delivery made directly to your office. The best part? No lines are needed. Our grab-n-go set-up cuts down on wait times and reduces contact among your team members, making for a safer, easier meal experience. Learn more about Group Ordering here.
Gingerbread House Decorating
If you want to let your teammates' creativity (and holiday spirit) flow, a gingerbread house decorating event could be perfect for your end-of-year event! Everyone can participate in this easy-to-host activity, and you can even turn it into a decorating contest to add a competitive element to your celebration. Pair up your staff and put their coworking skills to the test as they attempt to create a gingerbread house set to beat the rest of the crowds'.
All this building is bound to make your team members hungry, so let's get them some snacks! Our Snack & Pantry solution is the easiest way to beat those midday cravings while offering an awesome in-office perk for your team. We are a one-stop shop for any pantry and beverage needs (think yummy cookies and cold brew on tap) that are sure to provide enough fuel for even the most lavish gingerbread house builds. Learn more about our snack and pantry options here.
Virtual Holiday Party Solutions
Is your team still working remotely? Don't sweat it. Our dedicated account managers can help you set up a virtual end-of-year party that is perfect for your WFH crew. Contact us today to see how our virtual experience platform can make your end-of-year virtual celebration one for the books!