For your team members, ordering an office meal can be as easy as a quick click and go. But for those managing your program on the back end, our platform allows for multiple levels of host permissions to help you ensure that your team meals go off without a hitch. Let's take a look at the different Group Permissions roles and see how they work within our platform. And if you missed our first Cater2.me Tech Talk, head over to learn more about On-Site Ordering here.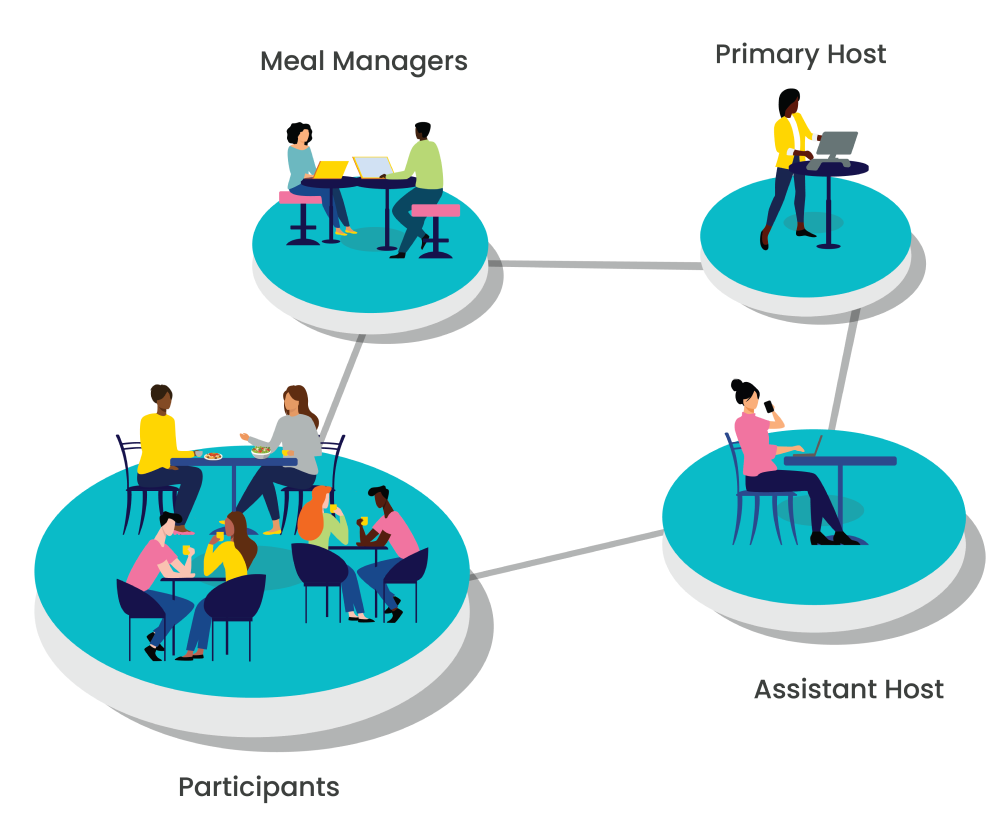 Host Functionality
Primary and Assistant Hosts have similar menu access, and can utilize all menu navigation links in the order application including…
Order History
Group Management
Schedule Profiles
Payment and Billing
Analytics
Primary Host Overview
Primary Hosts are the leading operators of the meal program. They are able to assign group permissions through the order app where they can then add or edit existing member's roles.
Assistant Host Overview
Assistant Hosts can offer support to the Primary Host in terms of order management. Their main function is to review and approve menus for meals. Any actions taken by either the Primary or Assistant Hosts will be shown on the Action History Link, so everyone can stay on the same page in terms of edits. Both hosts will also receive notifications about meal review, ensuring that all necessary steps will be taken prior to mealtime.
Hosts at this level will have the same Order Overview functionality as the Primary Host that includes the ability to edit tip amounts, open participant carts, and send reminders. They have unique host carts, meaning there is no connection between the Primary Host's and the Assistant Host's cart.
Assistant Hosts will be able to add custom labels to items ordered from their specific cart. If they don't create a custom label, the orders will arrive labeled as "Host Orders". Both the Primary and Assistant host carts will be seen in the order overview section and are tagged appropriately.
How Can Hosts Add and Assign Permissions?
As previously mentioned, Primary Hosts can assign group permissions through the order app. Through the application, they can add an existing member or create a new member and assign the permission role via the permissions drop down menu. In the drop down, there is a hover over the permissions title defining what each role is.
When someone on your team has been assigned a new permission role, they will receive an email notifying them of their role change, including a description of that new role in order to keep everyone informed and on the same page!
Meal Manager Overview
Meal Managers, on the other hand, will have access to order overviews in order to see which Participants have or have not placed their orders. They can also see what items each team member has ordered, allowing them to open and edit the participants' carts. If a Meal Manager notices a participant has not yet placed an order, they can send reminders to the team in order to ensure each person who wants a meal receives one.
They can also print station labels for meal set-ups, and view their shelf location/ station assignments for both the Participant and Host Carts.
Ready to learn more about our meal ordering platforms and how permissions can help manage your catering program? Our dedicated account managers are ready to help you create a solution that works for you and your team, and will be there with you every step of the way to ensure that it goes to plan. Get in touch.