Labor day weekend is officially over, and to many people, that means fall is finally here. What does fall bring? Football! Though some people feel that summer is the ultimate cookout season, we may have to disagree; fall boasts cooler weather (you won't melt while standing over the grill, score!), beautiful foliage, and sports galore! And for many of us, this fall could be the first time we have gathered with friends (or colleagues) since the start of the pandemic, which means a celebration is definitely in order.
The most fall-centric festivity we can think of? The tailgate!! Each year, 20 to 50 million Americans gather together to tailgate for their football favorites. Show your team spirit, join in on the fall fun, and host a tailgate to kick off Autumn!
Many people know how to host a tailgate, but not a lot know what it will take to make it the talk of the town. Read on to learn how to elevate your upcoming Autumn event and have your tailgate stand out from the crowd!
Go Local
You may want to be the one killing it on the grill, but why require your guests to bring sides to the party? Or worse, why put the burden of making EVERY dish on yourself? Instead, support your favorite local eatery and snag some delicious dishes for the whole crew to enjoy. Many businesses, especially those in college towns, suffered from the downsized football season we experienced last fall.
Typically, thousands of patrons flock to their favorite establishments surrounding football stadiums, bolstering their business and providing much-needed revenue to carry them through the rest of the year. Eateries would be packed to the brim with excited fans, and many establishments would be overwhelmed with catering orders requested for festive football parties.
But since game attendance was limited, many businesses experienced a similar limit to their foot traffic. As reported by Forbes, a reduced schedule would cause a loss of "about $80 million for the highest revenue areas. That, of course, is assuming normal fan attendance. This kind of reduction in scheduling would likely fall a little heavier on the mid-major programs….The impact on the local area would be proportionate."
So skip the Walmart potato salad and tell Aunt Karen to keep her casserole at home. Call your crew's favorite local spot and make an order that will satisfy everyone while helping the businesses you love!
Break Away From Beer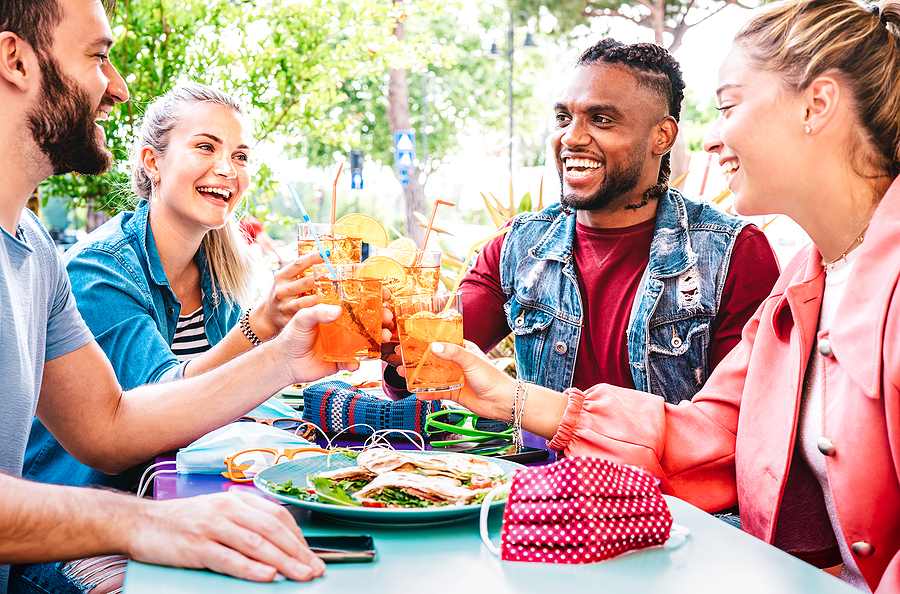 Okay, we know that beer is the ultimate tailgate libation. It's easy to serve, easy to transport, and easy to drink. BUT in the name of elevating your tailgate game, let's switch it up. Instead, you can offer your guests something with a little more *pizzazz*; since almost more than half of the alcohol drinkers prefer something other than the hoppy beverage, accommodation is key in ensuring everyone leaves your event satisfied.
We all know the classic cocktails perfect for every game time throughout the day: bloody marys and mimosas for the morning, followed by a classic punch mix for those later in the evening. You can take it up a notch and create a custom cocktail that reflects your love for the team, or take some inspiration from other popular sports cocktails (that we wrote about here).
For Corporate Fall Festivities? Bring the Food On-Site!
Football season is synonymous with the food truck. Around stadiums, they typically line the streets for passersby to enjoy and boast lines that go all around the block. So if you're hosting a tailgate party for your team, why not take a page out of the public's tailgate book by bringing a food vendor on-site for your seasonal celebration?
On-site solutions offer a unique experience with a variety of options to choose from, many of which are local and allow us to offer much-needed support to our community. Better yet, they require much less energy than is required for the prepping, cooking, shopping, and set-up of traditional tailgate catering (especially for large teams)!
To make this food option even easier, call us! Cater2.me offers comprehensive on-site tailgate catering solutions that are ready to add the spirit to your game day soiree. Rather than bringing prepared food right to the workplace, this option brings the chefs to your office to make meals for your team in real-time. With Group Ordering On-Site, a vendor will come to your office location during a designated time slot to prepare and distribute your team members' orders.