It's no secret that the food service industry is challenging and full of last-minute emergencies. Suppliers run late, equipment breaks, staff get sick. In short, $*#@ happens. And as a result, a vendor may have to cancel an order at the last minute.
At Cater2.me, we always do everything we can to set our vendor partners up for success and to ensure our clients enjoy the best meal experience possible. In the event of a last-minute vendor cancellation, our centralized operations team works with our vast partner network to organize a replacement meal for your team based on what was originally planned.
Now we're going even further by introducing a solution – Replacement Meals – that allows us to provide a more personalized experience for your employees.
With Replacement Meals, each employee can indicate their dietary preferences in advance, so that in the unlikely event a vendor needs to cancel your order, we can use these selections to identify the most appropriate item for each team member.
In this edition of Tech Talk Thursday, we dive into how our Replacement Meals feature can benefit companies and their employees, helping to improve the overall Cater2.me experience so that everyone can be satisfied.
Setting Your Replacement Meal Preferences
If you're an existing user at a Cater2.me client, you'll be prompted to make your Replacement Meal selection the next time you log into your Cater2.me account. For new users who join their company's Cater2.me meal program, they'll make their Replacement Meal selection as part of the user onboarding experience. Note that Replacement Meal selections are only relevant for Cater2.me clients with Group Ordering (either Flexible Allowance or Fixed Price) meal programs.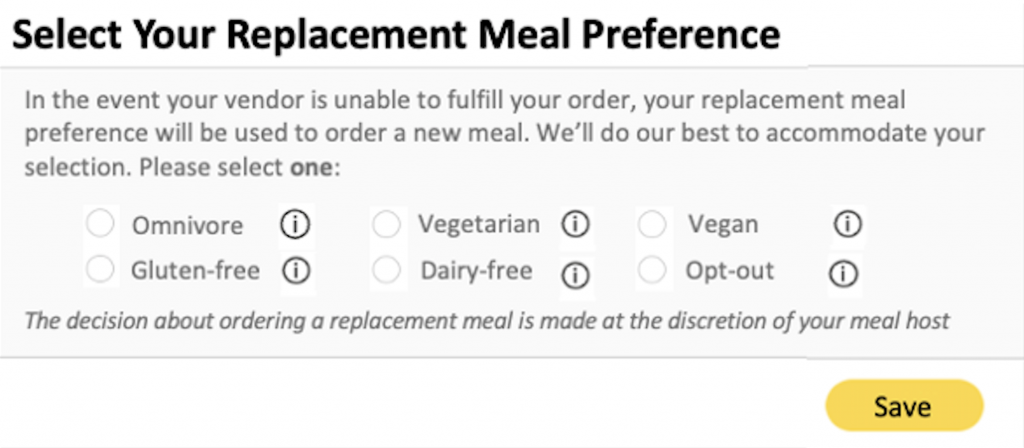 Users can select the category – Omnivore, Vegetarian, Vegan, Dairy-Free or Gluten-Free – that best fits their dietary preferences. If we ever need to plan a last-minute replacement meal in the future, we'll use your team members' selections to identify which item we should provide for them. Users can also choose to Opt-Out if they'd prefer, we not order them a replacement meal.
After onboarding, Users are able to make changes to their Replacement Meal settings at any time in the Diet & Protein section of their Account Settings.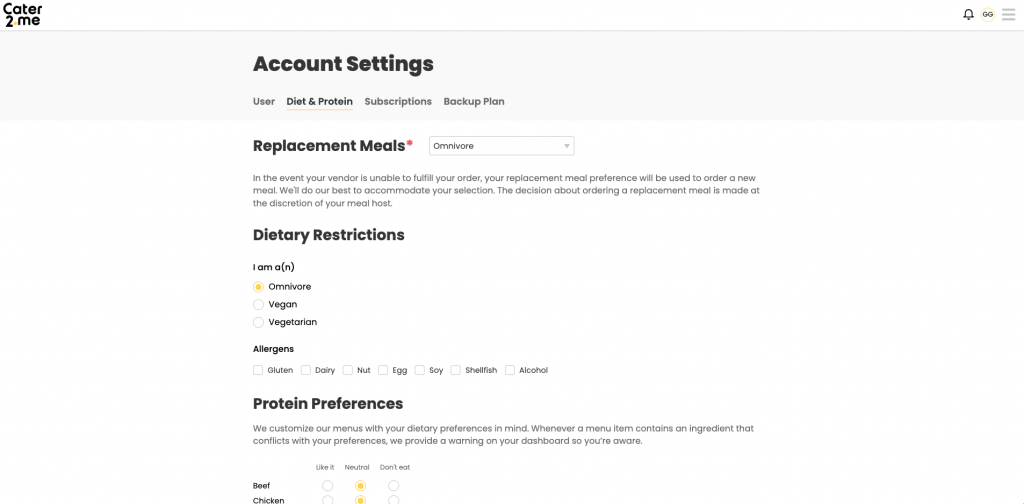 How It Works
If a vendor has a last-minute emergency and indicates that they cannot execute an order, your Account Manager will work with our Operations and Vendor teams to identify an available vendor capable of replacing the meal and delivering as close to the original time as possible. The Account Manager will then use each team members' Replacement Meal selections to order an item for each affected employee. Any users who requested to opt out of Replacement Meals will not have an item ordered on their behalf.
Once a replacement meal is confirmed, employees will receive a notification letting them know what to expect for their meal. Users who opted out of the replacement will receive a notification letting them know not to expect a meal.
Users will never be charged anything out of pocket for replacement meals, regardless of the replacement item ordered for them. If a user had spent anything out-of-pocket on their original meal, that amount will be credited back to them.
Cater2.me's Replacement Meal feature is one way we're ensuring your team's meals are a success, even when last-minute issues arise.
We are always looking for ways to improve and make the catering experience better for our clients. Whether it's onboarding new and diverse vendors, offering exciting new cuisines, or introducing new technology, we're dedicated to providing the best possible experience for your team. To learn more about our Group Ordering programs, click here.